Recently, I've been thinking about the cross-over between surfing and snowboarding. The more I drift towards backcountry riding, the more I appreciate how much inspiration we take from the surfing world.
I therefore set out on a mission. A mission to find the best surf style snowboards available. And the results are in…
The Best Surf Style Snowboards Are:
The Bataleon Surfer
The Nidecker Mosquito
The Jones Mind Expander
The Burton Pow Wrench
Let's discuss whether you should pick up one of these powder surfing machines…
What Is A "Surf Style" Snowboard?
A surf style snowboard will create a similar floaty feel to your favorite surfboard. They are built to excel in deep powder and when being ridden hard on edge.
Taking inspiration from the surfing world, these snowboards often include features such as fish-tails, tapered edges and central stringers.
The best surf style snowboards will offer an incredible powder riding experience, whilst still holding their own on groomed runs and the rest of the mountain.
The Best Surf Style Snowboards
1. The Jones Storm Chaser
Flex: 7/10
Profile: Christenson Surf Rocker
Base: Sintered 8000
Shape: Directional
Additional Features: Traction Tech 1.0 (like magnatraction), Biax Fiberglass
High-end tech in a nice mellow surfy ride
Handles short, snappy turns or long drawn out carves
Eco-friendly construction
Looks beautiful, agreed?
Designed by Jeremy Jones and legendary surfboard shaper Chris Christenson
✖️ Unfortunately boards of this caliber don't come cheap!
We may make a commission if you make a purchase, at no additional cost to you.
More details:
It's rare for me to make a definitive statement, but the Storm Chaser is the best surf style snowboard available. At least, out of the dozen or so surf-inspired snowboards that I tested.
As soon as you pick one up, you can feel the quality oozing out of it. Which is what you'd expect from a board co-designed by snowboarding legend Jeremy Jones and surfboarding legend Chris Christenson.
The boards forms part of their Surf series. This is a beautiful collection of snowboards, designed with surfing principles in mind. I'll include the video of Chris explaining the thought-process below.
The line-up also includes the Mind Expander (which features further down the list), the Storm Wolf and the Mountain Surfer. All great boards. But the Storm Chaser was simply too much fun to be beaten!
Flex: 4/10
Profile: Medium Camber (with 3BT)
Base: 7000-grade Sintered Base
Shape: Directional
Additional Features: Carbon Stringers, Air-ride (dampens ride),
One of the most fun boards I've ever ridden
Sinks in powder like a dream
3BT adds to the surfy feel
Incredible designs - check out that swallow tail!
✖️ On the softer end of the spectrum for a surf style snowboard
More details:
The Bataleon surfer is one of the best surf style snowboards available. It uses 3BT tech (snowboard edges lifted in a 3D pattern) to increase the surfy feel to the max!
This makes it super fun to cruise around on. The transitions between turns are effortless!
I was initially apprehensive about the crazy tail design, but after a couple of runs I loved it. The stringers in the tail maintain the boards structure and allow a surprising amount of pop (though it works better when flat-basing).
Experimenting with switch riding was interesting and I even hit a few 50-50's in the park on the ride home.
Be warned though, every person who sees this board will ask questions and want to test ride it!
Flex: 8/10
Profile: Surfy Camrock
Base: Sintered N-9000
Shape: Directional
Additional Features: ABS sidewalls for power transfer
Part of Nidecker's snow surf line-up
I absolutely love this board. Super fun!
Downsized for added mobility (148cm or 152cm)
Easy to throw around and send up huge powder clouds
✖️ Nidecker aren't traditionally thought of as one of the go-to surf style/powder snowboard brands. This is now changing!
More details:
I'm happy to go on record and say that the Mosquito is the best board that Nidecker have ever made.
More similar to the Storm Chaser than the Surfer, this surfy little pocket rocket was super fun.
As part of their Snow.Surf Quiver, the Mosquito was specifically designed with back-foot-driven, surfy riding in mind. And it certainly delivers. This is what they say about the series…
I actually rode a 148cm, around 6-8cm shorter than my normal snowboard length. Despite this, the Mosquito generally held it's own.
I would say that the edge hold on hard-pack struggled a little bit at mach speeds, but realistically I should have been on the 152cm at my (post-christmas) weight.
If you're unsure about your own recommended sizing, use our snowboard length calculator.
4. The Jones Mind Expander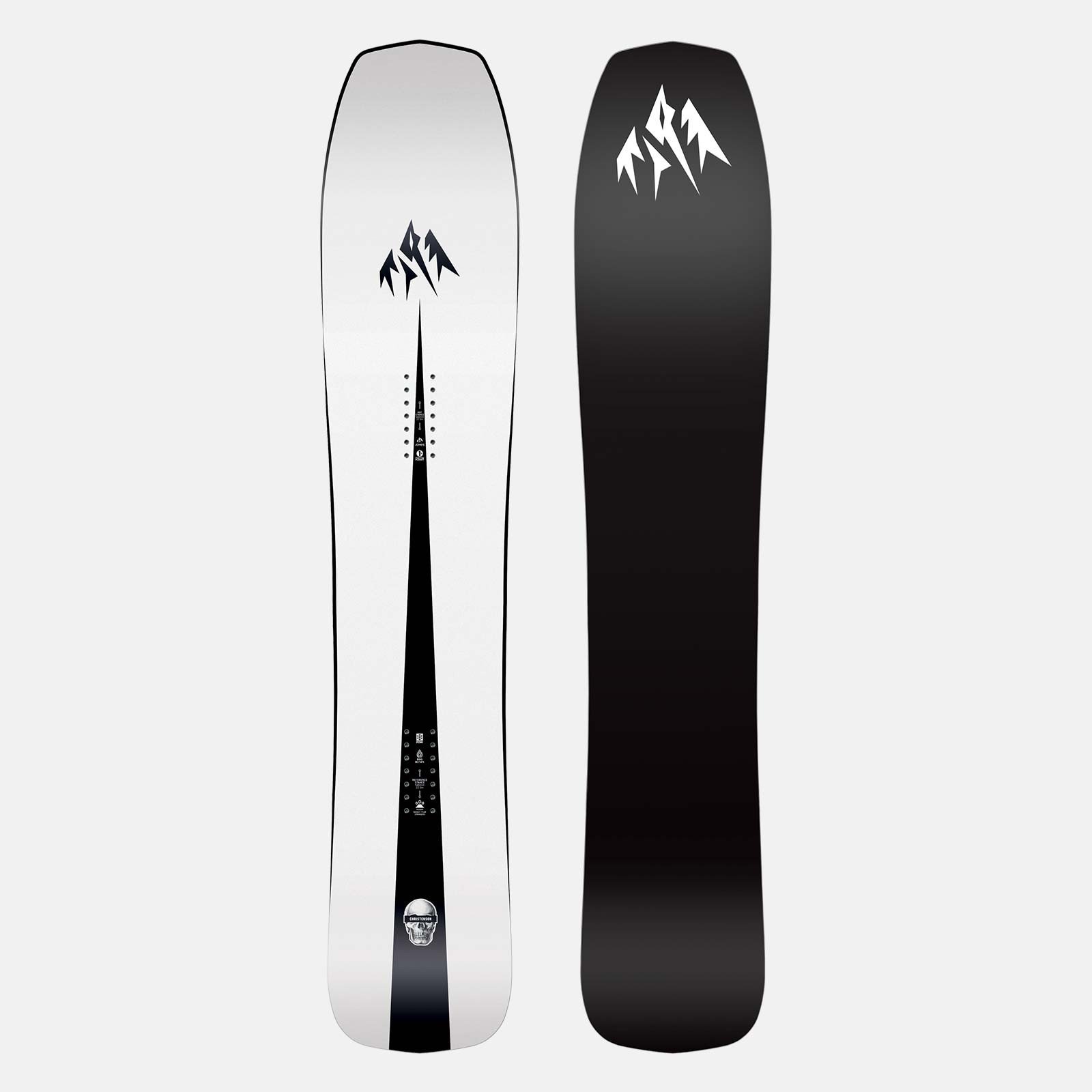 Flex: 6/10
Profile: Christenson Surf Camber/Rocker
Base: Sintered 8000 Base
Shape: Directional
Additional Features: Traction Tech 2.0, Bamboo Surf Core, Sustainable Flax/Basalt Power stringers,
Incredibly surfy, even on hard-packed groomers
More versatile than some of the other options
3D contour base adds an extra surf-like feel during transitions
Took mine through the park and it handled it well
✖️ In short supply due to high demand
✖️ Slightly stiffer this season


More details:
When the Mind Expander hit the market last season, the hype was unreal. In fact, it was almost impossible to find one!
I was super stoked when my buddy managed to pick one up at the end of last season. So much so that I picked up this season's myself.
Jones did change the profile slightly this year. It has a slightly longer and more traditionally shaped tail, allowing for easier switch riding and more pop.
Jones describe it as their "alternative all-mountain board". This definitely makes it the most versatile board on the list.
I had a great time riding this board, but it's certainly less powder-focused than it's predecessor. For this reason, the Storm Chaser is the slightly better choice when looking for a surf-style snowboard.
5. The Burton Family Tree Pow Wrench
Flex: 5/10
Profile: Directional Flat Top
Base: WFO Sintered Base
Shape: Directional
Additional Features: Super Fly II 700G Core, 20mm Taper,
A modern take on the infamous Burton Fish
Slightly downsized for added nimbleness
Excels across the mountain
Is a powder turning wizard, I loved mine in Japan
✖️ Burton aren't loved by everyone
✖️ Rides best with EST bindings


More details:
Last but not least, the Burton Pow Wrench. I had a hard time deciding between this and the Rossignol Sashimi (which is also an incredible surf style snowboard).
Ultimately, the Pow Wrench got the upper hand. It truly excelled during a week of waist-deep Japanese powder.
The Pow Wrench has an interesting profile and tail shape, but borrows a lot of inspiration from the much-loved Burton Fish.
This includes a significant taper, cut-out tail and flat-top design*.
*On that note, this is the least cambered board on the list. Burton's flat top design is essentially flat for the majority of the board, with a rockered nose. This is intended to provide a surfy, floaty feel in powder. It works!
Those are the best surf style snowboards. However, the market is flooding with new options every year. If you've tried one and want us to check it out, please leave a comment below!
I should also note that we've stuck to the well-known, obtainable snowboard brands. I'm aware of some incredible surf-inspired shapes coming out of Hokkaido. I'd love to review more of them.
I haven't included them for now as they're mostly unavailable to the rest of the world. This might be changing soon though. Watch this space!
Now, with summer looming and all this talk of surfing… you might want to explore some surfing destinations, courtesy of our friends over at Surfers Hype.
Happy riding!