Most snowboarders don't like moguls, but with the correct technique and the right snowboard, you can actually have some fun. I therefore tested over 30 snowboards to find the best snowboards for moguls. And the results are in…
The best snowboards for moguls are:
The Never Summer Proto Synthesis
The Jones Ultra Mountain Twin
The Capita Defenders of Awesome
The Salomon Assassin
Choose one of these bad boys and the mogul fields may become a fun challenge, rather than a wrist-breaking nightmare!
What To Look For In The Best Snowboards For Moguls
Most boards will handle moguls, but you'll find a few specific features in the best snowboards for moguls.
The best snowboards for moguls have a medium flex rating. The same goes for the torsional stiffness, as medium torsional flex is better for riding choppy snow. Shorter snowboards are also beneficial for riding bumps, as it's easier to whip the tail around between the moguls.
Additionally, snowboards with a hybrid rocker profile give you a looser feel, allowing transition from edge to edge in smaller spaces.
With this in mind, I've compiled a list of my favorite snowboards for moguls.
Disclaimer: As I said, any half-decent snowboard should handle moguls reasonably well. Particularly all-mountain boards. Don't panic if you don't have one of the boards on the list. These are just the best in test!
Best Snowboards For Moguls
1. The Gnu Rider's Choice
Flex: 5-6/10
Profile: Rocker/Camber (C2x)
Base: Sintered Knife Cut Base
Shape: True Twin (Asymmetrical Sidecut)
Additional Features: Magne-Traction, ASYM Level 2,
Renowned all-mountain slayer
Forgiving and agile
Lots of pop for playing around in Mogul fields
Excellent turn initiation
✖️ Not the best choice for beginner riders


We may make a commission if you make a purchase, at no additional cost to you.
The Gnu Rider's Choice is the best snowboard for moguls. It has a medium flex rating, making it forgiving and agile. This is ideal for riding through moguls and choppy snow.
As long as you use the correct technique and choose a good line, you'll be able to capitalize on this snowboard's fast turn initiation and vibration damping.
The Gnu Rider'sChoice is aimed at intermediate to advanced riders. It has an aggressive hybrid rocker profile that is cambered under the bindings. The nose and tail have plenty of pop, so you can easily hop over moguls.
Personal thoughts: I love the Gnu Rider's Choice, both for riding moguls and for all-mountain slaying. I've had one in my arsenal for many years. The magnetraction edges offer a little extra edge hold in between moguls, which is vital. If you don't know Gnu, I wrote a separate article about the Gnu Snowboard Brand.
2. The Never Summer Proto Synthesis
Flex: 6/10
Profile: Shock Wave Rocker Camber
Base: Durasurf XT Sintered 5501 Base
Shape: True Twin
Additional Features: Power Grip Sidecut,
Super agile
Incredible build quality
Lots of pop in the nose and tail for jumps
Incredibly stable on choppy snow
Great for intermediate to advanced snowboarders
✖️ Not recommended for beginners or aggressive freeriders


Another of the best snowboards for moguls, the Never Summer Proto Synthesis is a high-end all-mountain snowboard. It has a medium flex rating and is one of the most agile snowboards on the market. Ideal for riding moguls!
Part of the snowboard's prowess in the mogul field comes from an X-shaped carbon insert between the bindings, which adds torsional rigidity. The tip and tail also feature a carbon web, adding pop.
Never Summer has given this snowboard a true twin shape and their Shockwave Hybrid Rocker Profile with an extended camber section. The result is lots of pop, stability, and power.
Personal Thoughts: I found that this snowboard felt surprisingly soft and loose. This made maneuvering between moguls much more manageable than with a much stiffer board. Never summer are known to make excellent gear, and the Proto is no different.
3. The Jones Ultra Mountain Twin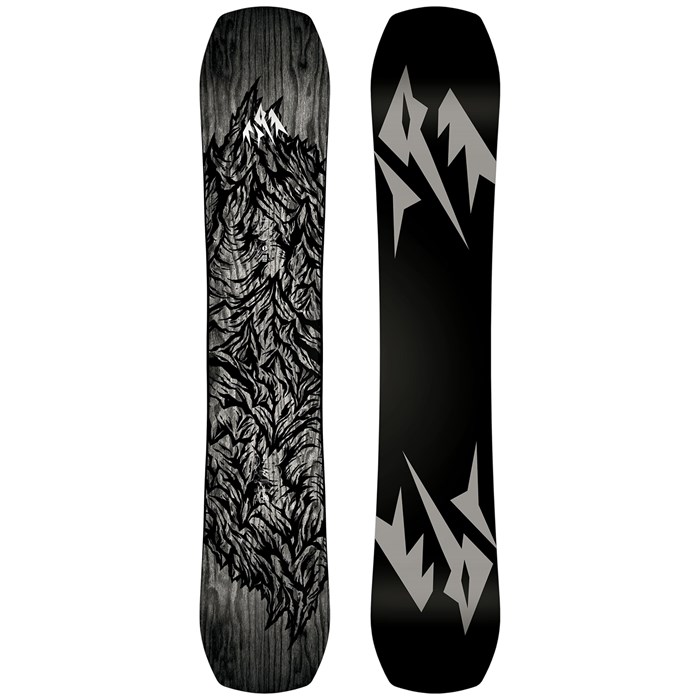 Flex: 9/10
Profile: Camrock (camber rocker)
Base: Sintered 9900 Base
Shape: True Twin
Additional Features: Traction Tech 3.0, V-core, Blunt Nose
An ultra premium product and build quality
An incredible board for an aggressive hard-charger
Incredible customer reviews
Blunt tips reduce swing weight for tight turns
Not as stiff as the ratings suggest, but more than other options
✖️Not for lighter riders, unless you're pretty strong


This bad boy has some strength behind it. If you're a heavier rider or an athletic and aggressive rider, you're going to love this snowboard.
Whilst it's certainly not deserving of the 9 out of 10 flex rating, it is at least a 7. This means that in the right hands, it offers incredible edge hold and pop.
Every part of the snowboards construction has been upgraded. It's therefore fast, super damp and very stable.
If you're looking for a similar board in a gentler package, try the original Jones mountain twin. It's similarly well-rated but with a more reasonable flex rating of 7/10 from Jones.
Personal Thoughts: The Ultra Mountain Twin board charges hard. I absolutely loved laying this thing over on edge and railing a carve. It's also surprisingly nimble edge to edge. But I'm a very aggressive rider with a lot of experience. The Ultra Mountain Twin is not for the faint-hearted.
Is Jones a good snowboard brand?
Read this article to find out.
4. The Capita Defenders of Awesome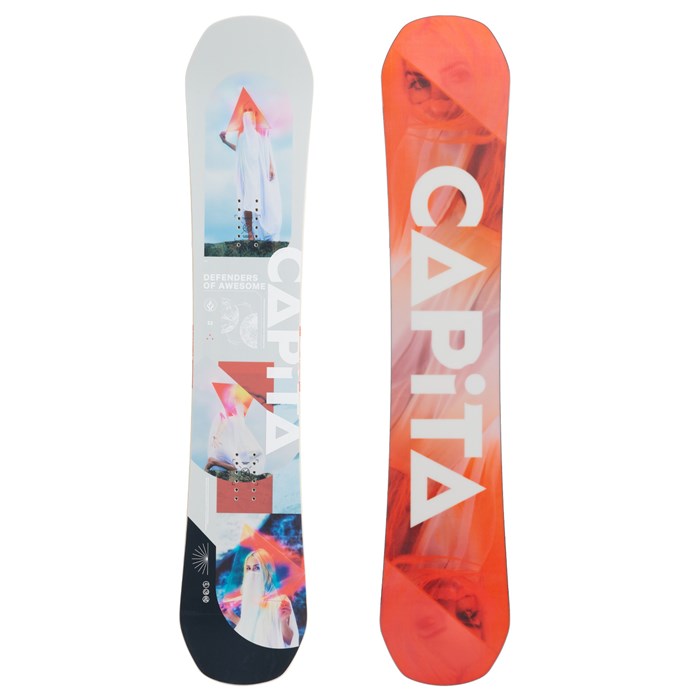 Flex: 5.5/10
Profile: Resort V1 Profile (Rocker/Camber/Rocker)
Base: Quantum Drive Sintered Base
Shape: True Twin
Additional Features: P2 Superlight Core, Carbon Fiber Boosters, Fortress Kevlar Bound Sidewalls
The world famous DOA!
Excellent all-mountain slayer, with great pop
Low swing weight, easy to jump turn if needed
Pops up and over moguls with ease
Built in the Austrian Mothership
✖️Softer flex in recent years (although consider the Super DOA for a firmer ride)


Easily one of the best snowboards for moguls, the DOA is legendary in the snowboarding community. It's one of the first true all-mountain snowboards. You can truly ride this thing anywhere!
The Defenders of Awesome (DOA) has an uncanny ability to pop with very minimal pre-load. This makes it super easy to pop up and over moguls with minimal effort.
The board also has significantly blunted tips and an effective edge (the part of the board that contacts the snow) far longer than most boards of it's size. This means it holds an edge very nicely.
Personal Thoughts: I've always loved the DOA. I've probably had at least 4 different versions of this board by now. Each of them has been a super fun ride and performed really well. The pop is pretty much unrivalled.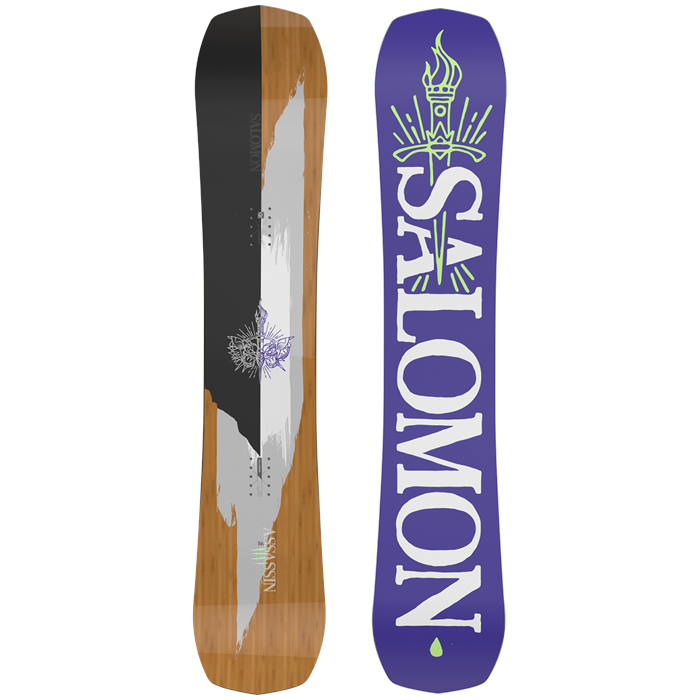 Flex: 4-5/10
Profile: Rock Out Camber
Base: Sintered EG
Shape: Directional twin
Additional Features: Royal Cork Rails, Popster Eco Booster
Beautiful board and construction
Blunted tips for reduced swing weight
One of the real all-mountain OG's
Rides moguls (and the rest of the mountain) with ease
Super "easy to access" pop
✖️Directional twin rather than true twin (which can be a pro or a con depending what you're looking for)


The Salomon Assassin is similar to the Defenders of Awesome. It's an all-rounder with excellent edge hold, low swing weight and great pop. This makes it perfect for tackling moguls.
Personal Thoughts: Though best known for their skiing equipment, Salomon are a great snowboard brand. I've had several Asssassins and keep coming back. If you want a board that looks beautiful, performs excellently and can ride moguls like a charm… consider the Assassin.
From the dozens of boards tested, those were the best snowboards for riding moguls. Choose the right one and with the right technique, you'll be flying through mogul fields in no time!
For some tips on riding moguls, check out our guide to snowboarding moguls.
Happy riding!