If you're planning a snowboarding trip, have you considered a resort in Scotland? The season lasts from late December to April, with slopes for expert snowboarders as well as professional instruction for beginners. This guide will help you find the best places to snowboard in Scotland.
Here are the five best snowboarding resorts in Scotland:
Glencoe Mountain
Glenshee Mountain
Nevis Range
Lect 2090
Cairngorm Mountain
I know what you're thinking, is snowboarding in Scotland really worth it? I thought this too until I gave it a shot. Now I'm a convert!
So let's take a more detailed look at the best places to snowboard in Scotland…
Editor's Choice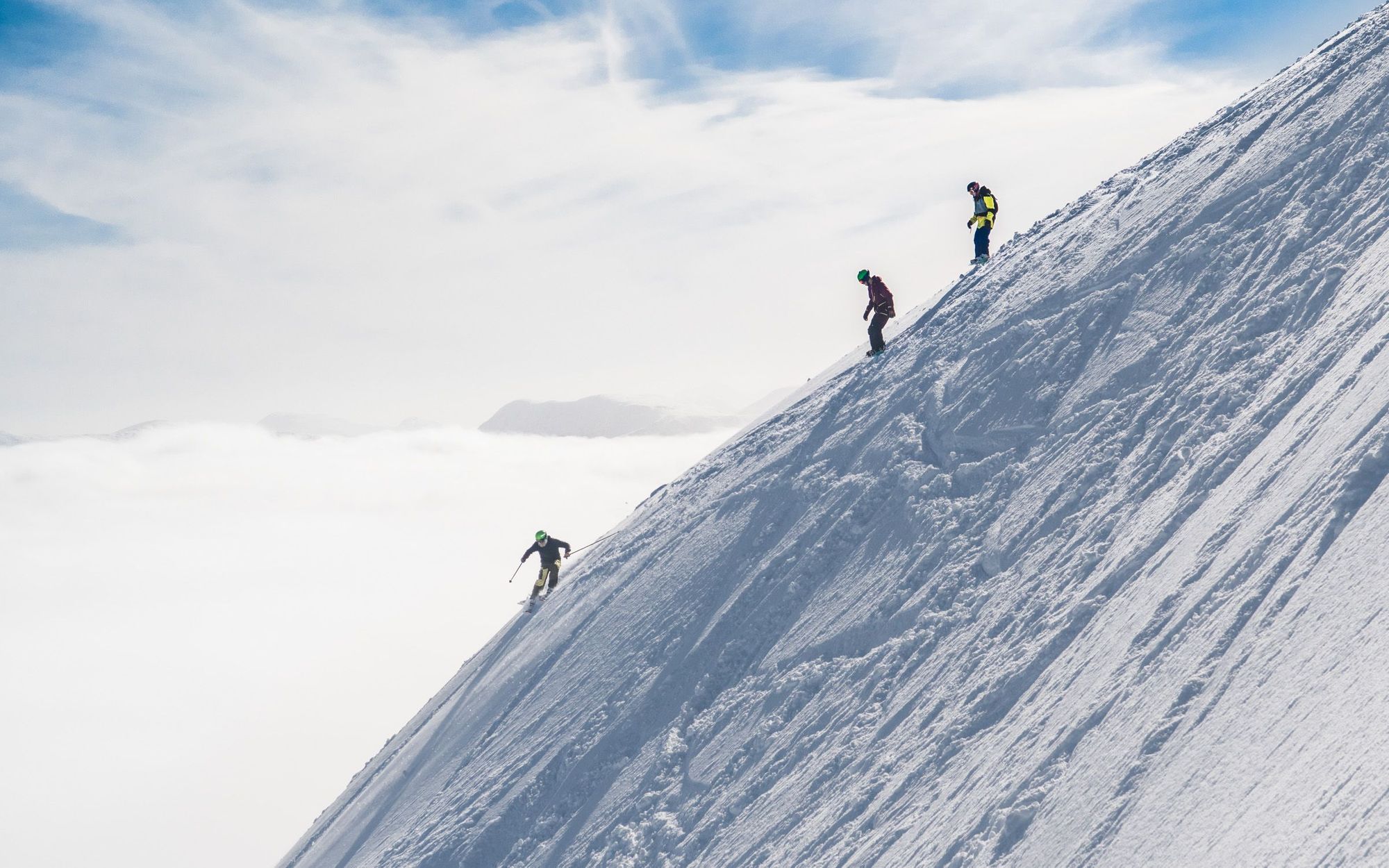 The OG Scottish ski resort, founded in 1956
Stunning scenery (when the weather allows!)
A little more snow-sure than others
Offers some more challenging terrain for experienced riders
On the brightest day, you can (almost) feel like you're in the French Alps
Can be quite busy on the weekends
Not enough parking spaces
Situated seventy-four miles north of Glasgow, Glencoe Mountain was the first commercial Scottish ski area, established in 1956. This resort is perfect for families and groups that want to ride at a mid-sized snowboarding resort.
Glencoe fans are particularly taken with the variety of terrain and accommodation available. There are a variety of local microlodges which looked out over the Rannoch Moor and Buchaille Etive Mor.
These were actually booked when I last visited, which was probably lucky as we ended up at the nearby SeaviewPod. This has far nicer amenities and the views were insane. Highly recommend!
Here are a few notable interesting features of Glencoe Mountain:
You can practice transceiver skills at the BCA training zone.
Take mountaineering lessons that include making the best route selections, using crampons and ice axes, and more.
The campground at the mountain base allows campers and has several microlodges.
There are plenty of other lodging options available in the areas surrounding the mountain.
The varied terrain and excellent amenities are what makes Glencoe one of the best places to snowboard in Scotland.
The Highlights:
Best Known For: being the original Scottish ski resort. It's small but charming!
Lifts: 9
Ski Slopes: 20
Lesson Availability: Ski & Snowboard, group and private.
Season Dates: Usually late December to late April
Nearest Airport: Glasgow Airport (74 miles) – around 1.5 hours by car.
Largest ski area in Scotland
Great terrain park (at certain times of year)
Excellent for beginners and families
Several slightly more challenging runs for intermediate-advanced riders
Decent lift system
Easy to get to from Edinburgh
Proximity to Edinburgh can attract large crowds when the weather is good.
More expensive than Glencoe
If you're looking for some better freestyle terrain, Glenshee Mountain is the place to be. This resort features a manufactured terrain park, natural quarter pipes at the plastic tow and Butchart's Coire, and acres of varied terrain (split across 3 valleys as per the below piste maps).
Glenshee also has the largest ski area in Scotland, which when the weather permits, includes some decent red-black runs. The lift system is probably the most advanced in Scotland and manages the crowds pretty well. However, if the stars align and it snows on the weekend and then the sun comes out… stay away!
Personal Experience: Unfortunately, the wind was so bad on my first visit that I didn't go back for years. When I finally visited on a better day, what a world of difference!
For experienced riders, I recommend hitting the Tiger, Glas Maol and Carn Aosda. Probably some of the more challenging terrain Scotland has to offer. In terms of accomodation, we stayed in the nearby Blairbeg Cottage which was perfect (with reviews of 9.5).
The Highlights:
Best Known For: being the largest Scottish ski resort.
Lifts: 21
Ski Slopes: 36
Lesson Availability: Ski & Snowboard, groups or private.
Season Dates: Usually early December to early March
Nearest Airport: Edinburgh Airport (82 miles) – around 2 hours by car.
Several decent off-piste areas!
Stunning viewpoint from the peak
Less busy than Glencoe/Glenshee (usually)
Well-rated ski schools
Snow cover can be patchy, particularly nearer the base
Nevis Range in Aonach Mor is the highest elevation snowboard destination in Scotland. Sitting in the silhouette of Ben Nevis, Nevis Range boasts a high snowfall count and plenty of terrain.
Overall, the terrain is best known for the backcountry off-piste trails… though this is only really accessible in the peak of the season. I was genuinely surprised by how good some the backcountry terrain was!
Nevis Range has twelve lifts, the only mountain gondola in Scotland, and thirty-five runs on the mountain and back-mountain.
For the advanced snowboarders, you can run Summit Coire and the West Face, Coire Dubh, and Coire an Lochan. While these areas have a designation of off-piste and are steep and corniced, you can still snowboard there during the season.
Worth noting:
The Highlights:
Best Known For: the off-piste "Back Corries" area
Lifts: 12
Ski Slopes: 35
Lesson Availability: Ski & Snowboard, group & private
Season Dates: Usually early January to late April
Nearest Airports: Inverness – 70 miles (2 hour drive) or

Glasgow – 104 miles (2.5 hour drive)
Super family-friendly
Can be nice and quiet on the right day
Pretty good selection of runs
Great ski school
Shorter season due to patchier snow at the beginning and end
More beginner-intermediate focused
If you're looking for a beginner-friendly resort, look no further. The Lect sits in the pass between Tomintoul and Strathdon, the site of Scotland's most extensive natural park. While this resort is the smallest in Scotland, it sits 2090 feet above sea level and holds snow well.
This resort caters to school groups and ski school beginners, offering magic carpets and lifts that take you to easy runs.
Advanced snowboarders still have two red runs and one black. The Lecht is ideal for those just learning to snowboard as they have a limited pass to the accessible and easy boarding areas for you to refine your skills.
A group of us stayed in the nearby Westertown holiday home. It's a bit of a budget-stretcher, but pretty incredible. For a cheaper option, there are glamping pods nearby, but I haven't tried them personally.
The Highlights:
Best Known For: being a super family friendly resort and an excellent place for beginners.
Lifts: 13
Ski Slopes: 23
Lesson Availability: Ski & Snowboard, group & private
Season Dates: Mid-December to early March
Nearest Airports: Inverness – 50.2 miles (1 hour drive) or

Aberdeen – 50 miles (1 hour drive)
One of the longest seasons, often with the most snow in Scotland
Good range of terrain
Great nearby rental store
Some more advanced terrain (if you know how to find it... try the Ciste sector and East Wall)
Long lift queues were a pain (although I went over New Year)
Another of the best places to snowboard in Scotland. Just a short drive from Aviemore, Cairngorm Mountain offers equipment rental on the mountain, thirty groomed runs, eleven lifts, and some decent freestyle terrain. For more than sixty years, this unique resort has catered to all levels of skiing and snowboarding enthusiasts.
Cairngorm Mountain is the sixth largest Scottish mountain, with gentle bowls and sweeping piste runs that let you admire the scenery. There are also some technical black runs for advanced riders.
When you need a break from the slopes, browse the mountain shops for all your outdoor gear needs. Why not take home some gifts or local ware to remember your time there (and keep the wife/husband/partner happy)?
Other details worth noting about Cairngorm Mountain:
The resort has a half-pipe.
A cross-country course winds through Glenmore forest at the mountain base.
Local guides will accompany you to explore the backcountry.
They offer lessons in Nordic skiing.
Aviemore runs buses at night to and from the mountain.
The local Braemar Lodge Cabins are basic but close and affordable.
The Highlights:
Best Known For: beautiful views over Cairngorm National park.
Lifts: 11
Ski Slopes: 30
Lesson Availability: Ski & Snowboard, group & private
Season Dates: Mid-December to Mid-April
Nearest Airports: Inverness – 49 miles (1 hour drive)
A Note About Snowboarding in Scotland
So we've discussed the best places to snowboard in Scotland, but maybe we should consider whether you should snowboard in Scotland at all…
The quick answer is yes, you should.
But be aware of a few vital aspects and manage your expectations. Scotland isn't going to compare with the European Alps or the Canadian Rockies!
The winter weather in Scotland is fickle and often harsh. Remember that the mountain conditions change constantly, so your snowboarding trip will take careful planning to find the ideal snow conditions.
In a single day of skiing, you can experience slick ice, wind slab, sunbaked crust, and a little soft Scottish powder. Two key elements are crucial: your technique and your ability to read the terrain well.
8 Tips For Managing Scotland's Snow Conditions:
Weather conditions in the Scottish mountains can deteriorate in a flash.
The best snow conditions are usually from February to April.
Always be ready and equipped to navigate the mountain in poor visibility.
Carrying a GPS is wise, and backup with a compass and map is never a bad idea.
Prepare for powerful, icy winds.
Always stay with your group and never snowboard alone when you are in off-piste areas.
Plan your route ahead of time and ride your designated route.
Follow the MET updates before and during your excursion.
There are plenty of amazing places to snowboard in Scotland. You can't go wrong with any of the options on the list (weather permitting).
My recommendation would be to stay flexible and make a dash for the mountains when the conditions allow. If you're not able to do this, book mid-season.
If you're thinking of travelling to Scotland from further afield (USA, Australia etc) then I wouldn't recommend it for the snowboarding alone. Places like Japan, Austria or France have way better terrain. But if you want to embrace the whole Scottish experience, come on over!
Happy riding.
Most frequently asked questions and answers