There's nothing quite like blasting through a tight tree run.
Trees provide visibility on bad weather days and enhance the sensation of speed. On a cloudy day, you'll find me in the woods!
But what kind of snowboard should you ride in trees? What are the best snowboards for trees? 
The Best Snowboards For Trees Are:
The Yes PYL (Pick Your Line)
The Jones Mind Expander
The Gnu Rider's Choice
The K2 Special Effects
However… as you'll discover, this is a controversial topic.
So let's talk through some of the characteristics of the best snowboards for trees. Then we can decide which board is right for you! 
Features of The Best Snowboards For Trees
You're probably thinking to yourself, what makes these snowboards better for trees than others? 
Great question!
There are essentially two camps of thought when it comes to choosing a board for trees. 
Choose a shorter board: These are easier to turn quickly and "throw around" between trees. This is especially true in powder. 
Choose a stiff, responsive board: These may hold a better edge at speed. They also engage into turns quicker. 
My thoughts? 
Why not do both! 
I've taken dozens of boards through the trees this season. The boards that made this list were a happy medium of the above. I also opted for the following features: 
Durable construction: Even the best riders will hit the occasional branch (or tree!)
Agility: You'll need to make quick, short turns. Sometimes an unexpected tree comes out of nowhere!
Versatility: Only the lucky few will be riding powder every time they navigate trees. Most of us tackle chopped up crud and ice. It's no good riding a pure powder board on days like this* 
Price: Snowboards are becoming more expensive. Don't bring a $1000 deck through a shallow tree line!
*The exception to this would be if you're heading to Japan, especially in January or February. The snow can be super deep and the pitch quite gentle. Take a short, wide powder board or a well-rated swallowtail.  
Best Snowboards For Trees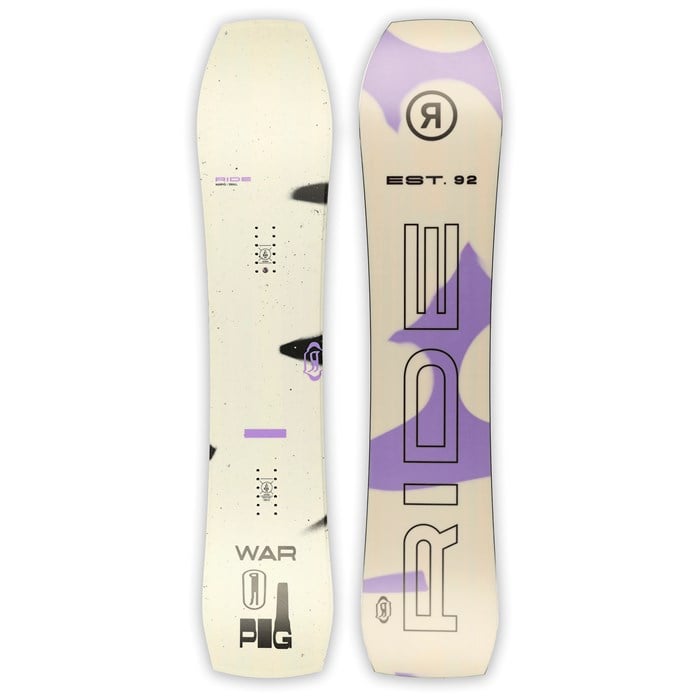 Flex: 5/10
Profile: Directional Zero Camber
Base: Stone Ground Sintered 4000
Shape: Directional (Tapered Bi-Radial Sidecut)
Additional Features: Impact Plates, Performance™ Core, Slim Walls,
A simply incredible board
Crazy shape, crazy fun
Very durable base
Can be sized down for added agility
Surprisingly good edge hold
✖️ Slightly slower edge-to-edge on groomers (given the added width)
We may make a commission if you make a purchase, at no additional cost to you.
More Details: 
The Warpig was the best snowboard for trees this season. 
It stole the show due to it's ability to handle tree runs in literally any snow condition. Obviously it won't beat a dedicated powder board in 3 foot of fresh, but it can certainly hold it's own. And when you find yourself on firmer ground, the Warpig will handle that too. 
You've probably noticed that it's a shorter, fatter board. But not so short that it loses edge hold or control. Perfection *chef's kiss*
Personal Thoughts: I didn't want to like this board. It was so "overhyped" that the hipster in me was desperate to disagree with popular opinion. 
Unfortunately… the board was just too much fun.
I felt at home on it immediately.
I pushed it super hard across all areas of the mountain. Sadly, it performed equally well in all of them. I have since ridden it through powdery Japanese tree lines and wide-open Canadian pitches. It was excellent in both. Maybe I'm not as hipster as I thought….
2. The Yes PYL (Pick Your Line)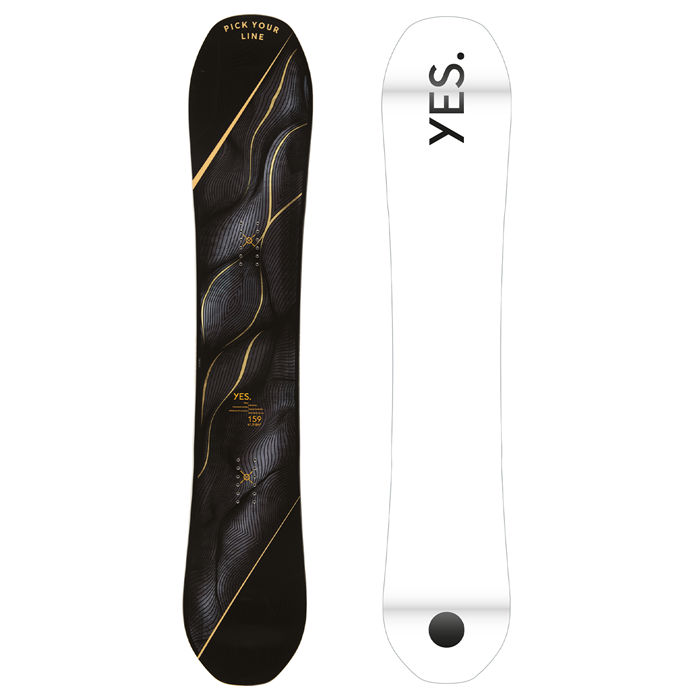 Flex: 7/10
Profile: Directional Camrock
Base: Sintered True
Shape: Directional
Additional Features: Tapered Underbite™, Weightless Core, Triax Fiberglass
Versatile
Super fun to ride
Super fast
Super maneuverable
It's just super!
Yes make great snowboards (brand review here).
✖️ Nothing really - except possibly a little too powerful for a complete beginner.
More Details: 
The Yes Pick Your Line has a more "traditional" snowboard shape. But it's still ideal for blasting through the trees!
In fact, it is excellent for pretty much any type of snow, making it super versatile (I should probably look up another word for super).
The versatility is further enhanced by it's agility and robust construction.
It has a cambered profile and a tapered tail with rocker. This allows you to bash through deep snow and whip around trees quickly.
Personal Thoughts: The PYL is easily one of the best snowboards for trees. It excels in pretty much every way. 
I must admit though, I do often find myself reaching for the more "exciting" shapes like the Warpig. But the PYL is the better choice if you're looking for a more traditionally shaped directional snowboard. 
3. The Jones Mind Expander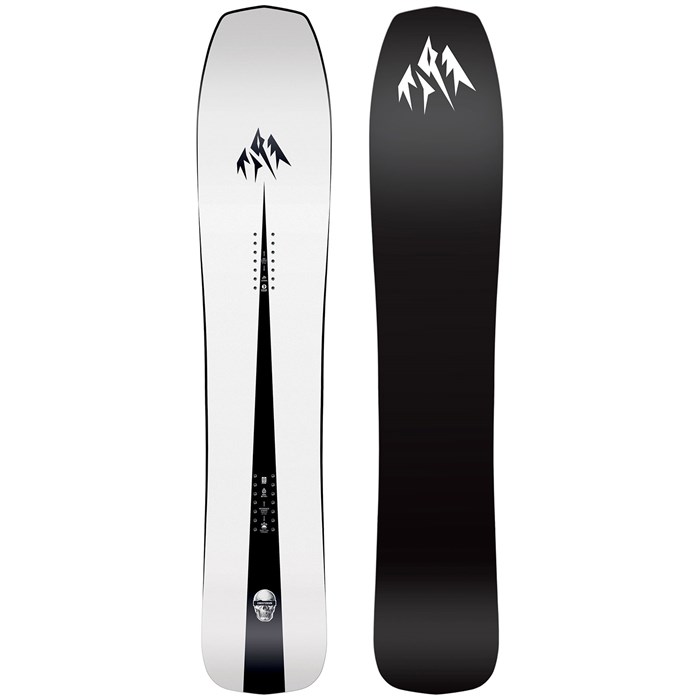 Flex: 6/10
Profile: Christenson Surf Camber/Rocker
Base: Sintered 8000 Base
Shape: Directional
Additional Features: Traction Tech 2.0, Bamboo Surf Core, Sustainable Power stringers,
Excellent control in all snow conditions
One of the more eco-friendly choices
Lots of float in powder
Extremely fun
✖️ Hard to get hold of!


More Details: 
Another hugely anticipated board… the Mind Expander has flown off the racks since it's release. 
Despite it's tapered design, this board handles all-mountain riding and all-mountain conditions surprisingly well. And as you can imagine, that 3D scooped-out nose simply blasts through deep snow. 
This season saw the introduction of a little more camber. It's therefore a little stiffer and the edge hold is a little stronger. Sounds good to me! 
Personal Thoughts: This board was my official best snowboard for trees last year. Don't worry – it's still an incredible and versatile board. But the Warpig has clawed it's way into the top spot, mostly due to it's increased freestyle capabilities. 
This is clearly not strictly necessary for trees, but it's a nice touch for any closet park rats out there. If you're not interested in freestyle but still want a fun and versatile shape, go with the Mind Expander. 
4. The Gnu Rider's Choice
More Details: 
Regular readers of the site will recognise this bad boy. 
The Gnu Rider's Choice. 
An exceptional board and a perfect quiver killer for the all-mountain rider. The Rider's Choice has the perfect profile and flex pattern to suit most riders. It's versatile and packed with premium features – like the asymmetrical sidecut. 
Personal Thoughts: If you're looking for a brilliant all-round, all-mountain board then look no further. Not only is the Rider's Choice one of the best snowboards for trees, it also topped the list of the best snowboards for moguls. This shows how dang versatile it is! 
Stuck between the PYL and the Rider's Choice? If you're slightly more freestyle focused, go for the Rider's Choice (which is a true twin). Otherwise the PYL.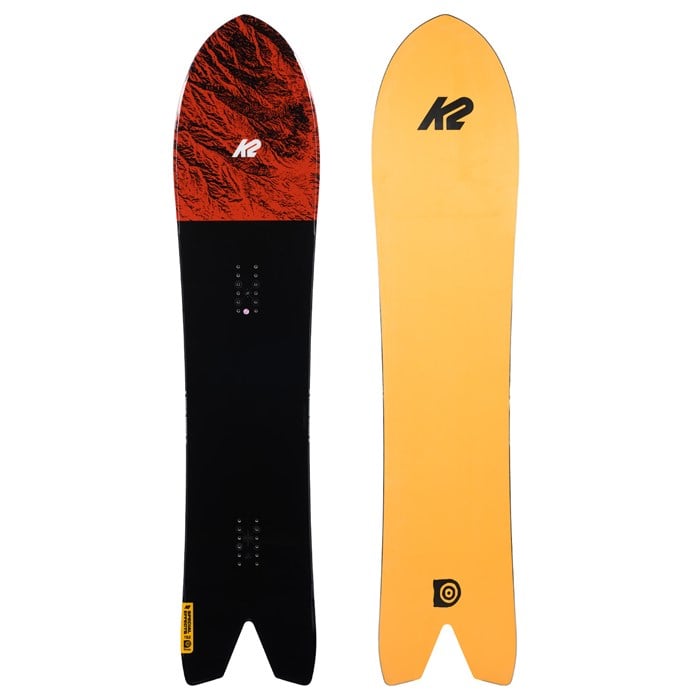 Flex: 7/10
Profile: Directional Rocker
Base: Sintered 4000
Shape: Directional
Additional Features: Bambooyah™ Blended Core, 3D Nose Contour
Very durable
Fast base
Super Agile
Plenty of volume
Offers amazing powder turns
Super fun shape
✖️ One of the shorter boards on the list - likely to have slightly less reliable edge hold on hard-pack.
More Details:
Perhaps the most unconventional shape on the list, The Special Effects still packs a punch. Coming in at 140-152cm, you might be questioning whether a short board can really excel in the trees. 
Well question no further…
The Special Effects was an absolute pocket rocket through even through the tightest of tree runs. 
It has a slightly above average flex rating, allowing great response – despite the short stature. 
But… it's certainly a soft snow specialist. 
Personal Thoughts:
So what does all this mean? 
Essentially, the Special Effects would be in my boardbag for notoriously deep destinations like Japan or Baldface. This thing floats like a dream!
I was able to nip through super tight tree gaps and send up dramatic powder clouds with minimal effort. 
But it wasn't quite so good when the terrain got bumpy. Sure it could manage, but there are more versatile boards on the list. 
Which Boards Is Right For You?
These are the best snowboards for riding trees. I'm confident that you'd have an incredible time on any one of them!
But if you're choosing just one, I'd narrow it down like this. 
1. Need one snowboard to ride everywhere, and want a traditional board feel? 
Choose the Rider's Choice if you enjoy switch riding and freestyle. Opt for the PYL if you're more focused on freeride and powder performance. 
2. Ready to add another board to your "quiver" to use through trees and deeper snow?
3. Looking for a fun board that combines all of the above features?
Thanks for reading to the bitter end.
Armed with your new board, you're now ready to tackle some badass tree lines!
Still unsure?
Drop your questions in the comments below. 
Happy tree riding!