Riding deep snow calls for a special kind of snowboard… which is probably why you're looking for a swallowtail!
These incredible boards have a section cut out of the tail, allowing the board to sink into the snow. But which are the best swallowtail snowboards?
The Best Swallowtail Snowboards Are:
The Jones Storm Chaser
The K2 Special Effects
The Jones Storm Wolf
The Burton Pow Wrench
Interested?
Then keep reading you cheeky little powderhound…
Features Of The Best Swallowtail Snowboards
Swallowtail snowboards are absolute powder machines. Can you shred the rest of the mountain on them? Of course! But that's not really why you're buying one…
The main benefits of a swallowtail snowboard are:
The tail sinks, keeping the nose high and ensuring incredible float in deep powder.
They're often wider, allowing a shorter length and increased agility.
Reduced board weight.
They look badass!
The best swallowtail snowboards not only do all of the above, they also feature premium materials and perform well across the entire mountain.
Which is exactly what I was looking for during testing. I tested over a dozen swallowtail boards. Let's take a look at the winners…
Best Swallowtail Snowboards
Best Overall Swallowtail Snowboard
Flex: 4-5/10
Profile: Camber with 3BT
Base: Sintered Base (7000-grade)
Shape: Directional
Additional Features: Carbon Stringers, Air-ride (dampens ride)
Floats effortlessly in powder
Super fun overall ride
Durable and lightweight
Capable of powerful turns
Great edge hold
✖️ Softer than your average powder board
We may make a commission if you make a purchase, at no cost to you.
More Details:
As soon as you see a Bataleon Surfer, there's no mistaking what it was designed for… shredding deep powder!
With its fat nose and deep-cut swallowtail, the Surfer has incredible float. The tail sinks super low, making for a surprisingly tight turn radius. This is epic through the trees.
It features a positive camber profile with a directional shape and Bataleon's triple base technology (3BT). This reduces edge-catching and further increases powder performance.
Personal Thoughts: The most impressive part of this board is just how much fun it was. I took it everywhere, from hard-pack to powder to park (though I wouldn't necessarily recommend that last one). Where-ever I took it, I had a great time!
I also found that it had excellent edge hold on groomed slopes and turn-to-turn transitions were effortless.
I liked the mid-flex rating. This made for some super playful handling characteristics. If you're super aggressive or heavy, you might want to consider sizing up or choosing another option. But I'm a pretty aggressive rider and loved it!
There are sometimes some great deals at Backcountry.com so be sure to check there and Evo.
2. The Jones Storm Chaser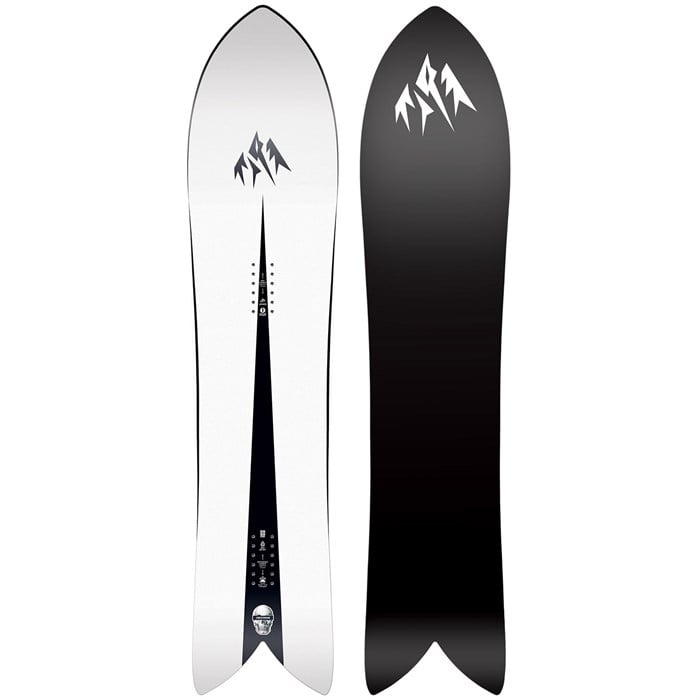 Flex: 7
Profile: Christenson Surf Rocker
Base: Sintered 8000
Shape: Directional
Additional Features: 3D Contour Base 3.0 (like 3BT), Progressive Sidecut
Incredible powder and all-mountain slayer
Sized down for quick and nimble turns
Eco-friendly manufacturing
One of the best boards for Japanese powder
Designed by Jeremy Jones and legendary surfboard shaper Chris Christenson
✖️ The price-tag
More Details:
The Storm Chaser is simply amazing. It was perfectly crafted in a joint venture between Chris Christenson and Jeremy Jones.
The Storm Chaser includes a nice wide swallow tail, Jone's version of Magnetraction and a 3D base for added float.
Each of the materials used in the boards construction is super premium, making for a super fast (and fun) ride. Unfortunately, this demands a more premium price. Worth it? Hell yeah!
Personal Thoughts: I absolutely love the Storm Chaser. So much so that it also ranked as one of the top surf-style snowboards. It's a short, wide powder rocket… which is also great fun on the groomers!
3. The K2 Special Effects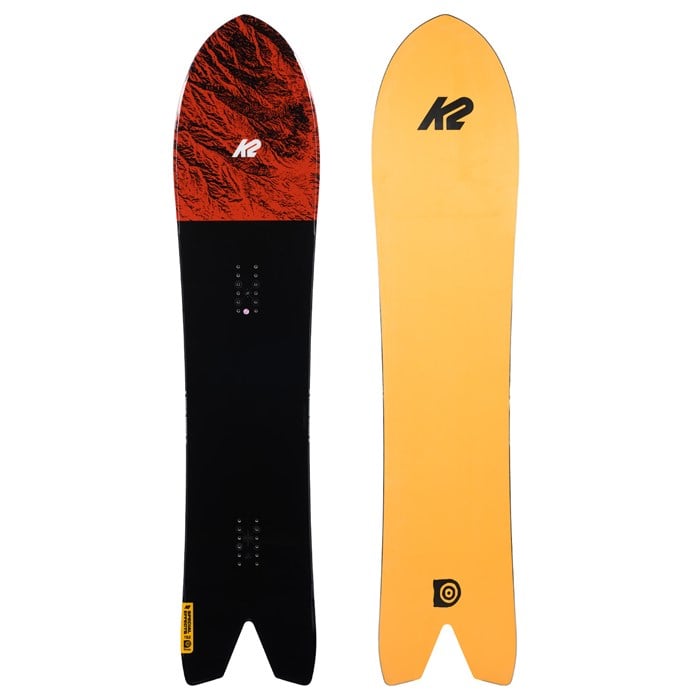 Flex: 7/10
Profile: Directional Rocker
Base: Sintered 4000
Shape: Directional
Additional Features: Bambooyah™ Blended Core, 3D Nose Contour
Highly Durable
Short, fat, fast
Very agile
A fan-favorite!
K2 make great snowboards (brand review here).
✖️ Slightly stiffer than the Storm Chaser, which is either good or bad depending what you're looking for.
More Details:
The K2 Special Effects is one of the best swallowtail snowboards. It's highly agile, making it an excellent powder hunter. It can also cope with hard-packed snow.
K2 has given the Special Effects an 8mm taper which helps with turn initiation, eliminates drag, and deflects snow and slush away from the board like a snowplow.
The K2 Special Effects is designed to run shorter to increase maneuverability without sacrificing float. Expect to downsize between 4 and 10 cm from your regular board length!
To ensure you get plenty of glide in powder and on the piste, K2 has given the Special Effects a Sintered 4000 base. This is extremely fast and durable, whilst retaining wax better than your average deck.
Personal Thoughts: What's not to love about the K2 Special Effects? I first rode one on a particularly deep day in Utah. It certainly did not disappoint. This board rides similarly to my Storm Chaser (which I love) and is a great option for most powder-hounds.
Flex: 8/10
Profile: Christenson Surf Camber Rocker
Base: Sintered 8000
Shape: Directional
Additional Features: Traction Tech 3.5 (like Magnetraction), Tapered Shape (10mm)
Floats exceptionally well in powder
Performs well on groomed slopes
Super fast base
Environmentally-friendly construction
✖️ It is a very stiff board, which may be too extreme for some riders
More details:
The Jones Storm Wolf is yet another amazing swallowtail snowboard from Jones. With it's directional shape and setback stance, the Storm Wolf rides incredibly well in powder.
Jones has used its surf camber profile which sees camber between your feet with a large rocker in the nose and a camber release in the swallowtail.
Unfortunately, the snow isn't always light and fluffy, so this snowboard is also equipped with Jones's traction tech 3.0.
This consists of extra contact points under your bindings and between your feet. These grip the snow hard while you carve!
Jones has also used a 3-D contour base on the Storm Wolf. This gives the nose and tail a spoon-like shape, enhancing its glide in powder. It also gives you smoother turn initiation, no matter what kind of snow you're riding.
To add to the damp and surf-like feel, this board has carbon with Innegra within its construction. This absorbs vibrations when you are riding rough terrain.
Personal Thoughts: The Storm Wolf is the bigger and narrower brother of the Storm Chaser. This thing rides like a rocket. Seriously… it's fast! If you're looking for a hard-carving swallowtail board that's more similar to your regular snowboard, this one's for you.
For more details on the differences between the boards, listen to Chris in the below video:
More details:
Another of the best swallowtail snowboards is the Burton Pow Wrench. This little beauty has an unconventional swallowtail but it floats like a dream.
They've used features from the infamous Burton Fish – such as taper, setback and a flat top profile. These work together to create an excellent powder slayer, which can hold it's on across the whole mountain.
Personal Thoughts: Love them or hate them, Burton make some incredible gear. I took the Pow Wrench out when my board was delayed in transit. It was so good that I didn't even miss my own board (and it was my favorite Gnu Rider's Choice).
Those are the best swallowtail snowboards available. Trust me, I've tested over a dozen swallowtails this season alone!
However, if you have any alternate suggestions… drop them in the comments below. I'm always looking for new boards to test.
Happy riding!