Most asymmetrical snowboards have a different side-cut on either edge. This compensates for our naturally unbalanced biomechanics, making your heel-side turns much more reliable. 
I was sceptical at first… but having tested more than a dozen, I'm convinced! But what are the best asymmetrical snowboards?
The Best Asymmetrical Snowboards Are:
The Gnu Rider's Choice
The Gnu Ladies Choice
The Ride TwinPig
The Nitro Optisym
Stay tuned and we'll take a closer look at these incredible boards. 
What Is An Asymmetrical Snowboard?
Ever noticed that your toe side turns are tighter and more consistent than your heel side turns? 
This is pretty normal. 
Our natural bio-mechanics make it much easier to balance and lean into our toe side. This is down to your foot, calf and ankle muscles, plus the ability to reach out with your arms. 
In order to combat this, some of the top snowboard brands have designed asymmetrical boards.
These usually work in two ways:
Asymmetrical Sidecuts: Using a short, deep, heel sidecut allows tighter and more reliable turns. This improves consistency when switching between your heel side and toe side edge.
Asymmetrical Cores: A thinner, softer core along the heel side edge makes it much easier to initiate turns.
In summary, asymmetrical boards help to reduce your natural imbalances. This makes for a smoother, snappier and super fun ride!
Best Asymmetrical Snowboards
Flex: 7/10
Profile: Hybrid (CAMROCK 2-4-2)
Base: Sintered True Base
Shape: True Twin
Additional Features: Asymmetrical Midbite, AsymFlex,
The best asymmetrical snowboard
A truly legendary board
Employs a host of asymmetrical features
Poppy and responsive
Super fun and versatile
Suits most riders
Slightly wider waist width allows really deep carves
✖️ Extremely hard to get hold of
We may make a commission if you make a purchase, at no additional cost to you.
More Details: 
The Yes Greats is comfortably one of the best asymmetrical snowboards ever. 
While other companies were struggling with asymmetrical tech, Yes had already nailed it. 
The Greats Uninc has asymmetrical mid bite (narrow sections allow the edge to reduce turn radius), asymmetrical sidecuts and an asymmetrical flex pattern. 
Can't get much more asymmetrical than that!
The Greats has been around for years and has been tweaked (mostly for the better) every season since. Definitely worth checking out!
Personal Thoughts: I love this board. It handles everything with ease. The asymmetrical features are super subtle, but work extremely well. So much so that when I jumped on another deck after 10-days on this… my heel side turns were garbage! 
The Greats Uninc will be a true one-board quiver for most riders.
2. The Gnu Rider's Choice Flex: 5.5/10
Profile: C2X Contour (Rocker-Camber-Rocker)
Base: Sintered
Shape: True Twin
Additional Features: Magne-Traction, ASYM Level 2,
Incredible all-mountain slayer
Huge range of sizes
Great edge hold
Super fun to ride
Really great use of asymmetrical sidecuts - subtle but effective
✖️ A little heavier than other options


More Details: 
Regular readers will already know how much I love this board. It was a very close second to the Yes Greats. 
It's rides more like a traditional snowboard, owing to it's slightly narrower waist and more conventional shape. 
The Rider's Choice was designed in collaboration with a host of pro riders. As you'd expect, they packed heaps of good stuff into it. 
Being a Gnu board, it of course features magnetraction (serrated edges to increase edge hold). It also uses their best profile, the C2x. 
Personal Thoughts: I won't say too much here. I'm constantly talking about this board and don't want to bore you!
The quick version is that this board is a truly excellent all rounder. It's probably not quite as good in powder as the Greats, but neither are really designed for that. Otherwise, it's hard to choose between them. 
3. The Gnu Asym Ladies Choice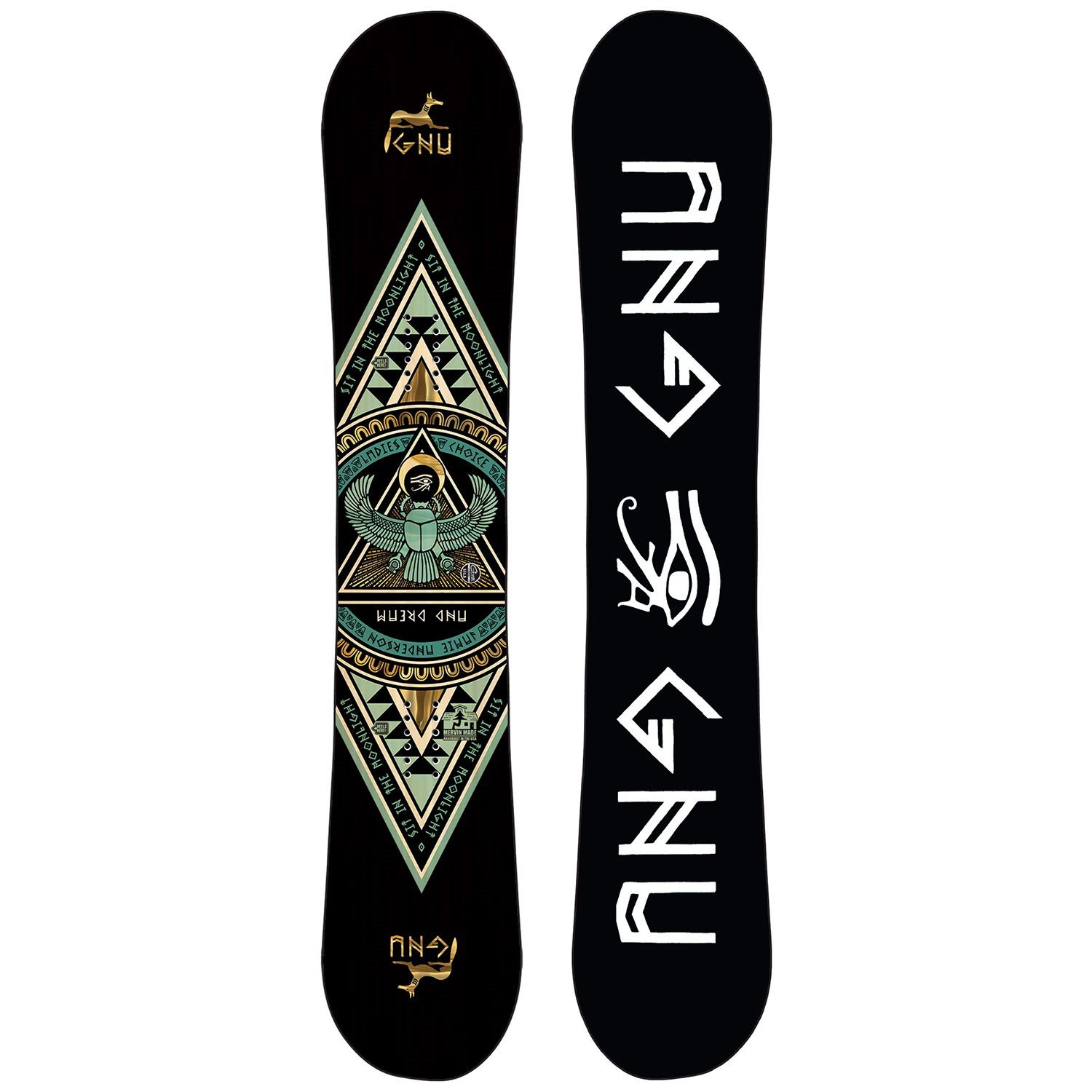 Flex: 6/10
Profile: C2x Contour (Rocker-Camber-Rocker)
Base: Eco Sintered Base
Shape: Asymmetrical True Twin
Additional Features: Magne-Traction, ASYM Level 2,
One of the best women's boards available
Same great tech as the Rider's Choice.
Excellent edge hold
Perfect pop
ASYM Level 2 is really effective
✖️ On the pricey side


More Details:
I haven't forgotten about you ladies!
The Gnu Asym Ladies Choice is the best asymmetrical women's snowboard.
As you may have guessed from the name, this has a very similar vibe to the Rider's Choice. Refined in collaboration with legendary female snowboarder, Jamie Anderson, the Ladies Choice is a safe bet for most riders.
You can expect awesome all-mountain performance and a subtle but effective asymmetrical sidecut.
Personal Thoughts: Sadly, they don't make this board in my size (I'm kinda big). I therefore turned to my trusty partner in crime. Here's what she said…
"The Ladies Choice is fun. From the second I strapped in, I had an amazing time. It's one of those rare boards that you can push super hard in all areas, without feeling nervous. I strongly recommend this board for the all-mountain freestyle rider, especially if you're looking for asym tech."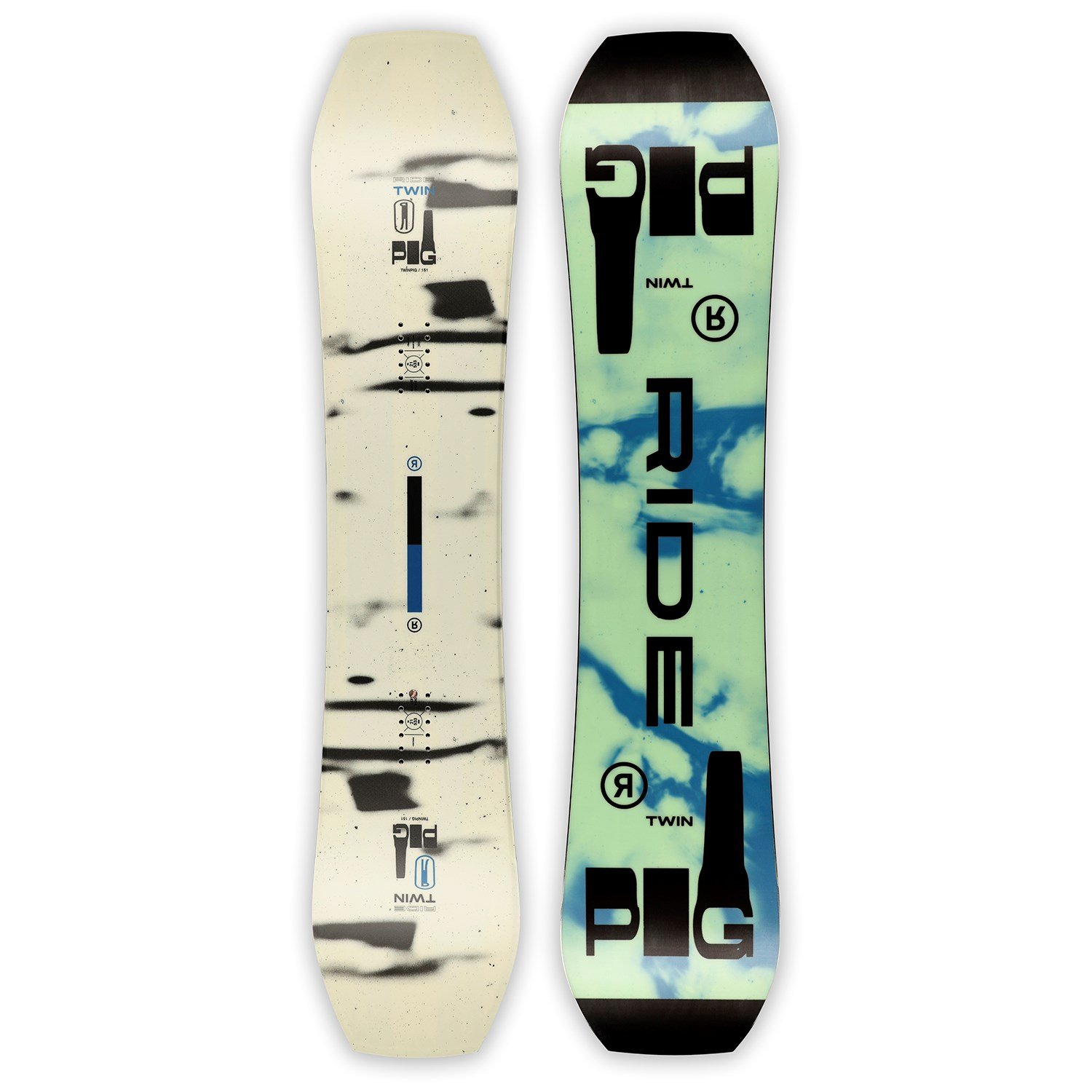 Flex: 5.5/10
Profile: Twin Standard Camber (CamRocker)
Base: Sintered 4000
Shape: Asym Twin
Additional Features: Asymmetrical Quadractic Sidecut, Slimwalls (dampens ride)
One of the best asymmetrical snowboards!
An all-mountain freestyle machine
Excellent build quality
Volume shifted - allows you to ride 3-5cm shorter
Edge hold is super solid
Great option if you like the Warpig but want asym.
✖️ On the heavier side
✖️ Not ideal for powder riding
More Details: 
You've probably definitely heard of the Ride Warpig.
But have you heard of it's more traditional younger brother… the Twinpig?
The Twinpig is Ride's twin offering. It uses a similar volume shift (short and fat) whist also including an awesome Asymmetrical sidecut. This produces a shorter, wider board that can still rip super tight turns in both directions. 
Personal Thoughts: Definitely one of the best asymmetrical snowboards, especially if you want to try a slightly unorthodox shape. I rode the 151 and was able to carve super hard, despite my normal size being a 157. 
This board is a little more freestyle orientated than Ride's traditional Warpig, but it still handled all-mountain riding like a boss.
If you want to read more about the Warpig, read our article on the best snowboards for trees. 
More Details:
Last but not least, the Nitro Optisym. 
This is probably the most "conventional" board on the list. It's essentially an all-mountain freestyle twin with an asymmetrical twist. 
It's a fast, agile, snappy board that rides like a traditional freestyle deck. Despite a 6/10 flex rating, it felt more like a 4/10 underfoot. This might be partly down to my (post-Christmas) weight…
Nitro designed this board to be accessible for both male and female riders. Sadly this doesn't extend to the heavier rider.
Personal Thoughts: What a great little deck. I had lots of fun buttering around and sending spins off side-hits. 
That said, I did overpower the board a few times and ended up on my butt.
I'd recommend this board for lighter riders looking for a traditional shape. It's also another option for female riders (though personally I'd still go with the Ladies Choice). 
Those are comfortably the best asymmetrical snowboards on the market. And I've ridden nearly every Asym board available!
But if you've tried another board that you feel deserves a spot on the list, let me know in the comments below.
Happy asymmetrical riding!