Those who master buttering tend to make it look easy.
Trust me… It's not.
It took me years to feel confident with my snowboard butters, and I still have a long way to go. But the hours of practice have taught me one thing… you need the right board for the job!
Stiff and unforgiving boards are going to fight back.
Softer snowboards will buckle like yo momma's overcooked spaghetti. 
So what are the best snowboards for buttering?
The Best Snowboards For Buttering Are:
Let's take a closer look at these buttery boards… 
Features of The Best Snowboards For Buttering
You can butter on pretty much any snowboard, but why make it harder for yourself?
The perfect snowboards for buttering offer the following features:
Soft to Medium flex
Twin Shape (usually)
A forgiving profile, usually hybrid rather than full camber
Enough pop to ollie back out of the butter (soft boards risk over-flexing)
A wider waist can make buttering easier by providing a larger platform
Best Snowboards For Buttering
Flex: 5-6/10
Profile: Twin Standard Camber (CamRocker)
Base: Sintered
Shape: Asymmetrical Twin
Additional Features: Asymmetrical Quadractic Sidecut, Slimwalls (ride dampener)
One of the best snowboards for buttering
Volume shifted (shorter and wider)
Increased nose & tail surface area
Very solid edge hold
Nice and poppy
Excellent construction
Looking for a directional twin? Check out the Warpig.
✖️ On the slightly heavier side
More Details: 
Topping this year's list is the ever-popular Ride Twinpig!
Though less distorted than the Warpig, the Twinpig is still shorter and fatter than your average board. You'll therefore ride it 3-6cm shorter than your regular size. 
This makes it super manoeuvrable and the added width creates an epic foundation for buttering. The pop also provides just the right amount of rebound. Perfection!
Personal Thoughts: I had an awesome time testing this board. In fact, there's a brand new one in the garage, bought with my own hard-earned dollar (don't tell my wife). 
It's no slouch and the flex requires a little bit of leg work. But once you get it dialled in, the rewards are bottomless. 
2. The Never Summer Proto Slinger
Flex: 4/10
Profile: Shock Wave Rocker Camber
Base: Durasurf XT Sintered 5501 Base
Shape: True Twin
Additional Features: Asymmetrical edge bite,
Super fun and super buttery
Amazingly versatile for a freestyle deck
The edge bite really works
Incredible for spins and jumps too
Solid, durable construction
✖️ A little more freestyle focused. Choose the twinpig if you're looking for a more all-mountain ride.


More Details: 
This next one is easily one of the best snowboards for buttering. 
Replacing the ever popular Funslinger, the Never Summer Proto Slinger is a freestyle machine. It's lively and fun, ready to press or spin at any given moment. 
With a slightly softer flex, it was super easy to get into a strong butter, but still strong enough to avoid sending me over the handlebars. 
For a freestyle focused board, it had surprisingly good edge hold. This allowed me to bomb at speed and risk spinning off some larger park jumps.
Personal Thoughts: Whilst I was sad to see the Funslinger go, the Proto Slinger is a worthy replacement. Consider this board if you're looking for a playful, buttery, freestyle board that still holds it's own outside the park.
3. The Salomon Huck Knife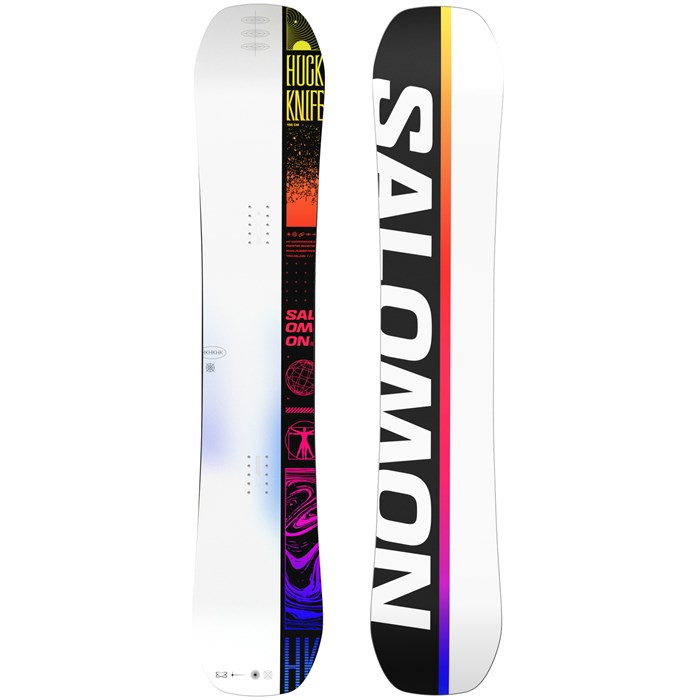 Flex: 5/10
Profile: Quad Camber
Base: Sintered
Shape: True Twin
Additional Features: Popster Booster, Freestyle Edge Bevel
An incredibly fun board!
Insane pop (though takes a little leg work)
Loves to spin off side-hits and kickers
Super light and manoeuvrable
Detuned edges at the contact points, reduces the risk of edge catching
✖️ This years model is a little stiffer, so may not be ideal for the lighter riders


More Details: 
You've probably all heard of the Huck Knife.
This poppy, little fellow joined Salomon's lineup a few seasons back, and was an instant fan favorite. 
It's essentially a park board with a backbone. 
Expect lots of pop, excellent freestyle capabilities and some surprisingly good carves.
Personal Thoughts: I loved buttering on this board. I didn't know it at the time, but Salomon detune (file down) the edges around the contact points. This accounts for why it was so forgiving. I had far fewer edge catches than normal!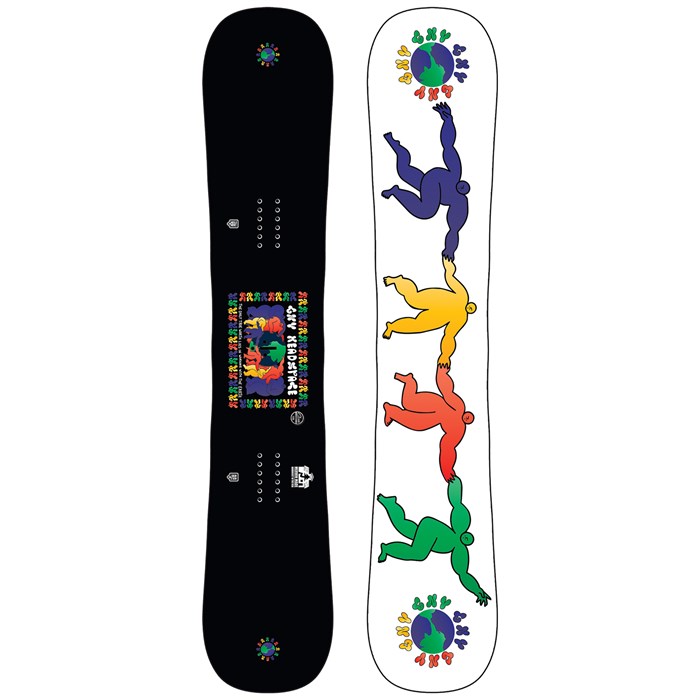 Flex: 4/10
Profile: C3 Camber (Hybrid)
Base: Eco Sublimated Sintered Base
Shape: True Twin (Asymmetrical)
Additional Features: ASYM Level 1, Magne-Traction®
Such a fun board to butter and press!
Wants to pop off everything
Handles bumps with ease
Turns the mountain into a park
I just generally had a blast on this board
✖️ Not ideal for bombing/carving at speed


More Details: 
I love the Gnu Rider's Choice (featured here). 
But it's ever so slightly too stiff for optimal buttering. 
Which is where the Gnu Head Space comes in…
Still offering the same premium features (like Asym tech and Magne-traction) the Head Space is a dream to butter. 
The C3 profile is suitably forgiving, without sacrificing edge-hold. This creates a super fun, skate-like ride.
Personal Thoughts: Another super fun and forgiving ride. The choice between this and the Huck Knife really comes down to whether you want a softer or firmer flex. Both are awesome.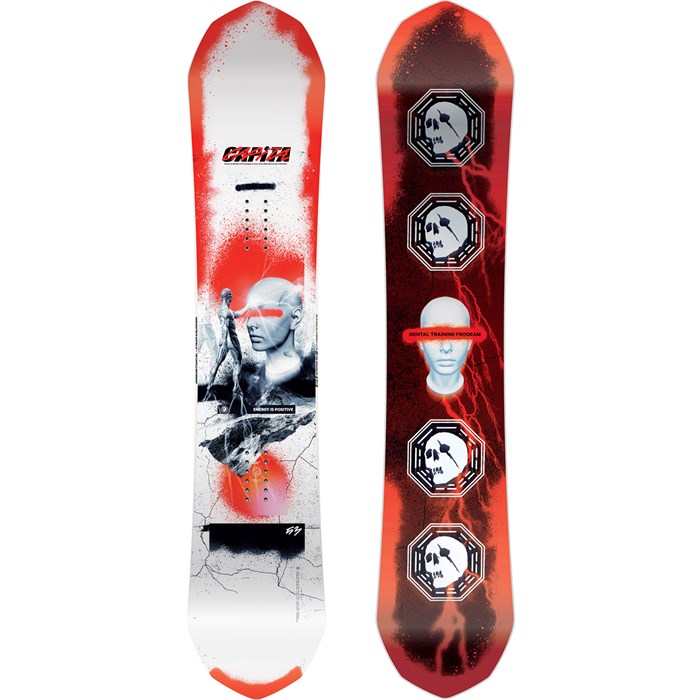 Flex: 5.5/10
Profile: Park V2 (Reverse Camber)
Base: Superdrive™ FX Base
Shape: True Twin
Additional Features: Carbon Kevlar Body Armor™
New this season!
CAPiTA have made their infamous Ultrafear even more buttery
The added rocker provides a little more forgiveness
Allows super deep presses and butters
Very quick edge to edge
Looks badass
Fun!
✖️ Softer than the flex rating would suggest - probably more of a 4/10 (though it still butters beautifully)


More Details:
CAPiTA make some pretty incredible boards. 
But the best snowboard for buttering is undoubtedly The Ultrafear. This medium flexing freestyle machine is packed with their most premium tech. 
And just when I thought it couldn't get any better, they dropped the reverse camber edition. By adding some rocker to either end, the newest model provides the perfect buttering platform. 
Personal Thoughts: What a fun little shredder. The Ultrafear can spin, pop, butter and jib to your heart's content. It's certainly capable of shredding the entire mountain.
Note: Despite having the same flex-rating, it's a fair bit softer than the infamous DOA. Bear this in mind if deciding between the two. 
6. The Bataleon Party Wave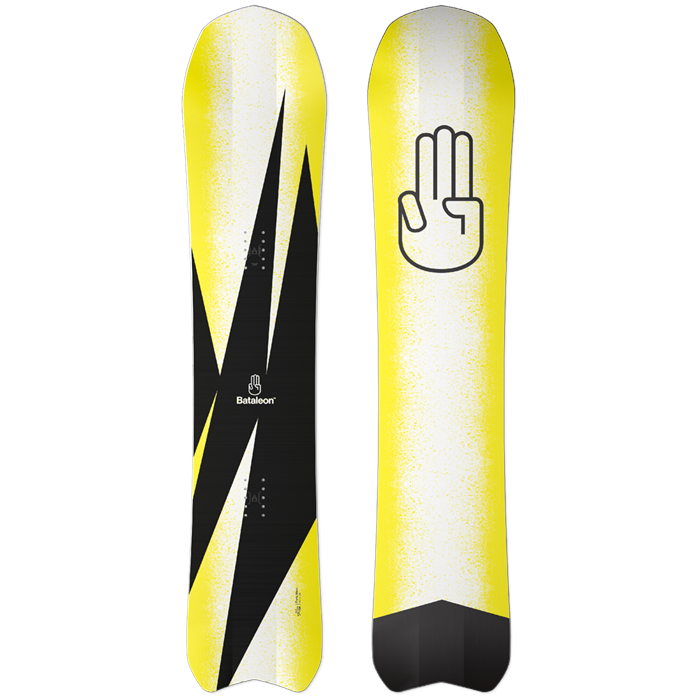 Flex: 4/10
Profile: Camber
Base: Hyper Glide Sintered Base
Shape: Directional
Additional Features: SideKick, 3BT™
The best snowboard for nose butters!
Super fun all over the mountain
Incredible in powder
3BT makes it super easy to roll in/out of butters
The huge, scooped-out nose provides a very large surface area
✖️ Not ideal for tail butters!
✖️ Flex is a little on the soft side for heavier riders


More Details:
This might be a bit of a wildcard…
But I defy you to find a better board for nose butters, especially in powder!
The Party Wave was designed to be fun.
It's directional and tapered, with a big boat-like nose. Combined with TBT and a reasonably soft flex, you'll be pressing this thing all day long. 
Now… I'll admit that tail butters are unlikely to be as successful. But if you're in the market for fun, this might be the board for you. 
Personal Thoughts: You will have a great time on this board. Whilst it carves super hard, the playful flex allows you pop spins and butters all over the mountain.
However, it's probably a board you add to your collection, rather than use as your only board (unless you rarely ride switch or park). 
Flex: 6-7/10
Profile: Hybrid (Camrock)
Base: Sintered Base
Shape: True Twin
Additional Features: Asymmetrical Midbite, Asymflex
One of my all-time favorite boards!
Plenty of buttery goodness
Unique nose and tail shape, works surprisingly well
A true all-mountain slayer
Asymmetrical heel-edge for tighter turns
✖️ Can be hard to get hold of
✖️ A little on the stiffer side
More Details:
The Greats is one of the best snowboards for buttering, particularly if you're a stronger rider. 
It's a little on the stiffer side and is a reasonably advanced board. But if you're up for the challenge, you will be rewarded! 
The Greats has won endless awards (including the best asymmetrical board).
This is thanks to it's versatility, premium construction and incredible all-mountain ability.
Personal Thoughts: Regular readers know how much I love this board. I probably talk about it too much… but it's such a beauty! 
It handled the whole mountain with ease and the unusually shaped nose and tail were surprisingly good for buttering. It is on the slightly stiffer side though – which makes it an excellent choice for a strong all-mountain rider.
Those were the best snowboards for buttering. 
Pick one up and you'll be in buttery heaven!
Word of warning… I'd strongly advise picking up a pair of crash pants. Learning to butter can be a painstaking task, particularly for your backside! 
Happy buttering!
Your most frequently asked questions - answered!
Buttering is a technique where the rider flexes the board onto it's nose or tail, using it to perform stylish tricks. This often includes rotations. 
For more details, check out our article on the best snowboards for buttering. 
Yes, you can butter on a camber snowboard, but it may require more effort and skill compared to other board profiles.
Buttering on a camber snowboard is more difficult as the edges are more likely to catch in the snow.
Conversely, a rocker board has uplifts towards the nose and tail, providing a more forgiving buttering platform.
For this reason, all of the best boards for buttering use a rocker or hybrid profile.