Whether you're a park rat, resort ripper, or backcountry pounder-hound, one thing is certain: a top-notch helmet is essential.
There's no excuse not to wear one these days!
Modern helmets are lightweight, comfortable and reasonably stylish. You'll find entry-level models for under $100 and high-end options with advanced features like MIPS and BOA.
To help you choose the right one, we've compiled a list of this season's best snowboard helmets. For more details, head to our comparison table and helmet buying guide (below the recommendations).
Our Top Snowboard Helmet Picks
The Best Snowboard Helmets 2023-2024
Construction:

Hybrid In-mold
Weight: 500g

Vents:

21

Audio Compatible:

Yes

Tech:

Zonal Koroyd®, MIPS, BOA
MSRP: $270
Description:
The Smith Vantage has exploded in popularity over the past season, and for good reason! It's an extremely premium option, featuring Boa closures, dual-zone ventilation and a super plush liner.
The safety features in this bad boy are exceptional too. It features MIPS technology (more on this later) and Smith's Koroyd tech - a super lightweight honeycomb material which safely dissipates impact in the event of a crash.
My Thoughts:
The Vantage was the best snowboard helmet I tested this season. It has all of the bells and whistles... and then some. Is it slightly overkill for your average rider? Maybe. But if you're happy to pay top dollar for premium protection, then this is a great option.
Certification: ASTM F2040, CE EN 1077:2007 Class B, CPSC, and CE EN 1078
Pros
Incredible quality
Lightweight
MIPS & Koroyd
Super comfortable
Excellent goggle compatibility
Construction:

Hybrid 50/50
Weight: 532g

Vents:

23

Audio Compatible:

Yes

Tech:

Fidlock Buckle, MIPS, BOA
MSRP: $230
Description:
Another super-premium brain bucket, this time from Anon (Burton's subsidiary company).
The Prime is one of their top of the line offerings, featuring MIPS, a hybrid 50/50 shell (hard ABS shell with an EPS liner), 360-degree BOA system and the patented Fidlock Snap magnetic buckle.
Anon have also taken your comfort seriously - they've added a super plush liner and excessive numbers of adjustable vents.
They haven't forgotten about the ladies either, with the Nova MIPS Helmet offering all of the same tech!
My Thoughts:
I'm a big fan of Anon. Their gear is well researched, well designed and made specifically for snowboarders. The Prime helmet is the perfect example of this.
I found it super comfortable and lightweight. The Prime also paired effortlessly with my Anon M series goggles, which in turn reduced fogging.
The battle for the top spot was pretty close... but I ultimately gave it to the Vantage due to the extra tech features. The Prime is still one of the best snowboard helmets of the season!
Certification: ASTM 2040 / CE 1077B Certified
Pros
Excellent quality
Super comfortable
Very effective venting
MIPS & 360 degree BOA
Paired perfectly with my Anon M4's
Designed specifically for snowboarders
Slightly better priced than the Vantage
Cons
Construction doesn't feel quite as premium as the Smith Vantage.

Not everyone is a Burton fan (and Anon is basically Burton's little brother).
Best Budget Snowboard Helmet
Construction:

ABS
Weight: 550g

Vents:

14 (fixed)

Audio Compatible:

Yes

Tech:

Dual certification, AirEvac™
MSRP: $80
Description:
Another great product from Smith Optics. The Holt is one of this season's best budget snowboard helmets.
They've managed to pack an awful lot into an $80 lid!
The Holt features a relatively low profile design, removable ear pads, and audio compatibility. It is also all-season certified, meaning it can be used as a skate helmet too. These features put the Holt well above it's similarly-priced competitors.
There is also an elasticated adjustment band, enabling a degree of customization. Your goggles can also be worn both under or over the helmet.
My Thoughts:
At a third of the price of the first two options, the Holt is pretty impressive. It does all of the basics well, and then some.
Of course, it lacks premium features like MIPS, BOA and magnetic buckles. But you can't fairly expect these in an entry-level helmet.
I did find that the construction is noticeably cheaper than The Vantage or Prime. Personally, as someone who rides 50-100 days per season, I'd spend a little more cash to upgrade to a mid-range helmet like the Mission (below). However if your main focus is well-priced protection, without needing premium features like MIPS, then the Holt is an excellent option!
Certification: ASTM F 2040, CE EN 1077:2007 CLASS B, CPSC, CE EN1078
Pros
The perfect budget-friendly option
All-season certification. The Holt is also licensed as a skate helmet!
Surprisingly comfy
Feels pretty solid
Fairly low profile (for an entry level model)
Cons
No MIPS

Fixed vents

Less-premium feel than higher end models
Best Backcountry Snowboard Helmet
Construction:

In Mold
Weight: 365g

Vents:

12 (fixed)

Audio Compatible:

No

Tech:

EPS4D, Merino Wool
MSRP: $200
Description:
This helmet is a game changer when it comes to providing protection without adding unnecessary weight. If you're planning to hike, split board or boot pack for your lines, this could be the one for you.
Aside from providing industry-leading lightness, the MTN Lab also offers excellent goggle integration, dial-adjusted fit and sound-sparing ear-pads. You'll also received two merino liners (summer and winter).
Impressively, the helmet is rated for snow sports and climbing. If you do both sports, you can save a bunch of money and use the same helmet year-round. This is achieved using Salomon's patented EPS4D technology which improves shock distribution, including against oblique and vertical knocks.
The downside to being so damn light is that the MTN Lab couldn't squeeze in tech features like MIPS, adjustable venting and audio compatibility.
My Thoughts:
I was super impressed by the Salomon MTN Lab. I attached it to my backpack on a spring split-boarding mission and almost forgot it was there. This thing is feathery light!
It does therefore feel less sturdy and insulated than other options. I imagine the polycarbonate shell will be less resistant to knocks than thick the ABS or hybrid in-mold options. If you're a freestyle rider, there are better choices. But if weight and comfort in the backcountry are your priority, the MTN Lab is perfect.
Certification: Alpine: CE-EN1077 / ASTM F-2040, Climbing: CE-EN 12492.
Pros
Insanely lightweight
Multi-norm certified for skiing, climbing, and biking
3D Sound System Earpads allow unimpaired hearing
Summer and winter liners
Very comfortable
Great backcountry features like headlamp retainers and backpack helmet bag
Cons
Sacrifices some tech in order to stay super lightweight

No MIPS

Fixed vents
Construction:

In-Mold
Weight: 450g

Vents:

14 (adjustable)

Audio Compatible:

Yes

Tech:

Aerocore™ design, MIPS, Koroyd®
MSRP: $140
Description:
If you were tempted by the Holt, consider upgrading for a few extra bucks.
Despite being 3 ounces lighter, the Mission offers MIPS, customizable venting and Koroyd (rather than full EPS foam). They also added an Adjustable Dial Fit System (DFS). This is a helluva lot more helmet tech for an extra 60 bucks!
You'll also be saving at least $100 on our top choices. Of course, this means going without additional features like magnetic buckles, BOA and split venting. The Mission also has a polycarbonate shell rather than a hybrid in-mold construction. This is lighter but more prone to dings and dents.
Nonetheless, I challenge you to find this level of tech, performance and protection at this price-point.
My Thoughts:
Another helmet from Smith Optics? I appear to have accidentally become a fanboy. This was not intentional!
The Mission is yet another excellent snowboarding helmet from Smith. On first glance, it looks and feels like a top-dollar helmet. The inclusion of most of the top level technology is pretty impressive. It's super comfortable too.
On the flipside, the vents are slightly smaller, and there is only one adjustable regulator. I also missed the magnetic Snaplock buckles and BOA fit system of the Vantage. But are these worth spending an extra 100 bucks? The choice is yours!
Certification: ASTM F 2040, CE EN 1077:2007 CLASS B, CPSC, CE EN178
Pros
Insane amount of tech at this price-point
Lightweight
Very comfortable
Adjustability (vents and dial system)
Perfect integration with Smith goggles
Cons
Hybrid in-mold helmets are likely to be more durable

Ventilation not quite on-par with premium options like the Vantage and Prime
Best Freestyle Snowboard Helmet
Construction:

ABS (hardshell)
Weight: 500g

Vents:

10 (fixed)

Audio Compatible:

Yes

Tech:

MIPS, EPP Foam
MSRP: $159
Description:
The Giro Emerge is the best snowboard helmet for park and pipe.
Whilst you can ride freestyle wearing any helmet on the list, the Emerge prioritizes durability and impact protection. It uses a hardshell construction with premium EPP foam, designed to stay strong after multiple impacts (unlike EPS).
The Emerge also boasts MIPS® Spherical, the newest evolution of MIPS® technology. This uses a two piece dual density EPP (Expanded Polypropylene) system. In the case of an impact, one liner is free to rotate in any direction inside of the other.
In plain english... this reduces the risk of brain injury after particularly nasty slams!
The helmet's aesthetic is also on-point. It's fairly low-profile and can be worn with or without ear pads (for those that rock a beanie underneath). There is also a removable goggle retainer, customizable padding and a strap channel for wearing your goggles under the helmet.
My Thoughts:
I loved the fit and style of this helmet immediately. I was therefore super stoked that the safety features are also top-notch
My main concern with most park helmets is that they crack or weaken under pressure (or after minor impacts). This is particularly problematic with helmets using EPS foam, which technically need to be replaced after every moderate crash.
The Emerge instead uses EPP foam. This spreads impact more effectively and is therefore more durable. The external hardshell can also easily handle minor knocks from branches, ski lifts or stray skiers.
I would have liked to see a BOA fit system and maybe adjustable venting, but at this price point the Emerge already offers excellent bang for your buck. In fact, this is now my personal helmet of choice for park riding.
Certification: CE EN1077B
Pros
Great bang for your buck
Durable hardshell construction
Can take small knocks without damaging helmet
Snowboard-focused aesthetic
MIPS® Spherical protection!
Great range of colorways
Cons
Lack of adjustable vents

Slightly heavier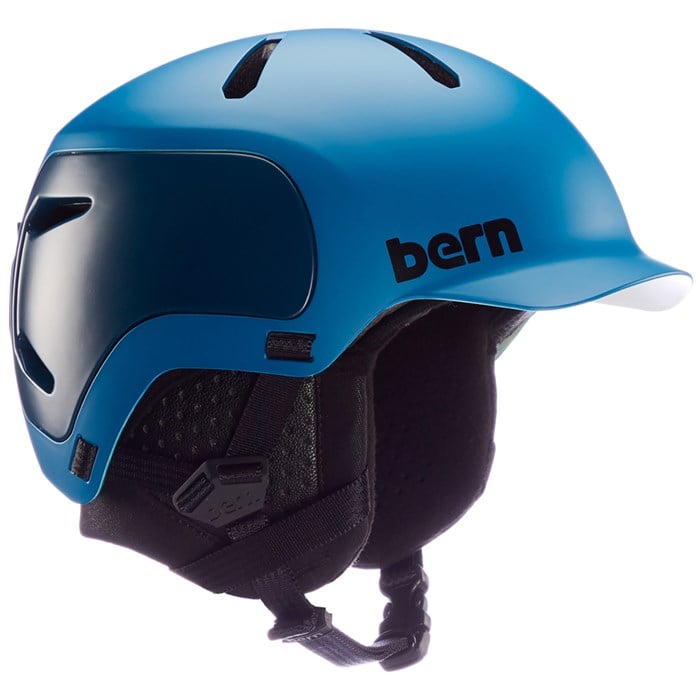 Construction:

ABS, EPS
Weight: 470g

Vents:

11 (Fixed)

Audio Compatible:

Yes

Tech:

RibTech Liner, MIPS
MSRP: $169
Description:
The Bern Watts Helmet combines style, comfort, and safety in one package. There are 2 versions, the EPS and the MIPS.
If your budget can stretch to it, go with the MIPS! They've managed to make it lighter, all whilst improving the protection, adding better venting and of course, adding MIPS. The Watts also includes their RibTech EPS Liner, which crushes into channels upon impact. This provides protection during both low-speed and high-speed impacts.
It also triples up as a bike and skate helmet. In fact, in the summer you can add Bern's custom-integrated LED lighting for added safety.
My Thoughts:
The Watts has been around for years. It was actually my first ever snowboard helmet (and I'm pretty old). I was pleased to see that they've kept up with modern helmet innovation.
Overall, it's super comfortable, very practical and looks amazing. I would prefer to be able to close the vents; these are quite exposed in heavy snowfall. But this wouldn't necessarily stop me from buying the helmet.
Certification: Complies with U.S. CPSC Safety Standard for Bicycle Helmets for Persons Age 5 and Older. EN1077B, EN1078
Pros
Best looking snowboard helmet (in my opinion)
15% lighter and 15% more airflow than the OG Watts
Brim keeps snow off your goggles
Designed to handle the park

Doubles

Triples up as a skate and bike helmet
Compass Fit System works really well
Cons
Large, fixed vents

Jump in price between the EPS and MIPS models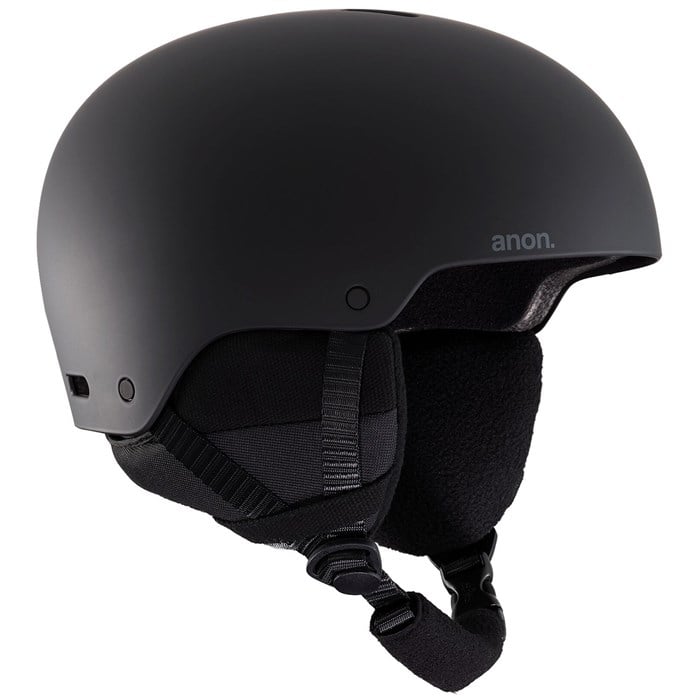 Construction:

Endura-Shell (ABS shell, EPS liner)
Weight: 595g

Vents:

6 (Fixed)

Audio Compatible:

Yes

Tech:

Minimal
MSRP: $89
Description:
The Anon Raider Helmet is a reliable and affordable option for riders looking for straightforward, solid protection. It features Endura-Shell construction, which provides excellent durability and strength.
The passive ventilation system ensures proper airflow, while the fleece liner and ear pads keep you warm and comfortable on the slopes. The helmet also has a removable goggle clip for added convenience.
My Thoughts:
The Anon Raider Helmet is a budget-friendly option that doesn't compromise on quality. It fit well and kept me warm during chilly rides. The ventilation system works effectively, and I appreciate the removable goggle clip. It's pretty basic with nothing too mind-blowing, but it certainly does the trick.
If you're stuck between this and The Holt, the Holt has better venting and a lower profile, whereas the Raider probably looks better (in my humble opinion).
Certification: Multi-Season Certified – CE 1077B, ASTM 2040, CE 1078:2012 +A1:2012, CPSC
Pros
Durable Endura-Shell construction
Warm fleece liner and ear pads
Removable goggle clip
Looks pretty badass (stealth black)
Skate certified
Cons
Limited advanced features

Passive ventilation system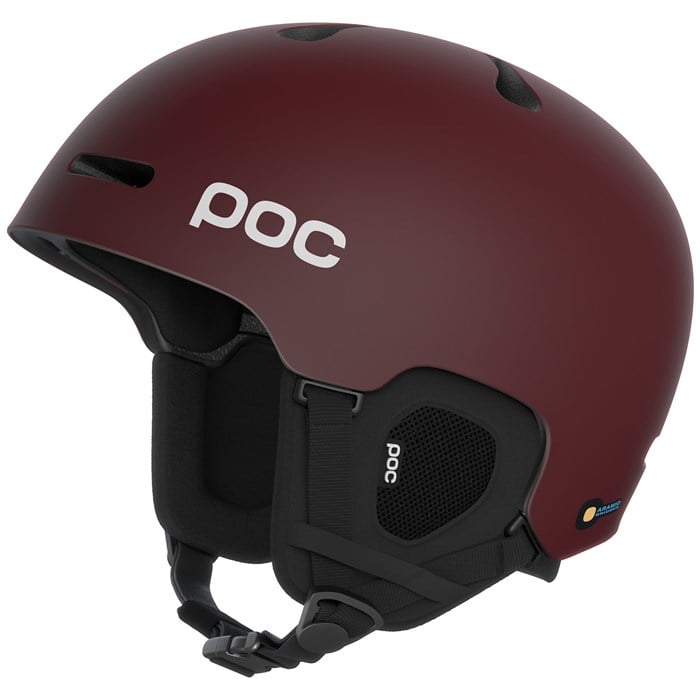 Construction:

In-mold w/ ABS shell
Weight: 420g

Vents:

10 (Adjustable)

Audio Compatible:

Yes

Tech:

MIPS, Aramid Bridge
MSRP: $200
Description:
The POC Fornix Helmet is a sleek and lightweight option designed for performance-oriented snowboarders. Its aramid bridge reinforcement system enhances structural stability and protection. The adjustable ventilation system allows you to regulate airflow, and the removable ear pads provide versatility based on weather conditions. The helmet's simple design and available colour options make it look pretty awesome too.
My Thoughts:
The POC Fornix Helmet is a fantastic choice for those seeking a lightweight and stylish helmet. It fits comfortably and offers excellent protection. The adjustable ventilation is handy for adapting to changing weather conditions - there are only 8 vents but they're pretty big. Make sure to close them in a blizzard!
Certification: CE EN 1077, ASTM F2040
Pros
Aramid bridge reinforcement for added stability
Adjustable ventilation system
Removable ear pads
MIPS (added this season)
Great anti-fogging vents at the front
Stylish design
Cons
Relatively high price tag

Need to choose the right goggles to avoid a gaper gap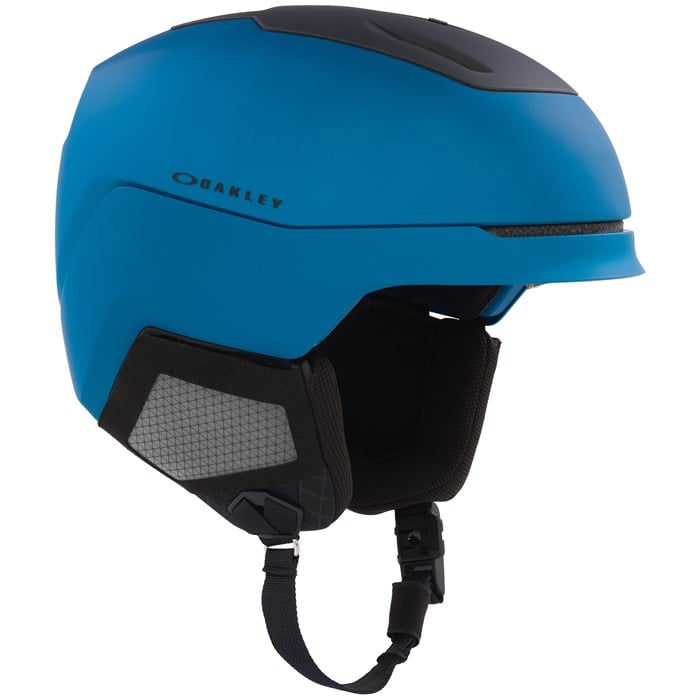 Construction:

Hybrid In-Mold
Weight: 600g

Vents:

8 (Adjustable)

Audio Compatible:

Yes

Tech:

BOA, MIPS, FiDLOCK
MSRP: $260
Description:
The Oakley Mod 5 MIPS Helmet is a high-end helmet built for snowboarders who prioritize safety and style. It features MIPS technology and BOA customization - a combination that Oakley have called Skull Matrix (sounds like a Batman villain).
The hybrid shell construction combines lightweight in-mould and durable ABS materials. The modular brim system allows for seamless integration with goggles, ensuring a secure fit and reducing fogging. The first iteration had interchangeable brims to suit all goggle sizes - the model we demoed didn't have this. Check before you buy!
My Thoughts:
The Oakley Mod 5 MIPS Helmet had the right ingredients to be the best snowboard helmet... but lost points for a number of reasons.
Sure it provides excellent protection and fits comfortably on my head. The modular brim system worked flawlessly with my goggles, however it did struggle with Tom's Anon M4s. The previous model with the interchangeable brim solved this issue, hopefully they bring it back!
The Mod 5 is also noticeably heavier than rival helmets, such as the Smith Vantage. The ventilation isn't perfect either.
Overall, I really did like this helmet. But if I was spending this amount of money, I'd be drawn to helmets higher up the list.
Certification: ASTM F2040, CE EN 1077
Pros
Loaded with tech: MIPS, BOA, Fidlock
Hybrid shell construction creates a smooth look
The brim framed my face excellently, providing a great seal around the goggles
Feels solid and very high quality
Super comfortable padding
Cons
Heavy!

Expensive

Sub-optimal ventilation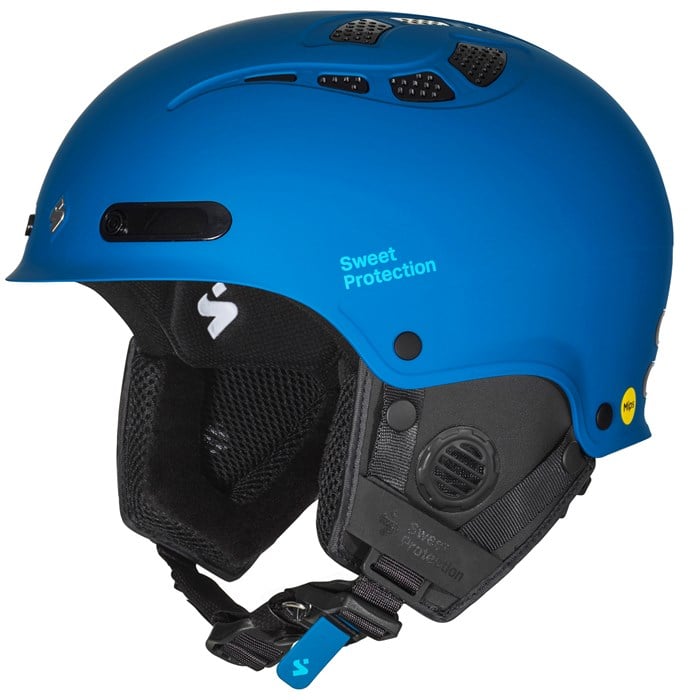 Construction:

In-Mold ABS
Weight: 530g

Vents:

26 (Partially Adjustable)

Audio Compatible:

Yes

Tech:

MIPS, Fidlock, Occigrip
MSRP: $219
Description:
The Sweet Protection Igniter II MIPS Helmet is a high-performance helmet designed for demanding snowboarding conditions. Unusually for hard-shell ABS helmets, it's packed with premium features.
It features MIPS technology for advanced impact protection and a lightweight in-mold construction. The Impact Shield technology increases energy absorption, and the Occigrip turn-dial fit system ensures a secure and comfortable fit. The helmet also has an adjustable venting system for temperature regulation (though only at the front).
My Thoughts:
I had high hopes for this one. It looks very well made and Sweet Protection have clearly paid close attention to detail. They've targeted the freeride market, although there's no reason it won't perform well in the park.
The ABS structure holds up well and the minor knocks I took barely left a scratch. It fitted very nicely with all of the goggles I tested with it.
Unfortunately the weight, price and partially fixed venting stopped this helmet from scoring higher. But if you like the design and increased durability, it's not a bad option.
Certification: CE EN 1077, ASTM F2040
Pros
Relatively lightweight in-mould construction
Impact Shield technology for energy absorption
Occigrip turn-dial fit system works well
Magnetic buckle easy to use with gloves
Loads of venting!
Cons
On the expensive side

Only the front 2 vents are adjustable - although the remaining 24 have protective mesh to prevent major snow leaks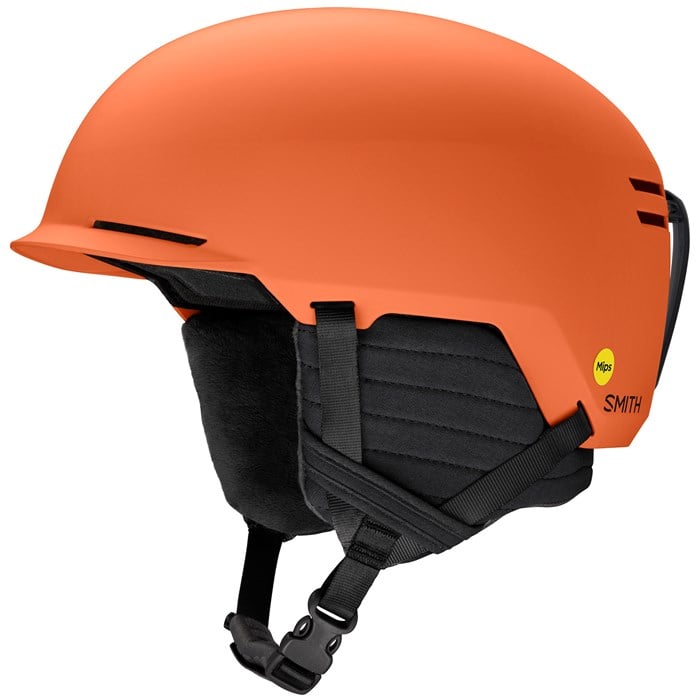 Construction:

ABS
Weight: 510g

Vents:

8 (Fixed)

Audio Compatible:

Yes

Tech:

MIPS, AirEvac™ Ventilation
MSRP: $105
Description:
The Smith Scout Helmet is a fairly basic but effective brain bucket. They've managed to produce one of the cheapest MIPS helmets available (other than the OutdoorMaster Diamond).
It's packaged in a super sleek, freestyle-oriented design. In addition, it does all of the basics really well. Got a rounder head shape? Smith also make the Scout in a "Round Contour Fit" version. This offers a little more width, for the same exact price.
My Thoughts:
I like this helmet. It's comfortable, solid and looks great. If the venting and adjustment system were improved (or the price decreased even more) then I'd gladly have bumped it up a few places.
Certification: ASTM F 2040, CPSC CE EN 1078, CE EN 1077:2007 Class B
Pros
One of the cheapest MIPS helmets!
Clean, freestyle aesthetics
Pretty solid construction
Removable goggle strap and ear-pads
Beanie compatible
Surprisingly comfortable
All-season certified
Cons
Primitive adjustment system (no dial or BOA)

Fairly basic venting, though the AirEvac™ Ventilation system works well despite the limited vent numbers.
Construction:

In-Mold
Weight: 425g

Vents:

8 (Partially Adjustable)

Audio Compatible:

Yes

Tech:

MIPS
MSRP: $109 (15% Off: SBDAYS15)
Description:
The OutdoorMaster Diamond MIPS Helmet is incredibly good value. They've managed to include MIPS, adjustable ventilation (albeit partial) and a lightweight in-mold construction for under $100 bucks ($83 with our discount code).
The OutdoorMaster brand is certainly newer than most, but they've made waves in their first few years. In fact, they're now the official supplier of the U.S. Ski team.
My Thoughts:
This helmet was a surprise entry. It obviously can't quite compete with the list-topping $200+ helmets, but it certainly outperformed helmets in the $150 range.
It's comfortable, lighter than expected and the ventilation is pretty decent. The adjustable dial system works well too (though you can't beat BOA).
I'll continue to test the Diamond throughout the season. If it proves to be durable, then it will certainly be moving higher up the list. If you're looking to kit-out the family in protective gear, OutdoorMaster is a very good option.
Certification: ASTM2040F-18
Pros
One of the cheapest MIPS helmets
Anti-fogging vents work really well
Pretty lightweight
Good bang for your buck
Fits seamlessly with OutdoorMaster goggles (especially the Ultra)
Cons
Only 4 of the vents are adjustable

Not skate or bike certified
Snowboard Helmet Comparison Table
How I Tested Each Snowboard Helmet
Between myself and the team, we have over 50-years of snowboarding experience. We are therefore very particular about the products we use!
Every snowboard helmet we tested (over 30 this season alone) was put through a minimum of 3-days intensive riding. This involved all terrain and all weather conditions. 
We collate each of our scores, to produce a total overall rating. Only the top snowboard helmets made the list. 
As a snowboard instructor, I never support a product that I wouldn't use myself or recommend to my students. Every item on this list gets my stamp of approval!
Snowboard Helmet Buying Guide
After looking through the above recommendations, you might be a little confused. I don't blame you!
Helmet manufacturers have developed their own language. ABS, MIPS, EPS, EPP… what the heck does it all mean?
Fear not my confused compadre…
My snowboard helmet buying guide is here to help.
Snowboard Helmet Construction Types
There are three main helmet construction types:
ABS: most durable 
In-Mold: most lightweight 
Hybrid In-Mold: the best of both worlds (but more expensive!)
Let's take a closer look under the lid. 
1. ABS ( Acrylonitrile Butadiene Styrene)
Pros:
ABS helmets offer excellent impact protection and durability, making them a great fit for freestyle snowboarding.
Their ding-resistance allows some ABS helmets to be dual-certified for skating or biking. Plus – they're much cheaper. The Smith Holt and Anon Raider are two great examples.
Cons:
Compared to in-mold or hybrid in-mold models, ABS helmets are usually heavier and struggle to ventilate as efficiently. 
Pros:
This results in a lighter and more streamlined helmet design. In-Mold helmets are often favored by riders seeking a lighter, more comfortable option without compromising on safety.
You'll see them featured in mid-priced models like the Smith Mission and OutdoorMaster Diamond. 
Cons:
In-mold helmets tend to scratch and dent more easily.  
Pros:
Hybrid helmets provide the durability of ABS and the lightweight comfort of In-Mold, making them a popular choice for riders needing a balance between protection and weight. 
You'll notice that the very best snowboard helmets use Hybrid In-Mold designs, such as the Smith Vantage and Anon Prime. 
Cons:
More expensive. 
Often marginally heavier than in-mold designs.
Advanced Helmet Safety Features
MIPS stands for Multi-directional Impact Protection System. It is a leading helmet safety technology that reduces rotational forces on the brain during angled impacts. 
MIPS helmets are designed with a low-friction layer that allows the helmet to rotate slightly upon impact, redirecting the rotational forces away from the head.
These diagrams will no doubt explain MIPS better than I can. 
The newest MIPS innovation is their Spherical tech (employed in the Giro Emerge). In place of a plastic liner, they've used sliding layers of EPP foam to reduce rotational impact. They describe this as a "ball-in-socket" design. 
It's not just a marketing ploy either, MIPS really works!
If you can afford it, go for a helmet with MIPS. 
Koroyd is another innovative safety technology. Unlike MIPS, it's exclusively found in Smith snowboard helmets.
It consists of a honeycomb-like structure made from thousands of small, co-polymer tubes. These provide excellent impact absorption and improved ventilation. Koroyd can effectively reduce the risk of head injuries by dissipating and redirecting the forces of an impact.
WaveCel is fairly new and relatively under-utilized. I suspect we'll see more from them in coming seasons (particularly with Anon). 
WaveCel is a structure within the helmet designed to collapse on impact, reducing rotational force. It crumples and flexes to absorb shock, and glides to redirect the impact. 
Due to these features, WaveCel-equipped helmets are unlikely to need MIPS. 
Snowboard Helmet Foam Types
The foam liner inside snowboard helmets plays a crucial role in absorbing and dissipating impact forces. The two most commonly used foam materials are Expanded Polystyrene (EPS) and Expanded Polypropylene (EPP).
1. EPS (Expanded Polystyrene)
EPS foam is the most widely used material in helmet construction. This is mostly due to its cost-effectiveness and reliable impact absorption properties.
EPS is lightweight, rigid, and designed to compress upon impact, effectively absorbing and distributing the force.
However, EPS foam liners are generally considered to have a single-impact capability, meaning that once they compress during a significant impact, they may lose some of their protective properties and need to be replaced.
2. EPP (Expanded Polypropylene)
EPP foam is a more advanced material used in certain high-end snowboard helmets. It offers superior impact resistance and durability compared to EPS foam.
EPP foam is engineered to withstand multiple impacts without significant loss of protective capabilities, making it ideal for riders who frequently engage in high-risk snowboarding activities.
Snowboard Helmet Certifications
When purchasing a snowboard helmet, make sure it meets the appropriate safety standards.
In the USA, the Consumer Product Safety Commission (CPSC) sets the safety standards for helmets intended for use in recreational activities, including snowboarding.
Check for the CPSC certification label before buying. (Our top snowboard helmets are all heavily tested and certified).  
Additionally, some snowboard helmets may comply with other safety standards such as ASTM F2040 (American Society for Testing and Materials) or EN1077 (European standard).
While not mandatory in the USA, these certifications provide an extra layer of assurance regarding the helmet's safety performance.
You might have noticed that some of the best snowboard helmets have all-season certification (EN 1078).
These can therefore be used for skateboarding, riding bikes and even roller skating. Their ABS shell is designed to hold up to a real beating!
Rarely, helmets such as the Salomon MTN Lab receive EN 12492 certification. These offer additional protection from falling objects and are therefore certified for climbing. 
This is great news for backcountry enthusiasts, especially as these helmets are usually super lightweight and breathable.
While safety is paramount, comfort is also essential when it comes to choosing your snowboard helmet. Consider the following features. 
Look for helmets with adjustable fit systems, such as a dial or strap. These ensure a snug and secure fit, preventing the helmet from shifting during rides. The most premium of these is BOA, an innovative dial that allows micro-adjustments via a single cable. 
Only consider lids with adequately padded liners and ear pads. You're going to need these on the mountain!
Several of the options above even provide multiple liners, offering different thickness and warmth settings. 
Cheaper models risk pressure points, muffled hearing and overly-compressible foam. If you ride regularly and ride hard, don't cheap out on your helmet.
Keep in mind that a comfortable helmet is one that you'll actually want to wear! 
Snowboarding involves fluctuating weather conditions, ranging from chilly days to beaming sun. When choosing a helmet, pay attention to the ventilation features.
Look for helmets with adjustable vents. These allow you to regulate airflow and temperature. 
Fixed ventilation is usually reserved for cheaper models. When done correctly, passive ventilation systems can still be effective temperature regulators. But there's no match for adjustable airflow. 
You should also check for the number of vents. Sadly, more vents often correlates with a higher price tag. But I'd argue this is worthwhile for a comfortable head and fog-free goggles.
Weight is one of the most discussed features of snowboard and ski helmets. Truth be told, the average weekend warrior (myself included) won't notice minor variations in weight once they're strapped in. 
However, backcountry gurus certainly will. 
For most of us, comfort and fit is much more important. So if you love a helmet but the weight is marginally higher, consider what you'll be using it for. 
In addition, every helmet on our list is within a reasonable weight range. Sure, some of the ABS options are a little heavier… but none are excessively bulky or weighty (we did test some cheaper brick-like helmets. They didn't make the list). 
Additional Snowboard Helmet Features
Pretty much all of the best snowboard helmets are audio compatible. This usually means there's space within the ear pads for drop-in audio, like the Outdoor Tech Chips or Smith x Aleck kits. 
Imagine watching helplessly as your expensive goggles fall (in slow-mo) into the abyss beneath the chairlift. Goggle retainers keep your straps firmly in place. 
Unless you rock your snowboard goggles under your helmet, you need these!
Action Camera/
GoPro

Mounts
Some helmets have GoPro mounts pre-attached. Personally, I'd rather have the option to attach/detach at will. 
I'd therefore recommend picking up an after-market Go-Pro snowboard mount (link to my article all about it). 
How To Size Your Snowboard Helmet
To find the right helmet, start by measuring your head circumference using a flexible tape measure. Wrap it around your forehead, about an inch above your eyebrows and ears. Write down the measurement in centimeters.
Then check the helmet size charts. There's quite a bit of variation between brands – 58 cm is a medium in some brands, large in others. 
Pro Tip: If you don't have a soft measuring tape, use a piece of string and measure it against a regular tape measure. 
Once you receive the helmet, stick it on your head and give it a shake. Your helmet should fit snugly all the way around. Avoid gaps, too much space or excessive sliding.
Never buy helmets with "growing room". Oversized helmets are unsafe. 
3. Test Goggle Compatibility
Your goggles and helmet should fit seamlessly. Otherwise, you'll experience fogging or the dreaded gaper gap (the frostbitten gap between your helmet and the top of your goggles). 
Snowboard Helmet Size Charts
In a nutshell, when it comes to the best snowboard helmets, safety and enjoyment go hand in hand.
Finding the perfect snowboard helmet is all about considering what matters most to you.
Consider factors like fit, comfort, ventilation, and whether it meets the required safety certifications.
Remember, your helmet is your trusty companion on the slopes, so it's worth investing in a reliable one. By choosing a high-quality helmet from our recommendations, you can ride with confidence (but not too much!). 
Stay safe, have a blast, and enjoy the ride!
Your most frequently asked questions about snowboard helmets.