Whether slashing through fresh powder or performing gravity-defying tricks, it's essential to prioritize safety.
And when it comes to protecting your head, don't compromise! 
That's why MIPS (Multi-directional Impact Protection System) snowboard helmets have become increasingly popular among riders.
I tested over 30-helmets last season alone and took some pretty gnarly falls. So in this article, I'll explore some of the best MIPS snowboard helmets available. 
Our Top MIPS Snowboard Helmet Picks
The Best MIPS Snowboard Helmets 2023-2024
1
Best MIPS Snowboard Helmet
Construction:

Hybrid In-mold
Weight: 500g

Vents:

21

Audio Compatible:

Yes

Tech:

Zonal Koroyd®, MIPS, BOA
Description:
The Smith Vantage is the best MIPS snowboard helmet this season.
It's lightweight, packed full of safety tech, extremely well ventilated and super comfortable. The Vantage features a BOA fit system, dual-zone vents, MIPS and Koroyd tech.
My Thoughts:
Second perhaps only to the Smith Nexus (which is prohibitively expensive) the Vantage is about as good at it gets!
As soon as you pick this thing up, you'll feel the quality of the construction. Smith have clearly paid close attention to detail. It has all the necessary tech and none of the unnecessary weight.
I wore this with my Anon M4's and Smith I/O Mag's. The helmet-goggle seal was perfect. No gaper gap for me!
If you're willing to pay top dollar for top-notch protection, look no further than the Smith Vantage MIPS.
Certification: ASTM F2040, CE EN 1077:2007 Class B, CPSC, and CE EN 1078
Pros
Extremely high quality
Feathery light
Loaded with tech
Super cosy
Multiple fit types
Excellent venting
Cons
Premium products come with a premium price tag!
Construction:

Hybrid 50/50
Weight: 532g

Vents:

23

Audio Compatible:

Yes

Tech:

Fidlock Buckle, MIPS, BOA
Description:
Another luxury lid. The Anon Prime is loaded with helmet safety technology.
The Prime features 360-degree BOA, magnetic buckle closures, a hybrid in-mold construction and of course, MIPS.
The women's version is no slouch either, with the Nova MIPS Helmet offering all of the same tech. This makes the NOVA our best MIPS snowboard helmet for women.
My Thoughts:
The Anon Prime has lots of similarities with the Smith Vantage. They are both extremely comfortable, very lightweight and built to last (unless you slam onto a cat-track at 40mph like I did... a story for another time!).
Ultimately these are both great choices. Whilst the Vantage won this time around, the top spot is up for grabs once again next season!
Certification: ASTM 2040 / CE 1077B Certified
Pros
"Prime" quality
Loaded with tech
Comfy as they come
Pairs nicely with Anon goggles
Slightly cheaper than the Vantage
Built for snowboarders
Cons
Perhaps not quite as well-finished as the Vantage

Some riders aren't big Burton/Anon fans
Construction:

ABS/Hardshell
Weight: 500g

Vents:

10 (fixed)

Audio Compatible:

Yes

Tech:

MIPS, EPP Foam
Description:
The Giro Emerge is the best MIPS snowboard helmet for freestyle riding.
Unlike the Vantage and the Prime, the Emerge uses a combination of a super-solid ABS hardshell and internal EPP foam (designed to withstand multiple impacts, unlike EPS). This makes it better suited to park riding, as you're much more likely to take repeated minor knocks and dings.
The Emerge also features the newest MIPS innovation - MIPS Spherical. Rather than a plastic MIPS liner, the Emerge uses a "ball-in-socket" design. This involves two pieces of EPP foam which are free to rotate when the helmet sustains rotational impact.
To put it simply, Spherical MIPS is the latest tool in the fight against brain injuries.
My Thoughts:
I'm a huge fan of the Giro Emerge Helmet. Whilst I love the Smith Vantage, it's not made to handle abuse in the park. In fact, after a significant crash, you're advised to replace the helmet altogether.
This is where the Emerge steps up. On first picking it up, you'll notice how durable the outer shell feels. The foam inside the helmet is also much denser, reducing the risk of cracking or denting following an impact.
The Emerge also fit seamlessly with all 3 pairs of goggles I tested it with (Anon M4, OutdoorMaster Ultra, Smith I/O Mag). It's relatively low profile, includes a channel for goggle straps (for wearing them under your helmet) and can be worn without ear pads.
On the flip-side, it doesn't have a BOA fit system or adjustable venting. Arguably, it would be hard to include these at this price point. However, it would have been a nice addition.
Certification: CE EN1077B
Pros
Great value for money
EPP foam (rather than EPS) is more durable for park riding
Features the latest MIPS® Spherical protection!
Looks awesome, a sort of military/snowboarding hybrid
Can take minor dings without sustaining damage or needing replacement
4
Best Budget MIPS Snowboard Helmet
Construction:

In-Mold
Weight: 425g

Vents:

8 (Partially Adjustable)

Audio Compatible:

Yes

Tech:

MIPS
15% Off Code: SBDAYS15
Description:
The OutdoorMaster Diamond MIPS Helmet is an excellent budget choice.
They have somehow managed to include MIPS, in-mold construction, adjustable ventilation and a dial-fit system for less than $100 bucks ($85 with the discount code). This is pretty remarkable.
You'll probably have seen more and more of their gear on the mountain over the last few seasons. This isn't surprising given the tech they're offering at a fraction of the cost of the big-name brands.
Update: OutdoorMaster are now the official supplier of the U.S. Ski team. Impressive.
My Thoughts:
I've now had chance to test this helmet on and off over the past 2 seasons. I have to say... I'm pleasantly surprised.
Sure the helmet doesn't feel quite as premium as the Vantage or Prime, however at less than half the price, how could it? Regardless, the comfort, practicality and performance of the helmet are surprisingly awesome.
They're planning to fine-tune it even more next season. If they manage to add more adjustable venting and upgrade the fit system, they may give Smith a run for their money.
If you're looking for maximum protection with a minimal budget, OutdoorMaster is a very good option.
Certification: ASTM2040F-18
Pros
Possibly the best-priced MIPS snowboard helmet available
In-mold construction allows added weight savings
Excellent bang for your buck
Paired perfectly with my OutdoorMaster Ultra goggles
Comfortable padding
Cons
Only partially adjustable (4 vents)

No BOA fit system
5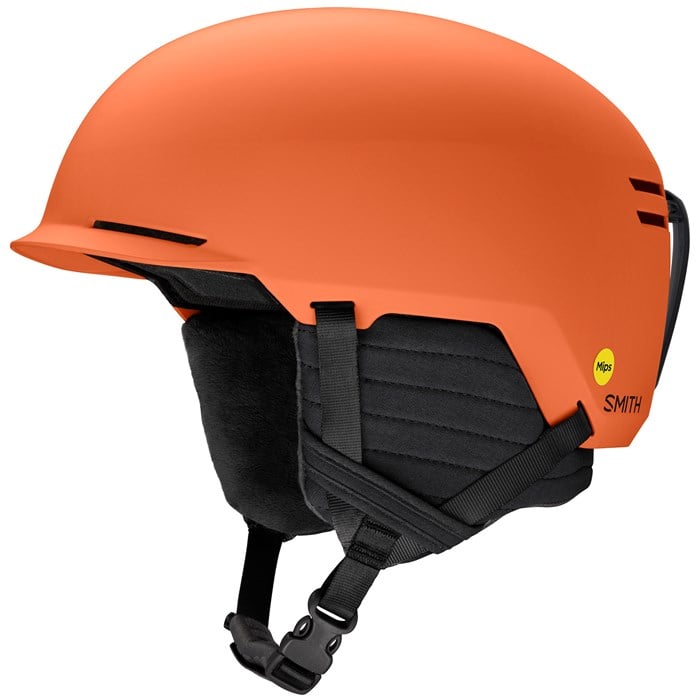 Best of The Rest
Construction:

ABS
Weight: 510g

Vents:

8 (Fixed)

Audio Compatible:

Yes

Tech:

MIPS, AirEvac™ Ventilation
Description:
The Smith Scout Helmet is a little basic, but it's very effective. It's also one of the cheapest MIPS snowboard helmets on the market.
It features clean, freestyle-orientated aesthetics, removable ear pads and a removable goggle retention clip.
My Thoughts:
I like the Smith Scout a lot. It's on the cheaper and more basic end of the spectrum (for a MIPS helmet), but it still performed really well. I put it through it's paces in the park and had no issues, despite it being a warmer day. This is a testament to Smith's passive ventilation system.
If you're looking for additional premium features like BOA, adjustable venting and in-mold construction, you'll need to spend a little more dough. But if you need a basic MIPS brain bucket, grab the Scout and don't look back.
Certification: ASTM F 2040, CPSC CE EN 1078, CE EN 1077:2007 Class B
Pros
Big-name brand at a budget price ($105)
All-Season certified (biking and skating)
Goggles can be worn under or over helmet
Beanie compatible
AirEvac passive ventilation works surprisingly well
Available in "round contour fit" (for rounder-headed riders such as myself)
Cons
Basic adjustment system

Fixed venting only
MIPS Snowboard Helmet Comparison Table
Advice For Buying A Helmet
Do I Need a MIPS Snowboard Helmet?
Absolutely! While wearing any helmet is better than none, opting for a MIPS helmet can provide you with an additional layer of safety and protection while snowboarding.
Here's why you should consider investing in a MIPS helmet:
1. Enhanced Impact Protection 
Snowboarders don't crash in a straight line! Unlike traditional helmets, MIPS helmets incorporate a low-friction layer between the outer shell and the inner liner. This allows the helmet to rotate slightly upon impact, reducing the rotational forces transmitted to your head.
2. Real-World Impact Simulation
MIPS technology is based on extensive research and real-world testing. The system has been developed using data from studies on different types of impacts, including the rotational and oblique impacts that occur in real-life snowboard accidents.
3. Peace of Mind
Knowing that you're wearing a helmet with advanced tech can give you some peace of mind. Just don't go crazy and start sending tricks that you have no business doing!
4. If You Can Afford It… Why Not?
Fortunately, MIPS is becoming much more affordable. In fact, MIPS helmets can be cheaper than non-MIPS helmets. 
The Disadvantages of MIPS Helmets?
Nothing in life is perfect. And MIPS is no different. 
The disadvantages of MIPS helmets are:
1. Cost
High-end MIPS helmets typically come at a higher price point.
2. Fit and Comfort
The inclusion of the MIPS layer can slightly affect the fit and comfort of the helmet. The added layer may make the helmet feel slightly bulkier or tighter. Where possible, try before you buy.
3. Temperature Regulation
Some riders have reported slightly reduced airflow compared to traditional helmets. The MIPS layer can slightly impede air circulation. However, it's worth noting that helmet manufacturers are continuously striving to optimize ventilation systems. 
In my humble opinion, the potential disadvantages of MIPS helmets are generally minor and do not outweigh the potential benefits.
Investing in a quality helmet, whether MIPS or not, is crucial for protecting your brain. 
Having been a snowboard instructor for over a decade, I've seen my fair share of head injuries. Many of them would have been avoided or minimized by a decent helmet. 
I therefore no longer ride without my helmet. Ever. 
Hopefully you'll do the same. 
Happy riding!