Ski resorts in America's Midwest are often overshadowed by the big named resorts of Colorado and California. However, you might not want to travel such long distances for your snow fix.
The resorts of the Midwest may not have the vertical drop and the epic snowfall of other ski resorts. However, you can still have a fantastic time and enjoy a different experience.
In this article, I'll highlight the best ski resorts in the Midwest:
Boyne Mountain Resort
Chestnut Mountain Resort
Cascade Mountain
Granite Peak
Crystal Mountain
Read on to reveal the gory details…
1. Boyne Mountain Resort
Elevation:

1,120 ft (340m)

Trails:

60 slopes covering 415 acres

Snow Parks:

7

Lifts:

12

Off-Piste:

Look for the gladed areas on the map
Description:
Boyne Mountain Resort is located in Michigan. It was opened in 1948 and has become one of the best ski resorts in the Midwest. Over the years, Boyne Mountain resort has introduced a whole host of activities to enjoy. For example, you can go Nordic skiing, snowshoeing, tubing, fat tire mountain biking, and ice skating, making it ideal for family ski and snowboard trips. Boyne is also home to the state's largest waterpark.
The resort's 60 different slopes are varied enough for all skill levels, and many of them are looked after by extensive snowmaking facilities, so the snow conditions are reliable (as long as the temperatures are low enough).
49% of the slopes are rated as green, and there's a beginner area so kids can get to grips with their first turns in safety. It also has 7 snow parks, so there are plenty of opportunities for catching some air.
Fun Fact:
Boyne is the Midwest's largest ski area.
Pros
Wide variety of terrain for the area
Easy to find a place to stay
Lots of alternative activities
Great après scene
Cons
It can be crowded during weekends and holidays
It may not satisfy experienced freeriders
An adult lift ticket starts at $59 per day. But the website has some deals for different age groups and for more extended stays.
Boyne mountain has its own airport, but it's reserved for private planes. Therefore, if you're a commercial flyer, you must fly to Traverse City Cherry Capital (TVC). This airport is about 1 hour and 20 minutes by car from Boyne.
2. Chestnut Mountain Resort
Elevation:

1,040 feet (317m)

Trails:

19 runs covering 220 acres

Snow Parks:

1 big one

Lifts:

10

Off-Piste:

Quite minimal. The resort offers very little information about off-piste, so don't expect much.
Description:
Chestnut Mountain Resort near the riverport of Galena, Illinois. It overlooks the Mississippi River, giving you spectacular views and some great ridable terrain.
The modest number of slopes is varied enough to satisfy most riders, and the longest one is 3,500 feet (1066m) long. Chestnut is an excellent spot for freestylers, as the Far Side Terrain park has a quarter-pipe, two half-pipes, and many rails and kickers.
It's cool that the hotel and Village Ski Center are located on top of the ski hill, so you can get sliding as soon as you step outside. The 475-foot of vertical drop may not seem like a lot, but it is pretty big in this part of the Midwest.
Fun Fact:
There are many other things to do on a trip to Chestnut Mountain Resort other than snowboarding and skiing. For example, you can go zip-lining, try the Alpine slide, or go on a Mississippi cruise!
Pros
Stunning Mississippi views
Some of the Midwest's best beginner slopes
Convenient accommodation
Cons
Not many runs
No information on backcountry
Between $40 and $60 per day for an adult.
Fly to Chicago Midway Intl. Airport, which is 170 miles away by car.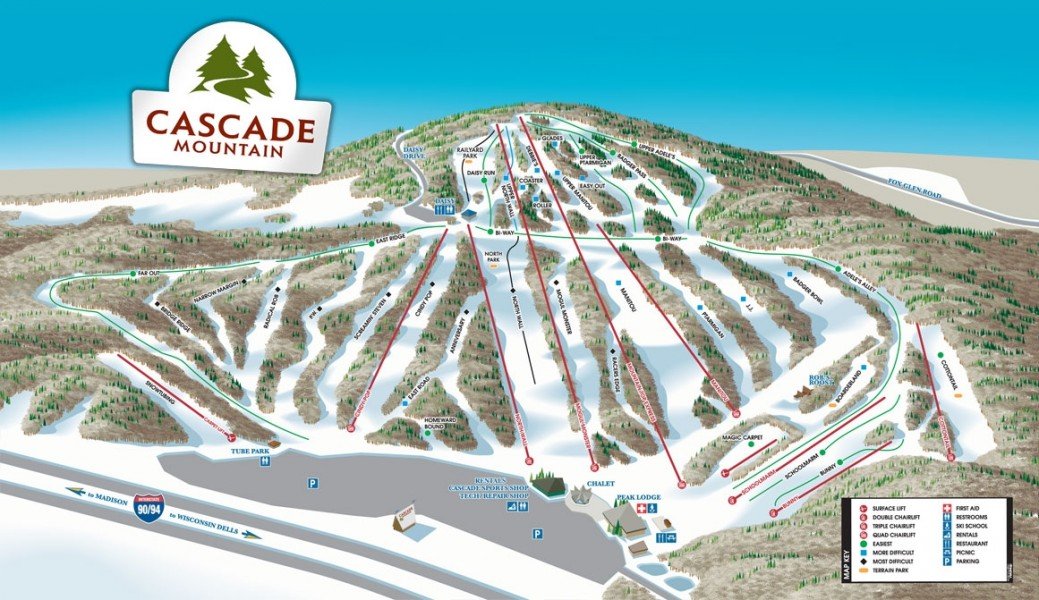 3. Cascade Mountain
Elevation:

1,280ft (390m)

Trails:

48 runs over 175 acres

Snow Parks:

3

Lifts:

11

Off-Piste:

Not known for great backcountry, but try to befriend a local to learn their secrets
Description:
Cascade Mountain sits high on a ridge in Wisconsin and is regarded as the best place to go on a day trip in the Midwest. Due to its proximity to large cities and the I-90/I94, Cascade Mountain can get pretty busy, but the modern lift system copes with the crowds well. You therefore usually don't have to wait too long in the lift lines.
Cascade Mountain is well geared up for kids and families; for example, Kids under 12 with an accompanying grown-up can ride for free. The resort also has an abundance of activities off the slopes, including 15 800ft long tubing lanes and constant live entertainment.
Even though Cascade Mountain is a great family-friendly ski resort, it has 3 terrain parks designed to help you progress your freestyle. Start on the small features and work your way up to the big stuff.
There's also night skiing, so you can keep riding into the dark.
Fun Fact:
The resort has recently gone through an expansion plan, adding more lifts, runs, snow tubing lanes, and snowmaking facilities.
Pros
Excellent snowparks
Night skiing
Easy to get to
An adult day ticket starts at $89 per day.
Located off exit 106 of Interstate 90/94, just 15 minutes from the Dells.
Chicago is three hours away, Milwaukee is less than two, and Madison is just 30 minutes.
4. Granite Peak
Elevation:

1,950 ft (594m)

Trails:

74 runs covering 200 acres

Snow Parks:

4

Lifts:

7

Off-Piste:

Not known for its backcountry
Description:
Granite peak has the feeling of a small New England ski resort, but it is regarded as Wisconsin's number 1 ski area. It has over 200 acres of terrain to explore, made possible by the fastest lift system in the Midwest. In fact, it is home to the only 6-seater chairlift in Wisconsin.
The groomed slopes consist of moguls, groomers and forest runs suitable for all skill levels. There are also four snowparks designed to help you progress from your first airs to massive jumps.
Granite Peak has also thought of break time on the slopes. The best place to stop off is the Historic Chalet Deck. This is where you can grab a beer or hot chocolate next to a fire pit.
Overall, these features make Granite Peak one of the best ski resorts in the midwest.
Fun Fact:
When the ski area opened on Rib Mountain State Park in 1937, it was one of the first ski areas in North America.
Pros
One of the best lift systems in the Midwest
Great for beginners
Great variety of terrain
Cons
It's pretty expensive for the area
A day pass for an adult is $105, but there are deals if you book before November 15th.
Central Wisconsin Airport is only 13 miles away, so you can get there in 15 minutes by car.
5. Crystal Mountain
Elevation:

7,012 ft (2137m)

Trails:

58 runs covering 2,600 acres

Snow Parks:

2 and a jump line

Lifts:

11

Off-Piste:

There are some local backcountry tours to help you find the best spots.
Description:
Crystal Mountain is repeatedly regarded as the best family resort in the Midwest. It is open all year round, and visitors go there for the golf course and spa when the snow melts.
But when the ground is covered in the white stuff, you can ride 58 slopes for every skill level. This is impressive for a midwest resort. There are some excellent instructional programs for kids from the age of 3. Kids under 6 can ride for free, and there are lots to do if you fancy a day off the mountain, including the spa.
Crystal Mountain is in a fantastic location on Lake Michigan's eastern shore. This means it gets great snow cover, but the resort has excellent snowmaking facilities just in case it doesn't.
Fun Fact:
Over the past decade, over $30 million has been invested in the area! There are plans to invest a further $100 million over the next several years. This will improve the slopes, lift system, and amenities to a whole new level.
Pros
Top-rated for families
Full-service resort
Excellent accommodation for all budgets and tastes
Large vertical for a midwest resort
Has on-mountain lodging!
Cons
It can get pretty busy on the weekends.
An adult day ticket costs from $69 to $99, depending on when you go.
Crystal Mountain is 28 miles southwest of Traverse City. It is also less than 2 hours from Seattle and Bellevue and 1 hour and 30 minutes from Tacoma.
As you can see, you don't need to go to Colorado or California to shred the slopes. The Midwest has a lot going for it, but you need to manage your expectations if you're used to higher-profile ski resorts or are an expert rider.
This doesn't mean you're not going to have a fantastic time; it's just that the terrain is a little less dramatic and steep than you may be used to.
If the best ski resorts in the midwest haven't convinced you, check out some more snowboarding destinations for inspiration.
Happy riding!