Most people in the Northern hemisphere aren't aware that South America has some incredible terrain for skiing and snowboarding. This is probably because it takes longer to get there and winter holiday companies will focus their marketing on local ski resorts
However, when skiers and snowboarders learn about the potential of South American ski resorts, they quickly add them to their bucket lists!
In this article, I'll highlight the best ski resorts in South America:
La Hoya, Esquel, Argentina
Nevados de Chillan, Chile
Cerro Catedral, Argentina
Cerro Bayo, Argentina
1. La Hoya, Argentina
Elevation:

1,850m (6070 ft)

Trails:

24 runs covering 148 acres.

Snow Parks:

1 (small one)

Lifts:

9

Off-Piste:

Lots of nice steep stuff!
Description:
La Hoya Ski Resort may be a small Argentinian ski resort, but it has a whole lot of history attached to it. For example, this is where Butch Cassidy and the Sundance Kid hung out in the 1930s.
La Hoya still has that historical charm, and combined with incredible powder and terrain, it creates a unique experience for skiers and snowboarders.
Due to the altitude and local geography, La Hoya is mainly treeless. The small ski area is only 60 hectares (148 acres) but it has runs to suit all abilities. Most of the runs are suitable for intermediate and advanced riders, and there is a small snowpark for practising your freestyle.
If you're into steep and deep, La Hoya has you covered. There's a lot of backcountry terrain featuring steep chutes, cornices, and bowls.
La Hoya's snow coverage is well known for its reliability and depth. The area gets 8.9m (350") of dry snow each winter. Most of the slopes face south, so the snow is kept in good condition while extending the season from June to October.
Fun Fact:
When La Hoya opened in the 1940s, it was only accessible by horse!
Pros
Excellent powder
Not very touristy
Easy to get fresh tracks
Cons
As it is an old mining town, some parts are unattractive
A day pass will cost around ARS 4470, which is about $26. The cheapest in South America!
La Hoya is 14km (about 8 miles) from Esquel on the RA 259. It's also about 282km (175 miles) from the Lake District. It's best to fly into Esquel.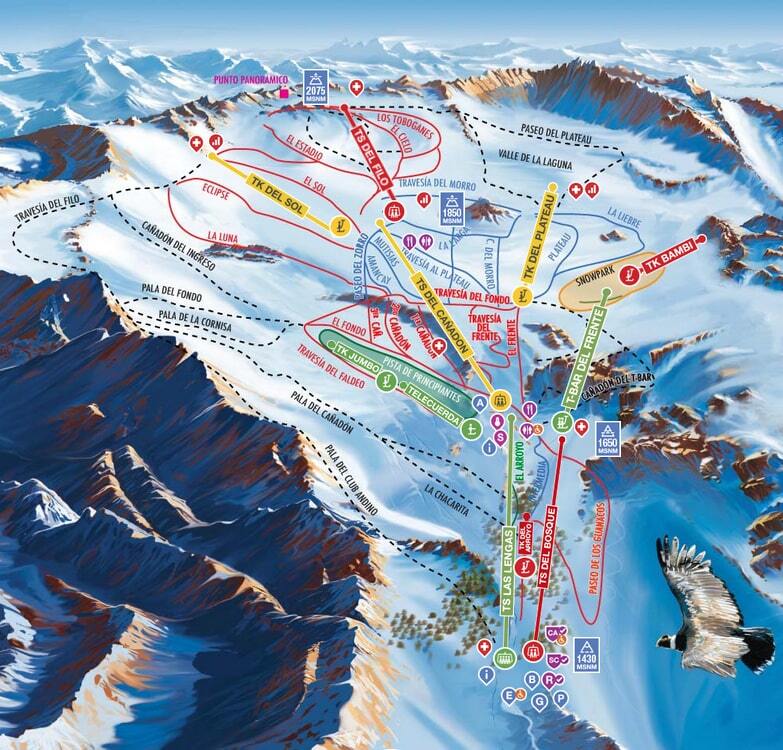 2. Nevados de Chillan, Chile
Elevation:

2,500m (8202 ft)

Trails:

32

Snow Parks:

1, but it's often closed

Lifts:

12

Off-Piste:

Lots of easily accessible backcountry
Description:
Nevados de Chillan is certainly one of the best ski resorts in South America. It sits next to three active volcanoes, offering views you won't get in any other ski resort. It is the perfect spot for beginners and intermediate riders, but it also offers exciting terrain for advanced riders. The backcountry slopes are the result of lava flows from historical eruptions.
Heading into the Nevados de Chillan backcountry lets you score epic powder lines away from the crowds.
Nevados de Chillan is quite a large ski resort and is home to South America's longest run, the 13 km-long Tres Marias. It also has a 2,500m long chairlift, which is quite old-fashioned, but it gives you a much needed 24-minute rest.
Nevados de Chillan receives the most snow in South America, and it's easy to access, allowing you to easily claim first tracks. There are many beginner and intermediate skiers in Nevados de Chillan. Therefore, they usually stick to the easier slopes; consequently, you'll often have the tasty terrain all to yourself.
Fun Fact:
The Nevados de Chillan Ski Resort used to be called Termas de Chillan. It is renowned for its natural hot springs (termas), where you can rejuvenate your sore legs after smashing all that powder.
Pros
Fantastic and interesting backcountry terrain
Great snow cover
Pretty much deserted outside of the school holidays
Relax in thermal springs in your downtime
Cons
Slow lift system. Although it is gradually being modernized.
Bad weather often causes the higher lifts to close
The hotels on the mountain can be pricy
Not that easy to get to
Not great for English-speaking kids
Zero nightlife
Lift tickets are usually included in the price of your lodgings when you stay in one of the on-mountain hotels. This one is particularly nice and well worth checking out.
Fly into Santiago and head to Nevado de Chillan as part of a multi-day tour on a bus or hire car. Alternatively, you fly to Concepcion and take a bus or train to Chillan, and get a transfer to the resort.
3. Cerro Catedral, Argentina
Elevation:

2,180m (7152 ft)

Trails:

55 runs across a huge ski area!

Snow Parks:

1

Lifts:

37

Off-Piste:

Lot of good stuff when the snow is good
Description:
Cerro Catedral (aka Catedral Alta Patagonia) got its name from the granite spires at the top of the mountain - thay resemble a gothic church. The area attracts skiers and snowboarders with its awe-inspiring views and relatively modern infrastructure.
The resort has spent millions of dollars to bring it up to scratch. But it also has a village at its base, which is unusual in South America.
Cerro Catedral has the largest lift-accessible area in South America, and about half of it is in the backcountry. With this in mind, Cerro Catedral is enjoyed most by intermediate and advanced riders. However, there is some excellent beginner terrain too.
If you like riding through trees, Cerro Catedral is a fantastic place to go. While the bowls and chutes in the backcountry are excellent for advanced riders.
The main negative of Cerro Catedral is that the snow can get pretty wet, affecting the quality of the powder. The snow can be quite patchy, too, due to the low altitude. But when the snow is good, it's really good! (The resort gets 6m of snow every winter).
Fun Fact:
Catedral Alta Patagonia's longest descent is 9 kilometers long!
Pros
Great backcountry terrain
Well-developed by South American standards
Cons
The snow quality can be unreliable
Around 5900 Argentine Pesos ($34) per day for an adult. But there are deals to be had.
Cerro Catedral ski resort is about 20km from San Carlos de Bariloche, which has its own airport. You can get to Bariloche on a 2-hour flight from Buenos Aires.
There are regular buses from Bariloche to Cerro Catedral, but you can also hire a car.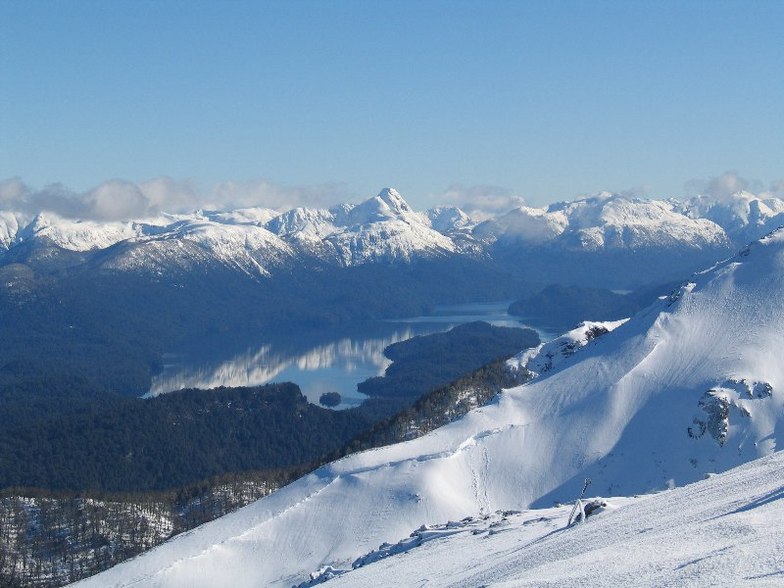 4. Cerro Bayo, Argentina
Elevation:

1,710 m (5610 ft)

Trails:

25 runs covering 494 acres

Snow Parks:

1

Lifts:

16

Off-Piste:

Plenty but needs strong snow cover
Description:
Cerro Bayo is one of the best ski resorts in South America. It's an Argentinian resort that has evolved into a unique boutique destination offering something entirely different from other South American ski resorts.
It has incredible views over the Andes and Chile. The views over Lago Nahuel Huapi are nothing short of spectacular and can be seen while you ride the fantastic tree-lined slopes.
The marked ski area is pretty small, but the backcountry is comprehensive and ideal for advanced riders with a thirst for powder. You can enjoy some excellent tree runs and alpine bowls in Cerro Bayo, but there are some nice mellow runs that anyone can enjoy.
Cerro Bayo receives an average of 6 to 9 metres of snow during the winter. The quality of snow is as variable as the amount. You can get fantastic powder with a dry consistency or choppy mashed potato-style snow. It can also be quite patchy, as the altitude is only 1,050m.
Fun Fact:
In 2007, Cerro Bayo was started as a small, family-run resort by Belgian, Jean Pierre Raemdonck.
Pros
Amazing views
It's becoming a classy ski resort
Uncrowded slopes
Fresh powder is easy to come by
Good variety of terrain for all skill levels
Cons
Bad weather often closes the higher lifts
There's no accommodation, so you need to stay in Villa La Angostura, which is gorgeous
The snow can be patchy
An adult day pass costs between 5000 and 7100 Pesos ($28.50-$41) depending on the time of year.
Cerro Bayo is 9km/5.6 miles from Villa La Angostura, which is one hour from (70km/43 miles) San Carlos de Bariloche, and 1.5 hours from San Martin de Los Andes.
Most people get to Cerro Bayo from Villa La Angostura via the Bariloche airport. You can then rent a car or take a bus to Villa La Angostura, where the accommodation is.
The best ski resorts in South America are worth visiting. You'll love these places if you're a powder hound, especially if you're lucky enough to time your visit with good snowfall and great weather.
Some of these resorts are great for spending a week or two, but others are best for a flying visit while you're in the area. After all, it would be rude not to experience the lovely dry powder provided by the Andes!
If however, I haven't managed to convince you to visit South America, there are plenty of amazing ski resorts in North America! Go check them out…
Happy riding!