California offers a lot to outdoor enthusiasts. Thanks to its diverse geography, you can snowboard in the morning and surf in the afternoon. Pretty epic right? Out of all of the 48 lower states, California has the highest number of mountains… an impressive total of 6,106. It is therefore bound to have some excellent shred spots.
In this article, I'll highlight the best places to snowboard in California, so that you know where to head in the Golden State this winter.
Here are the best places to snowboard in California.
Mammoth Mountain
Big Bear Mountain Resorts
Palisades, Tahoe
Kirkwood, Lake Tahoe
Sugar Bowl, Tahoe
Read on to reveal the inside scoop…
1. Mammoth Mountain
Elevation:

11,053 feet (3,369m)

Terrain:

3,500 acres (14.1km2)

Snow Parks:

7

Lifts:

25

Off-Piste:

Epic tree runs, but head over to The Hemlocks for steep and deep, with plenty of natural features to huck.
Description: Mammoth Mountain is located in Central Eastern California. It is famous for having some of the world's best snowboarding terrain. It also has one of California's largest ski areas, measuring over 3,500 acres!
The large expanse at Mammoth Mountain means there's plenty of shreddable terrain, whether you're a first-timer or a seasoned pro. It also gets about 400" of snow coverage every winter, so there's a good chance you'll get a powder day during your trip.
If you're a freestyler (or a wannabe freestyler), Mammoth Mountain is a great place to go. It has seven world-class snowparks to hone your skills.
Fun Fact: Mammoth Mountain was formed by volcanic eruptions!
Pros
Excellent snow record
Something for everyone
Stunning scenery
Lots of opportunities for freestylers
Cons
It can get really windy, scouring the snow off the mountain.
The prices for a full-day lift ticket at Mammoth Mountain are as follows:
Children aged 5 to 12: $68 to $84
Adults aged 23 to 64: $169 to $213
Young Adults aged 13 to 22: $139 to $171
Seniors aged 65 to 79: $139 to $171
Mammoth Mountain is about 8-minutes from the Californian town of Mammoth Lakes. It is about a 5-hour drive from Los Angeles, but you can get seasonal flights from San Francisco and Denver to Mammoth Airport. However, Mammoth Airport does suffer from closures in high winds, so consider your options carefully.
2. Big Bear Mountain Resorts
Elevation:

8,805 ft (2,684 m)

Terrain:

400 acres (1.6km2) with 55 runs

Snow Parks:

There's freestyle terrain everywhere!

Lifts:

26

Off-Piste:

Big Bear Mountain Resorts have some of the best steeps in Southern California. Head to the canyons on a powder day.
Description: Big Bear Mountain Resort is another one of the best places to snowboard in California. The area comprises of two ski resorts, Bear Mountain and Snow Summit.
Snow Summit is best for intermediate and advanced riders, but there are some great beginner slopes too. The 240 acres of terrain has 27 runs and six snowparks to enjoy. Bear Mountain is famous for its freestyle features. In fact, 85% of the mountain is covered with pipes, boxes, jumps, and rails everywhere, making it a heaven for freestylers.
Fun Fact: The snowmaking facilities cover 100% of the ski area, so there's always good snow cover if the temperatures allow it!
Pros
Superb for freestylers
A youthful atmosphere
There are lots of competitions to watch or take part in throughout the season.
Cons
It's not that big, so if freestyle is not your thing, the runs can get repetitive.
The costs of a full-day lift ticket at Big Bear Mountain Resorts are as follows:
Children aged 5 to 12: $58. to $46
Teens aged 13 to 17: $115. to $145
Adults aged 18 to 64: $115 to $145
Seniors 65 to 79: $94 to $119
Under 4 and over 80s ride for free!
Big Bear Mountain Resorts are about a 9-minute drive from Big Bear Lake, California, and just over 2 hours from Los Angeles.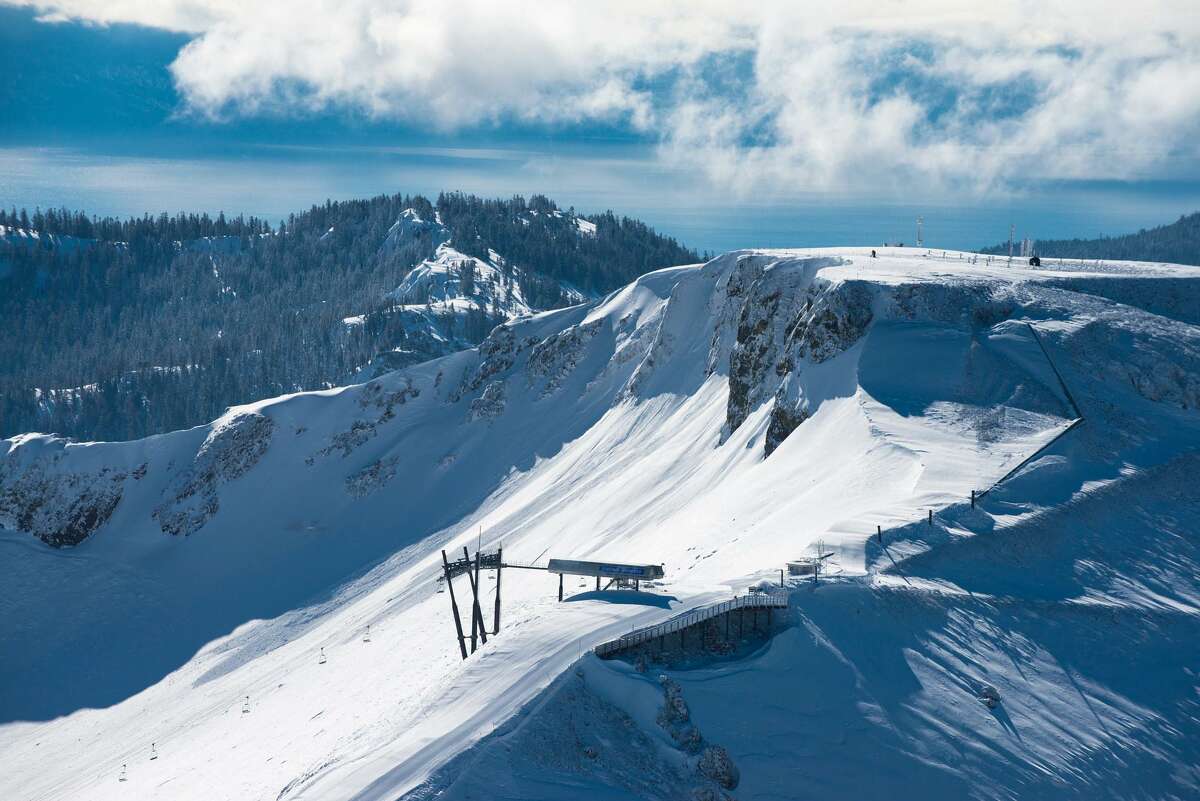 3. Palisades Tahoe
Elevation:

9,050 feet (2758m)

Terrain:

170+ runs

Snow Parks:

One half pipe, but there's plenty of natural terrain.

Lifts:

29

Off-Piste:

There are cliffs, steeps, and cornices everywhere. But head to Broken Arrow peak and the Silverado chair after taking a brave pill.
Description: Palisades Tahoe is known for being an excellent all-rounder ski resort. The terrain is made up of two areas, Alpine Meadows and Olympic Valley. The Olympic valley is the best choice for snowboarders, as there are fewer sections you need to traverse on one edge.
Despite Palisades having a reputation for extreme terrain, it does have terrain for all levels and moods. Whether you want to take it easy or scare yourself witless, you'll find a slope that does the trick.
Fun Fact: Warren Miller often filmed locals hucking off cliffs in the 1980s, making the terrain legendary and increasing the resort's popularity.
Pros
Genuinely caters to all abilities
Impressive freeride terrain
Great après scene and nightlife
Excellent lodging options
Cons
It gets busy on a powder day
Locals can be intimidating to less advanced riders
Can be expensive
The costs of a full-day lift ticket at Palisades are as follows:
Free for kids aged 4 and under
Children aged 5 to 12: $106 to $146
Teens aged 13 to 17: $136 to $188
Adults aged 18 to 69: $170 to $209
Seniors over 70: $136 to $188
The Olympic Valley side of Palisades Tahoe is 11 miles from the town of Truckee and 7 miles from Tahoe City. You can fly to Reno Tahoe International Airport, which is 49 miles away.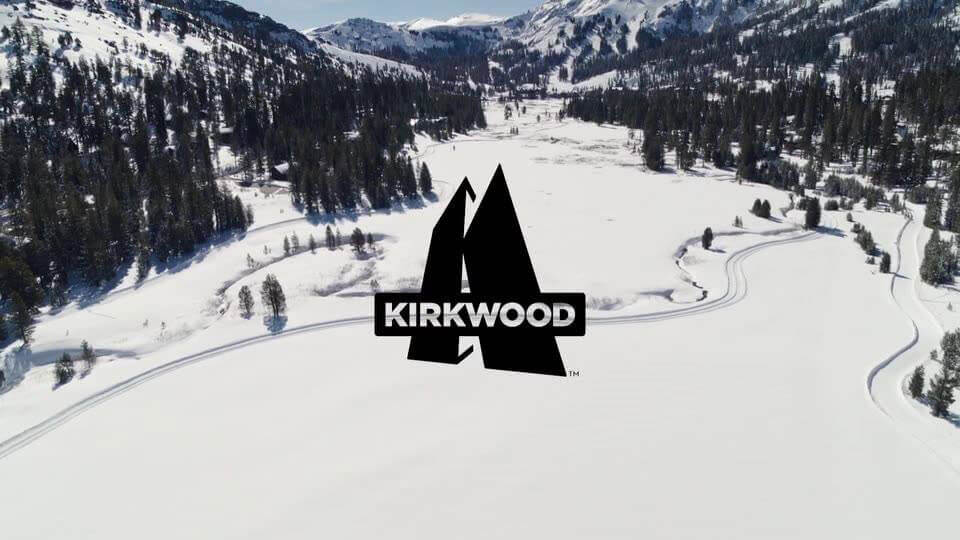 4. Kirkwood, Lake Tahoe
Elevation:

9,800 ft (2987m)

Terrain:

86 runs across 2,300 acres

Snow Parks:

A couple of options if you like small to medium features.

Lifts:

15

Off-Piste:

Many chutes, bowls, and tree runs to enjoy.
Description: Kirkwood is one of the best places to snowboard in California because it gets 600" of snow every winter!! It also has its fair share of technical terrain. This will keep the most hardened rider grinning from ear to ear.
This ski resort has a low-key, relaxed atmosphere, so don't expect a bustling town and epic nightlife. This is the kind of place where you go to bed early and get up early to enjoy the bottomless snow.
Kirkwood isn't for you if you're looking for a lively atmosphere and luxury accommodation. But if you want varied terrain, especially if you're an advanced rider, you'll love it.
Fun Fact: Kirkwood is one of the World Freeskiing Tour venues, giving you an idea of what the terrain is like!
Pros
Fantastic terrain for advanced riders
Lots of snow every year
Best snow in the Tahoe area
Low-key and friendly
Lots of ski-in-ski-out lodgings
Cons
Nothing else to do apart from ride
The nightlife is pretty much non-existent
Day tickets at Kirkwood cost:
$129.00 for adults
$116.00 for seniors and teens
Kids can ride for $94.00
Kirkwood Mountain Resort is in the Eldorado National Forest. It's around 34 miles south of the town of South Lake Tahoe. It is also 178 miles from San Francisco.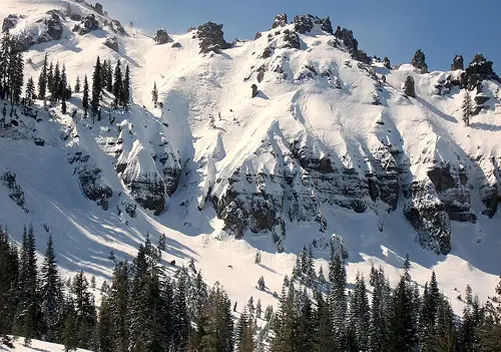 5. Sugar Bowl
Elevation:

8,383 feet (2555m)

Terrain:

100 runs over 1,650 acres

Snow Parks:

Switching Yard is fun and unintimidating

Lifts:

12

Off-Piste:

Lots to choose from, but head to Crow's Nest for tree runs
Description: Sugar Bowl is one of the best places to snowboard in California for a day or two, especially while staying at one of the other Tahoe resorts. It's not really a place you specifically go to for a vacation.
Many people visit Sugar Bowl for weekends or day trips. It's the closest ski area to Sacramento and San Francisco's Bay Area. However, it is still less crowded than some of Tahoe's higher-profile resorts.
One of the best things about Sugar Bowl is that it gets about 500" of snow every winter; only Kirkwood receives more. It also has excellent snowmaking facilities that can cover 25% of the slopes when it gets a bit thin.
Fun Fact: Sugar Bowl is one of the oldest ski resorts in California, opening in 1937! When it opened, you could ride the lift for $0.25 and ski back down for $2.
Pros
Down to earth vibe and is not pretentious
Great place to visit while staying in other Tahoe resorts
Not as crowded as higher-profile resorts
Consistent fantastic snowfall
Lots of side country and backcountry terrain
Cons
Not as polished as other resorts
Not much in the way of nightlife
It doesn't take long for the snow to turn into "Sierra Cement."
Sugar Bowl's day ticket prices are as follows:
Adult: $129 – $150,
Young Adult 13-22: $103 – $119
Child 6-12: $59 – $87
Child 5 & Under: Free
Seniors 65-74: $88 – $122
Super Seniors over 75: $59 – $87
Sugar bowl Ski Resort is just off the I-80, 10 miles from Truckee, and about 24 miles from Lake Tahoe.
Those were the best places to snowboard in California!
Trust me, you'll have a great time at any of them. My personal recommendation would be to stay at one of the main resorts – you can then make side-trips to the other local resorts on the list.
Disagree with my choices? Let me know in the comments below!
If you're thinking about venturing outside of California, check out some more of our other snowboarding destinations.
Happy riding!