Japan should be on every snowboarder (and skier's) bucket list. Why? It's home to some of the best resorts in the world!
Hokkaido, Japan's northernmost island, is the perfect example of this. Hokkaido's slopes are covered in huge amounts of incredible snow.
This forms when cold air crosses the Sea of Japan from Siberia. These incredibly cold temperatures make the powder very dry and very deep.
Hokkaido's ski areas can receive 14 to 18 meters of snowfall every winter, earning it the nickname, Japow!
Here are the best ski resorts in Hokkaido:
Niseko
Furano
Rusutsu
Tomamu
1. Niseko
Elevation: 853 - 3937 ft (260 - 1200m)
Trails: 82
Snow Parks: Head to Hanazono and Hirafu for jibs and jumps
Lifts: 32
Off-Piste: Legendary!
Description:
Niseko is probably Hokkaido's most famous ski resort. It attracts skiers and snowboarders from all over the world - most of them on the hunt for bottomless powder. It seems to constantly snow in Niseko, so you can expect the deepest powder. Make sure you ride a board with plenty of float.
Niseko is also regarded as having the best ridable terrain in Japan. It has incredible backcountry areas that are easy to access, so you can overdose on powder turns until your legs give up.
You don't have to be an expert snowboarder to enjoy Niseko. There are certainly slopes for all levels. The wide variety of groomed runs is perfect for beginners and intermediate riders too.
Depending on your perspective, the main downside of Niseko is that it is rarely sunny and often freezing. So you probably won't be topping up your goggle tan... but this is also why there is so much snow.
Overall, Niseko is definitely one of the best ski resorts in Hokkaido.
Fun Fact:
Under all that snow lies a tremendous number of potato farms.
Pros
POWDER!
Large area to explore
A great base to visit other resorts from
Lots of other activities and vibrant nightlife
Incredible food ad hospitality
Snowcat and heliboarding to make your visit even more epic (outside the resort).
Cons
Starting to become crowded, so avoid Christmas and New Year
Not much ski-in-ski-out accommodation
Accommodation is expensive
Not great if you only like to ride on sunny days
There are many options, so it's best to check the website. I'd recommend the Niseko United pass which let's you ride all 4 of the resorts within Niseko.
Niseko Resort is about 100km from Sapporo city and Sapporo New-Chitose airport. The drive takes about 2 hours and 30 minutes, but you can also get the train and private transfers.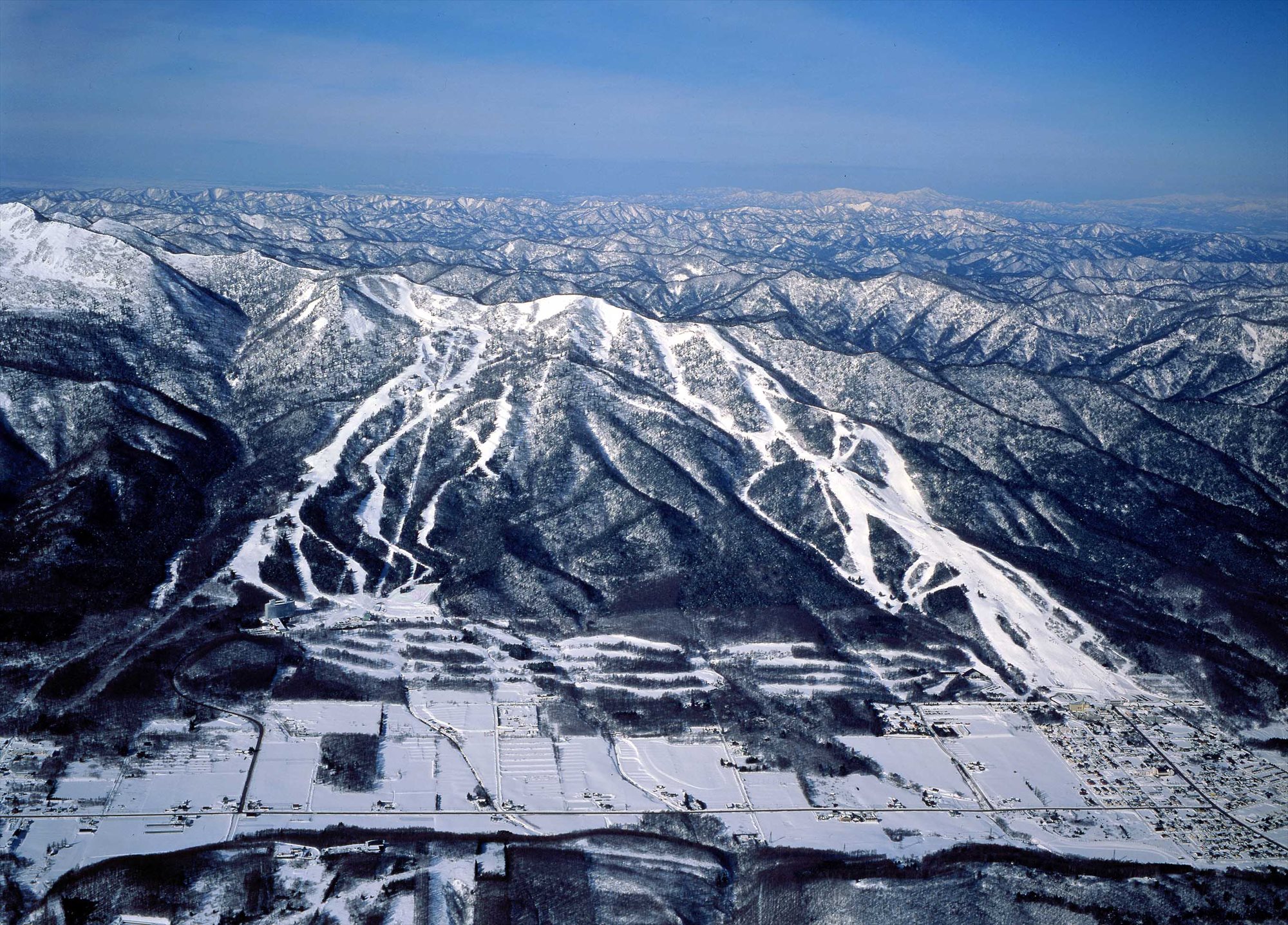 2. Furano
Elevation: 770 - 3,523 ft (235 - 1074m)
Trails: 23
Snow Parks: 1 small one, but it's not that impressive
Lifts: 10
Off-Piste: There are some excellent tree runs, but they are not that steep. Keep your speed up
Description:
Furano is one of the best ski resorts in Hokkaido. It manages to be a really great all-rounder. It has excellent amenities without feeling too "purpose-built." This is partly down to the nearby town of Furano being authentic, while still catering to English-speaking guests. This provides a genuine Japanese experience, without it being too challenging to find your way around.
The Furano ski area is made up of two zones, the Furano Zone and the Kitanomine Zone. These are linked by a lift and a slope. The terrain around here is diverse enough to suit riders of all levels. You can also expect some excellent backcountry terrain, complimented by the epic Hokkaido powder.
You'll find runs suitable for beginners and intermediates at the bottom of the mountain and the steeper ones higher up. All are serviced by a great quality ski lift system.
Fun Fact:
You can visit an alpaca farm if you fancy a day off the slopes.
Pros
Something for everyone
Family-friendly
Get an authentic Japanese experience
Reasonably priced accommodation
Cons
Not the best choice for luxury accommodation
The powder in the trees gets tracked out quickly
There are a few lift pass options in Furano, including 3 and 5-hour passes, and kids 12 and under ride for free.
Furano is only 2 hours by train from the capital of Hokkaido. Still, the best way to get there is from Sapporo, as it has an international airport. Alternatively, you can fly to Asahikawa Airport, which is about 60 minutes from Furano.
3. Rusutsu
Elevation: 1,473 - 3,261ft (449 - 994m)
Trails: 37
Snow Parks: 2 small ones, which are also lit and open at night!
Lifts: 18
Off-Piste: Lots of amazing tree runs
Description:
Rusutsu gets about 13 meters of snow every winter, making it a dreamland for powder riding. The dryness of the snow makes for effortless turns on some of the world's best terrain - especially for riding trees.
If you're staying in Niseko, Rusutsu is well worth a day trip. But you could also spend several days riding this incredible snow and terrain. Rusutsu is also generally less busy than Niseko.
The West mountain of Rusutsu is pretty small. Still, it has some great beginner slopes, snowparks, and a handful of runs for intermediate and advanced riders. There's also a small area of trees to ride through.
The East Mountain is accessed on a gondola or a chair lift. This area is more suited to intermediates and beginners. However, if you know what you're doing, head over to Mount Isola. This is where the best tree runs are, along with some great intermediate slopes.
Fun Fact:
Rusutsu has heliskiing, which is pretty rare in Japan.
Pros
The powder is fantastic in both quantity and quality
Great backcountry to explore
Terrain for everyone
It offers a modern Japanese experience
Cons
The terrain isn't very steep
Expensive accommodation
The nightlife is pretty quiet
Not the best choice if you want a traditional Japanese experience
It can get busy, thanks to the Epic Pass
Rusutsu's lift tickets are a bit more expensive than other Japanese resorts, but they are still good value for money. It is also part of the Epic Pass for 5 consecutive days.
Rusutsu ski resort is 75km from Sapporo and 89km from Chitose Airport, and there are many transfer options.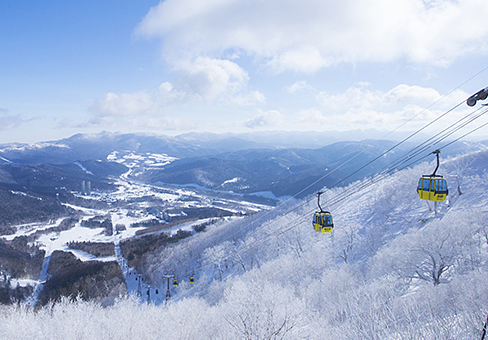 4. Tomamu
Elevation: 1,771 - 4,242ft (540 - 1,239m)
Trails: 29
Snow Parks: A quarterpipe and a couple of small parks
Lifts: 6
Off-Piste: Lots of it, but don't forget your form and armband
Description:
Tomamu is a polished resort that is great for family trips whilst also having excellent terrain for those who like their snow deep. Unfortunately your pockets need to be equally as deep... this is quite an upmarket resort by Japanese standards!
You can expect a couple of odd-looking skyscraper hotels, fancy restaurants, and a 50m wave pool. But the slopes are quiet, so you'll find it much easier to claim first tracks through the excellent backcountry powder.
Some Japanese ski resorts ban off-piste riding, but it's all good in Tomamu. Therefore, you can get nipple-deep. No need to look longingly at the untouched snow from afar. So you can enjoy excellent tree riding in easily accessible sidecountry and backcountry areas. The slopes aren't very steep, which is good for the avalanche risk, but you need to keep your speed up.
If you stay in Furano, you can easily get to Tomamu for a day trip. But you will have a great time if you choose Tomamu as your base. Your experience will be determined by what accommodation you choose. You can stay in an all-inclusive hotel, one of the Tomamu hotels, or in the pension village.
Fun Fact:
To ride powder at Tomamu, you need to fill out a consent form every day. You also need to wear a helmet and an armband that you must return every afternoon.
Pros
Less crowded than other resorts
Incredible riding on powder days
Lots of ski-in-ski-out accommodation
Family-friendly
Lots of extra activities
Close to other Hokkaido resorts
Modern amenities
The south-facing slopes are nice when the sun shines
Cons
No nightlife at all
Some of the activities are pretty cheesy and over the top
Accommodation is pretty expensive, but the pension village is more affordable
There are many options for Tomamu's lift passes. It's best to check the website for all the details and the best deals.
Tomamu is located in Central Hokkaido, 150km from Sapporo. It is an hour's train ride away from the Sapporo International Airport. But there are shuttle buses to Tomamu from Sapporo City or New Chitose Airport.
Hokkaido has some of the deepest powder in the world. Unfortunately, this is no longer a secret. Make sure to book your trip before the rest of the world wakes up to it's true potential!
You can also enjoy this fluffy super-snow in relative safety, as many slopes have a shallow gradient.
Some Japanese ski resorts have been overly westernized. But the best ski resorts in Hokkaido have managed to strike a balance that allows you to have an authentic Japanese experience while making it easier for non-Japanese speakers.
If you've been convinced to make the trip to Hokkaido, make sure to check out our guide to snowboarding in Hokkaido!
You might also want to check out our ultimate list of Japanese ski resorts.
Happy riding!