Utah claims to have "The Greatest Snow on Earth", and it may be onto something.
It certainly has some of the best snowboarding terrain that the U.S has to offer.
Whether you're a diehard powder hunter or just getting started, Utah's varied ski resorts will provide the goods.
One of the advantages of snowboarding in Utah is that some resorts are pretty close together, so you can visit more than one in a trip. They also have an excellent reputation for having consistent, quality snow every winter.
I think it's about time you planned yourself a trip to Utah!
Here are the best places to snowboard in Utah:
Park City
Powder Mountain
Snowbasin
Snowbird
1. Park City
Elevation:

10,026 ft (3055m)

Trails:

Over 330 across 7,300+ Acres

Snow Parks:

6-7: It's a freestyler's dream, head to the Three Kings Lift for the big stuff and a jump line

Lifts:

43

Off-Piste:

Head to the tree runs from the McConkey's and Thayne's lifts.
Description:
Park City is a bustling town overlooked by the awesome Park City Ski Resort. Park City itself isn't regarded as a ski town, as it has much more to offer than mountain time.
One of the big attractions of Park City is Woodward Mountain Park. This area has a few freestyle zones, including an indoor area with foam pits and airbags to catch you after hitting the kickers. It is the ideal place to practice in relative safety.
Park City's vast ski area gets 360" of snow every winter. This means there's a good chance you'll have excellent snow conditions during your trip, allowing you to explore the 7,300 acres of terrain. There's also a tremendous amount of backcountry to experience.
Beginners are well looked after in Park City, as there are some great green runs and slow zone areas. However, you may want to get off the mountain before everyone else hits the Homerun, as the crowds can be pretty intimidating for novices.
Fun Fact:
The famous Sundance Festival is held in Park City every year, and it's a great place to flex your credit card.
Pros
Massive area to ride
Excellent groomed runs for intermediates who like to get some speed up
Great snow coverage and quality
Impressive lift system
Lots to do in town
Great nightlife
Easy to get to
Cat skiing
Cons
Can be pricy
The terrain isn't that challenging for experts
From $85/day. Check the website to get a ticket that suits your needs, there are lots of options.
Park City is only 37 miles (59km) from the Salt Lake City International Airport. Depending on road conditions, it can take 35 to 60 minutes to get there.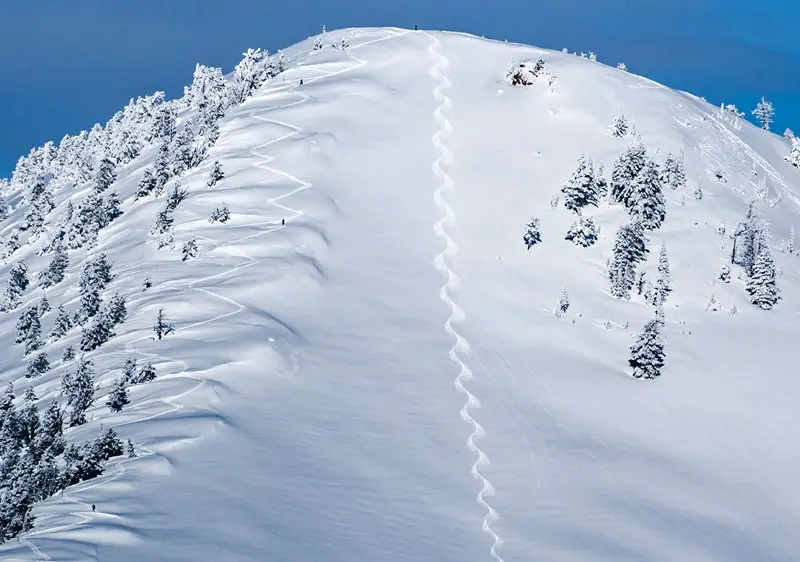 2. Powder Mountain
Elevation:

9,422 ft (2872m)

Trails:

154 runs on 8,464 acres

Snow Parks:

2

Lifts:

9

Off-Piste:

Incredible, but get up early on a powder day while the conditions are good
Description:
Powder Mountain is also known as Pow Mow, and it certainly lives up to its name. It's often overlooked in favour of higher-profile resorts, but it is Utah's best-kept secret (until now).
Its ridable terrain is even larger than Park City. So when you combine such a large area with a resort shrouded in secrecy, you get quiet slopes and your share of 500" of snow to play with. However, it is getting a little busier. Nonetheless, it will continue to be one of the best places to snowboard in Utah.
Powder Mountain has some fantastic backcountry to explore. There are areas with varying gradients and styles to suit your needs and mood, and the lack of people means it's easier to claim the first tracks.
Fun Fact:
Powder Mountain has night skiing and cat skiing.
Pros
Quiet slopes and lift lines
Huge area
An incredible amount of snowfall every winter
Chilled atmosphere
Cons
Dated lift system
You have to hike to a lot of the good terrain
Not the best choice if you want to get gnarly
Day ticket prices for Powder Mountain are as follows:
Adult (19 – 64) – $115
Youth (7 – 18) – $69
Senior (65 – 74) – $87
Powder Mountain is 20 miles from the city of Ogden and 55 miles north of Salt Lake City International Airport.
3. Snowbasin
Elevation:

9,350 ft (2,860m)

Trails:

106 runs over 2,950 acres

Snow Parks:

A few small snow parks, but nothing too impressive

Lifts:

11

Off-Piste:

There are some amazing spots, but you have to work for it
Description:
Snowbasin is one of America's oldest ski resorts. However, it has a modern lift system and fancy day lodges. You can't stay at Snowbasin, as there's no accommodation or village, it is strictly a place for a day trip.
Like Powder Mountain, Snowbasin isn't a household name, so it doesn't get as crowded as resorts like Park City. However, it can get pretty busy at weekends.
Snowbasin's ski area is large, covering 2,950 acres and has a lot to offer intermediate and advanced snowboarders. You'll find the terrain to consist more of black runs than blue, and the stats seem to have been manipulated slightly to make it appeal a little more to beginners. However, don't believe the stats; there are much better places to learn to snowboard.
There are some excellent spots for expert riders, though, as long as you don't mind hiking. Head to Wheeler's and Shooting Star for epic lines that finish with a natural half pipe.
Fun Fact:
Snowbasin hosted the 2002 Olympics for the Downhill, Super G, and Combined.
Pros
It has a decent-sized area
The groomers are great for speed freaks and carving fans
There are some excellent options for advanced riders
Great lift infrastructure
The day lodges are super nice
Cons
Becoming more popular
Can get busy
Parking can be a nightmare
Not much in the way of après and nightlife
Not the best choice for beginners
Teen/Adult (13-64) – $155 to $185
Senior (65+) – $125 to $155
Youth (5-12) – $105 to $135
Child (0-4) – Free
Snowbasin Ski Resort Utah is near the small town of Huntsville in the Ogden Valley and just 46 miles from Salt Lake City airport. It is also 62 miles northwest of Park City and 19 miles from Ogden.
4. Snowbird
Elevation:

11,000 ft (3,352m)

Trails:

169 runs over 2,500 acres

Snow Parks:

1 small snow park, but the whole place is a playground

Lifts:

11

Off-Piste:

EPIC
Description:
Snowbird is an amazing place for powder hunters. It is famous for its dry Wasatch powder, with its fluffy consistency for dreamy turns and face shots. It gets an impressive 500" of the stuff each winter, so it's definitely worth a visit.
If you're a fan of steep and exciting terrain, Snowbird should be on your bucket list. Some of the locals are known to have a bit of an attitude problem, but this probably comes from their epic skills.
The terrain is famous for being covered in deep powder, and its steep chutes, bowls and trees, making it a dream for expert riders. You can find lines everywhere, especially if you're a freerider.
Snowbird also connects to Alta, but this won't interest you, as snowboarders are not allowed, as they still think it's 1982.
Fun Fact:
In 1869 a U.S. Army soldier started prospecting for silver in Little Cottonwood Canyon. He eventually produced more than $3.8 million in silver from his mine.
Pros
Outstanding snow quality
Fantastic terrain for advanced riders
Long season
Exceptional backcountry terrain
Cons
You have to find accommodation off the mountain if you're on a budget
Not great for beginners
It gets busy on powder days
A full-day lift ticket for an adult starts at $167, but there are many other options. Therefore, it's best to check the website for the best deals.
Snowbird is 28 miles southeast of Salt Lake City and the airport. It is also 15 miles from Midvale and 12 miles from Cottonwood Heights.
Is Utah Good For Snowboarding?
I know what you're thinking, it's all very well talking about the best places to snowboard in Utah… but is Utah actually good for snowboarding?
The answer my friend, is a resounding yes!
Utah likes to claim "the greatest snow on earth". Whilst our Japanese counterparts in resorts like these might disagree, I can concur that fresh Utah snow is pretty epic. And so is the terrain.
Resorts like Park City and Powder Mountain are pretty huge, with a massive range of terrain to destroy. Utah also offers an incredible freestyle scene – many pro snowboarders even spend most of their winters in Utah.
So choose one of the resorts above and don't look back!
These 4 ski resorts are certainly some of the best places to snowboard in Utah. Some are more low-key than the big-name resorts, but this adds to their charm and provides the opportunity to avoid the crowds. Claim first tracks on a powder day!
On the other hand, the higher-profile resorts offer a more refined experience and more things to do when you're not shredding.
So, do you agree with my choices? If not, let me know; I may even agree with you and edit the list!
Don't fancy Utah after all? Check out the best places to snowboard in California or even the best ski resorts in the Midwest!
Happy riding.