New Zealand is quickly becoming the most sought-after snowboarding destination (in the southern-hemisphere). 
But with so many ski resorts on offer, what are the best places to snowboard in New Zealand?
I spent the past 4-months performing rigorous testing. And the results are in…
The best places to snowboard in New Zealand are:
The Remarkables
Cardrona
Treble Cone
Mt Hutt
Craigieburn
Coronet Peak
Turoa
Whakapapa
But which one of these awesome resorts is right for you? Keep reading to find out!
#1 Best Overall
World renowned terrain parks
Spectacular views of the mountains and Lake Wakatipu
Terrain for all levels of skiers and snowboarders
A great destination for families and mixed-ability groups
Great lift infrastructure, including a high-speed quad chairlift
Excellent ski schools
Several tasty (though expensive) on-mountain dining options
✖️ Can be busy during peak times, with crowded slopes and lift queues


Essential Information:
Elevation: 1610m – 1943m
Trails: 10km of slopes (30+ runs)
Snow Parks: up to 7 (conditions permitting)
Lifts: 8
Off-Piste: Spectacular. Huge amount of off-piste terrain, including chutes and bowls.
Additional: Night skiing available on Wednesdays and Friday.
Fun Fact: The Remarkables Ski Area was used as a filming location for The Lord of The Rings and The Hobbit trilogies!
How To Get To The Remarkables:
The Remarkables is located in the South Island, approximately 24km from Queenstown. Depending on the weather, you'll reach the ski area in 45-60 minutes by car.
Alternatively, shuttle buses and private taxis are available.
More Details:
As the name suggests, this stunning mountain range is sort of… remarkable.
Conveniently located near the lively town of Queenstown, The Remarkables has everything you could want from a snowboard resort.
There are plenty of off-slope activities, including some darn good food and drink spots. Check out the best cafes in Queenstown before you go.
The terrain parks are also the best in New Zealand and the groomed runs are top notch. There are some great ski schools and the scenery is incredible.
Whilst the lifts are speedy, I'd avoid the holidays if you can. Since my first visit in 2008, the resort has become a whole lot more popular… despite the rising ski pass prices.
Admittedly, there are better resorts for advanced riders. However The Remarkables is a better all-rounder than most. That's what makes it one of the best places to snowboard in New Zealand.
Best For Families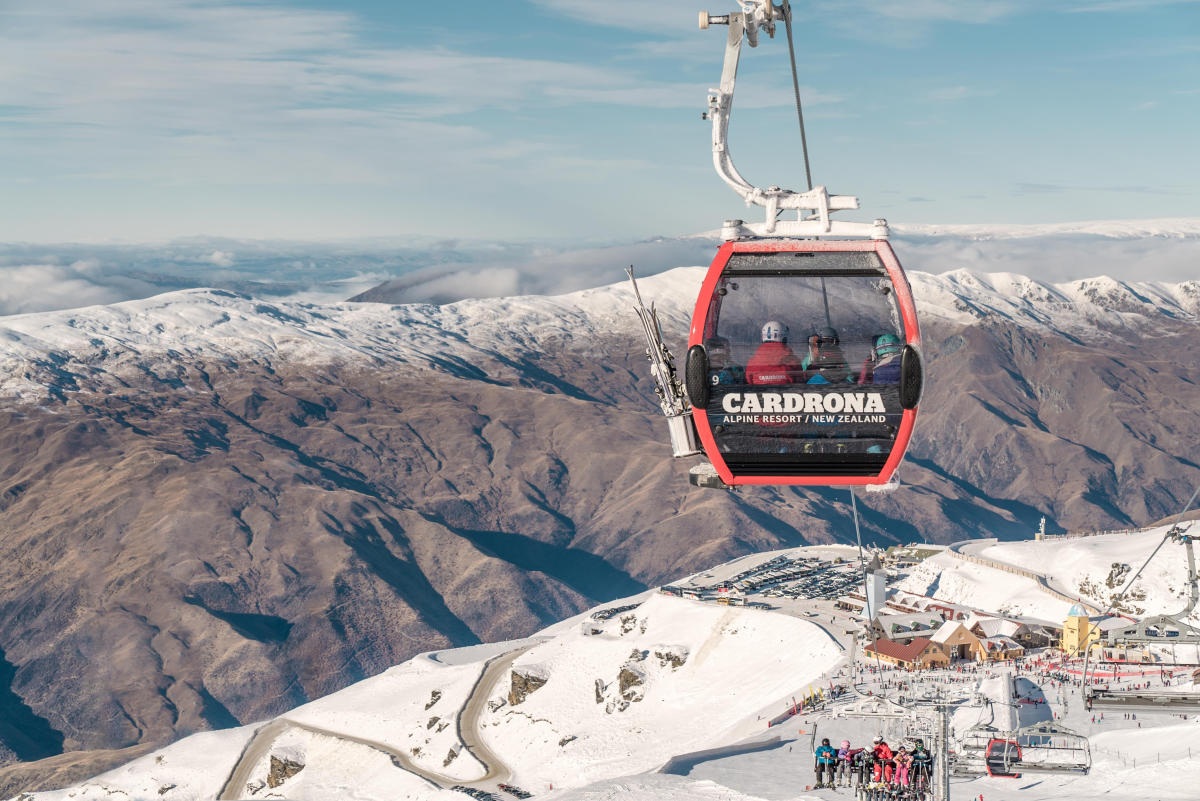 One of the best places to snowboard in New Zealand
Varied terrain with a great mix of runs for all levels
Modern lifts, restaurants, and accommodation
Amazing views (though I prefer The Remarkables).
Family-friendly with dedicated kids' areas and ski schools, as well as off-slope activities like tubing and a bungy trampoline.
✖️ On the pricey side - more so than The Remarkables


Essential Information:
Elevation: 1670m – 1860m
Trails: 40km of slopes, with over 30 runs
Snow Parks: 2-4 depending on the year and snowfall
Lifts: 7
Off-Piste: A huge amount of off-piste terrain, with some steeper stuff for the brave-hearted.
Fun Fact: Cardrona has hosted several international freestyle events, including the Winter Games NZ, the FIS Freestyle Ski and Snowboarding World Cup, and the Burton High Fives competition.
How To Get To Cardrona:
You can get to Cardrona Ski Resort by car, shuttle, bus, or helicopter. The resort is located about 60km (37mi) from Queenstown, and the drive takes around 45 minutes. Shuttle services operate between Queenstown and Cardrona, and the Otago Regional Council operates a bus service that stops at Cardrona.
More Details:
Cardrona is one of New Zealand's most beloved snowboarding destinations, especially by families.
If you're looking to teach your little one some new skills, Cardrona is probably the best place to snowboard in New Zealand.
Not only are the slopes wide, safe, and obstacle-free, but they also provide some of the most magnificent views you've ever seen.
However, as you might've gathered, it might not be the best destination for advanced snowboarders (don't worry, the next one is for you). 
However, as with the previous location, you'll still have easy access to Queenstown. This means you'll be within striking distance of a range of different resorts, so you'll never get bored.
Note. While the resort's infrastructure is pretty modern, keep in mind that the drive might be a bit challenging. This is an issue for most of the New Zealand ski areas. Don't say I didn't warn you! 
Advanced Pick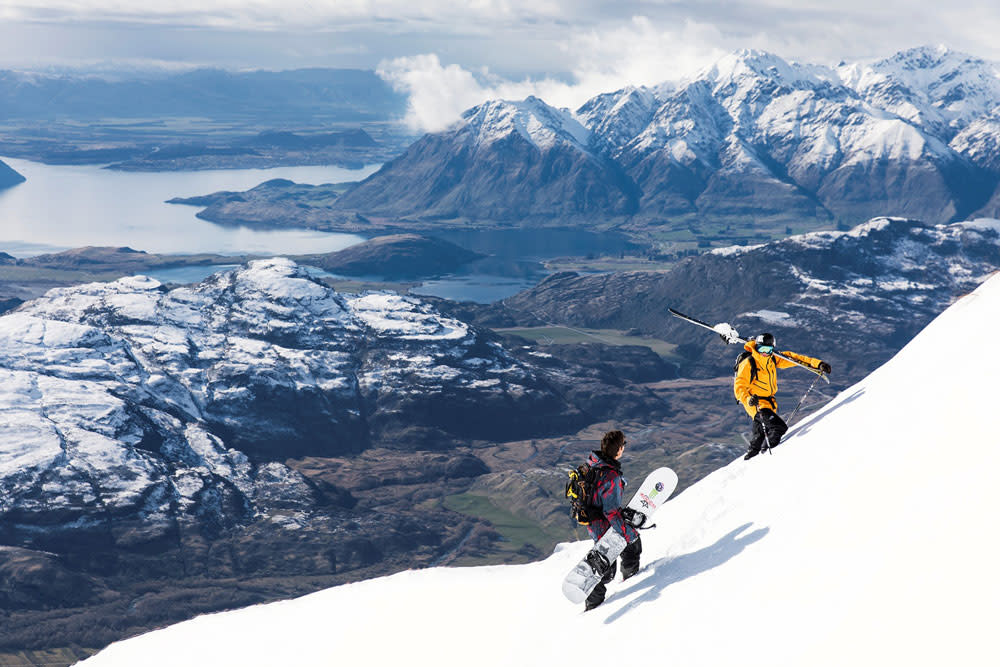 Some of the most varied and challenging terrain in New Zealand!
My favorite chutes, bowls and tree runs
Insane views over Lake Wanaka and Mount Aspiring
Excellent snow coverage (for New Zealand)
Often less Crowded
Several heli-skiing options
✖️ Not ideal for beginners
✖️ Expensive lift tickets


Essential Information:
Elevation: 1260m – 2088m
Trails: over 550 hectares of skiable terrain with 45 runs, including some of the longest runs in New Zealand.
Snow Parks: 3
Lifts: 6
Off-Piste: Treble Cone has plenty of off-piste terrain, including some pretty challenging terrain for expert skiers and snowboarders.
Fun Fact: Treble Cone is the largest ski resort in New Zealand's South Island and is renowned for its stunning views of Lake Wanaka and the surrounding mountains.
How To Get To Treble Cone:
You can drive, take a bus, or arrange a private transfer from Queenstown or Wanaka. Treble Cone is around 29 km from Wanaka and 90 km from Queenstown. If you are driving, the resort is accessible via the Wanaka-Mount Aspiring Road, which is a fairly well-maintained. 
More Details:
If you're an experienced snowboarder frantically looking for an appropriate destination, your time has come.
Treble Cone has some of the best backcountry in the country. I spent many happy days in it's beautiful chutes and bowels. Powder heaven!
Can it rival the land of the rising sun? Of course not. But for a Southern Hemisphere trip, it was pretty damn good. 
What about beginners? Whilst there are certainly some reasonable areas, choose another resort on the list if you're just starting out. 
Budget Pick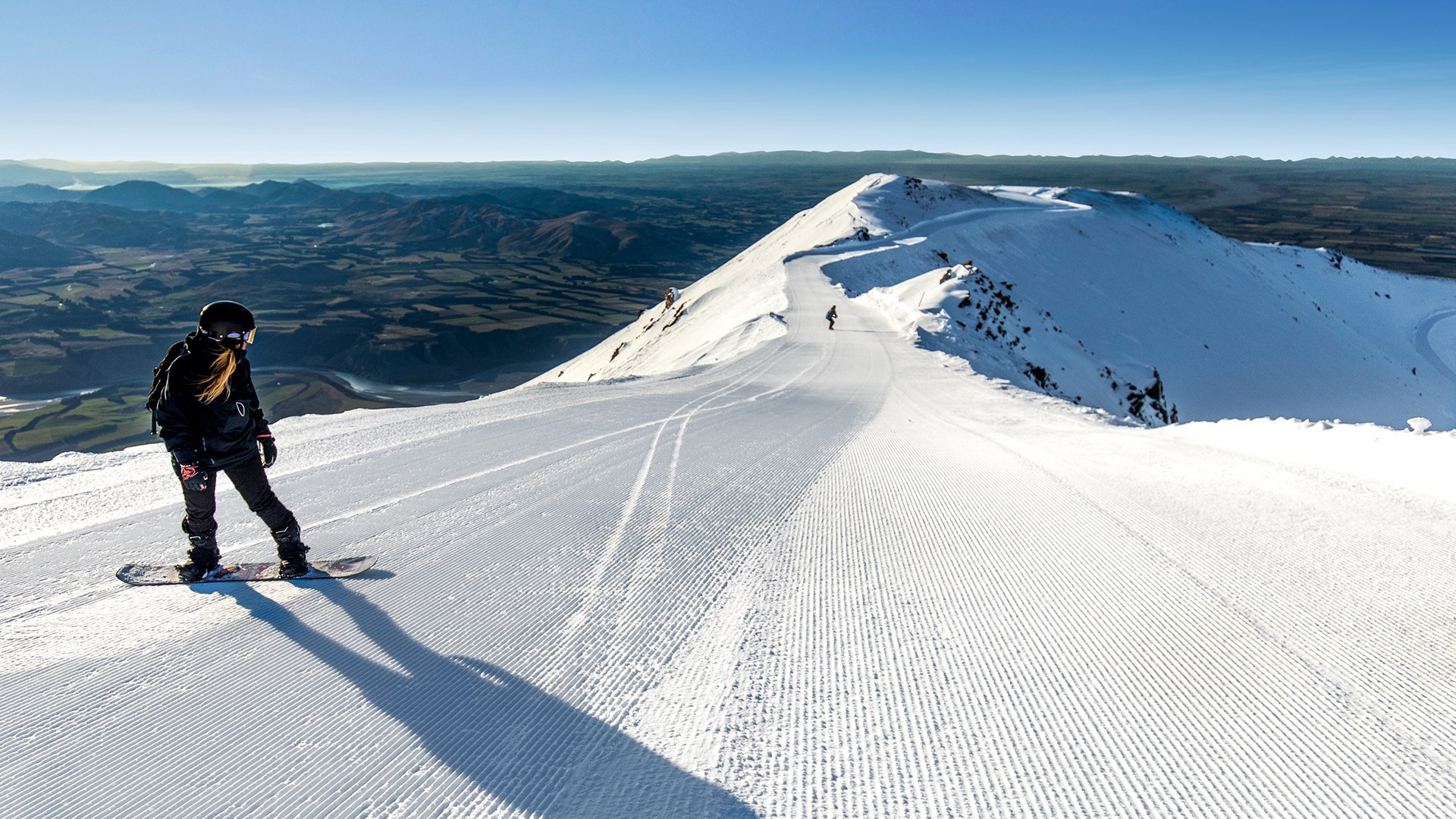 Great range of terrain
Cheaper passes and accommodation than others
Suits all abilities
Kids aged 10 and below get free ski passes!
Incredible views over the Canterbury Plains (NZ has great scenery generally)
✖️ Prone to high winds and cold weather
✖️ Known to be closed at times due to the above


Essential Information:
Elevation: 1,438m – 2,086 m
Trails: Over 365 hectares, with 40+ runs
Snow Parks: 2
Lifts: 6
Off-Piste: some, but limited
Fun Fact: Mt. Hutt has one of the largest vertical drops of any South Island ski area
How To Get To Mt. Hutt:
You can take a car, shuttle, or bus from Christchurch, which is approximately 90 minutes away. Shuttle and bus services operate regularly and there are also private transfer options.
More Details:
Despite the infamous strong winds, I loved Mt Hutt. 
Sure, the lifts could be a little temperamental. But the passes are cheaper and the slopes are emptier. What's not to love? 
On a (rare) clear day, you're also rewarded with some pretty insane views. 
Mt. Hutt also boasts one of the best verticals on the South Island, making for some some relaxing cruises back to base. 
The downside? The resort is a little further afield than many others. If you're based in Christchurch this isn't a problem, but Queenstown residents have some much closer options.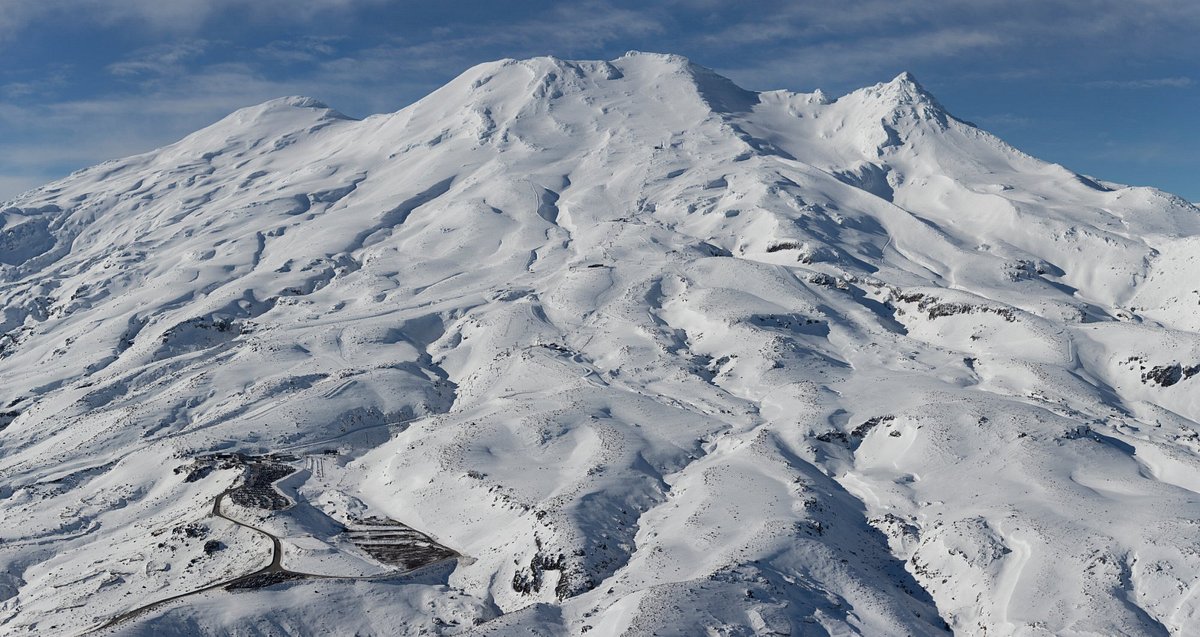 Super fun terrain
Breath-taking views (when the weather clears up)
Reasonably long season for a NZ resort
Close to Ohakune, a fun town with cheaper accommodation than most
✖️ The wind! It can be bad enough to cause lift closures.
✖️ Crowding on holidays and weekends
Essential Information:
Elevation: 1310m – 1811m
Trails: Over 400 hectares of skiable terrain, with around 10 marked trails
Snow Parks: 0
Lifts: 3 (rope-tows)
Off-Piste: Challenging off-piste terrain, with steep chutes and deep powder. I loved it. 
Fun Fact: Craigieburn has been dubbed the "extreme skiing capital of New Zealand." The resort is therefore popular among advanced riders.
How To Get To Craigieburn:
To get to Craigieburn Ski Area, you will need to take a private shuttle or drive. There is no public transport available!
The ski area is about 100km northwest of Christchurch. The drive takes 1.5 to 2 hours.
More Details:
Craigieburn is easily one of the best places to snowboard in New Zealand. Especially for speed demons and powder seekers. 
However… it is an acquired taste. 
The lack of chairlifts will be off-putting for many, as will the limited options for beginners and intermediates. The resort is generally a little outdated. 
Still interested?
Good. 
If you're prepared to tackle the tow ropes, Craigieburn offers one of (if not the most) authentic snowboarding experiences in the country.
It's one of the best places to capture some steep, untouched powder turns. But keep your eye on the weather forecast and plan your attack carefully.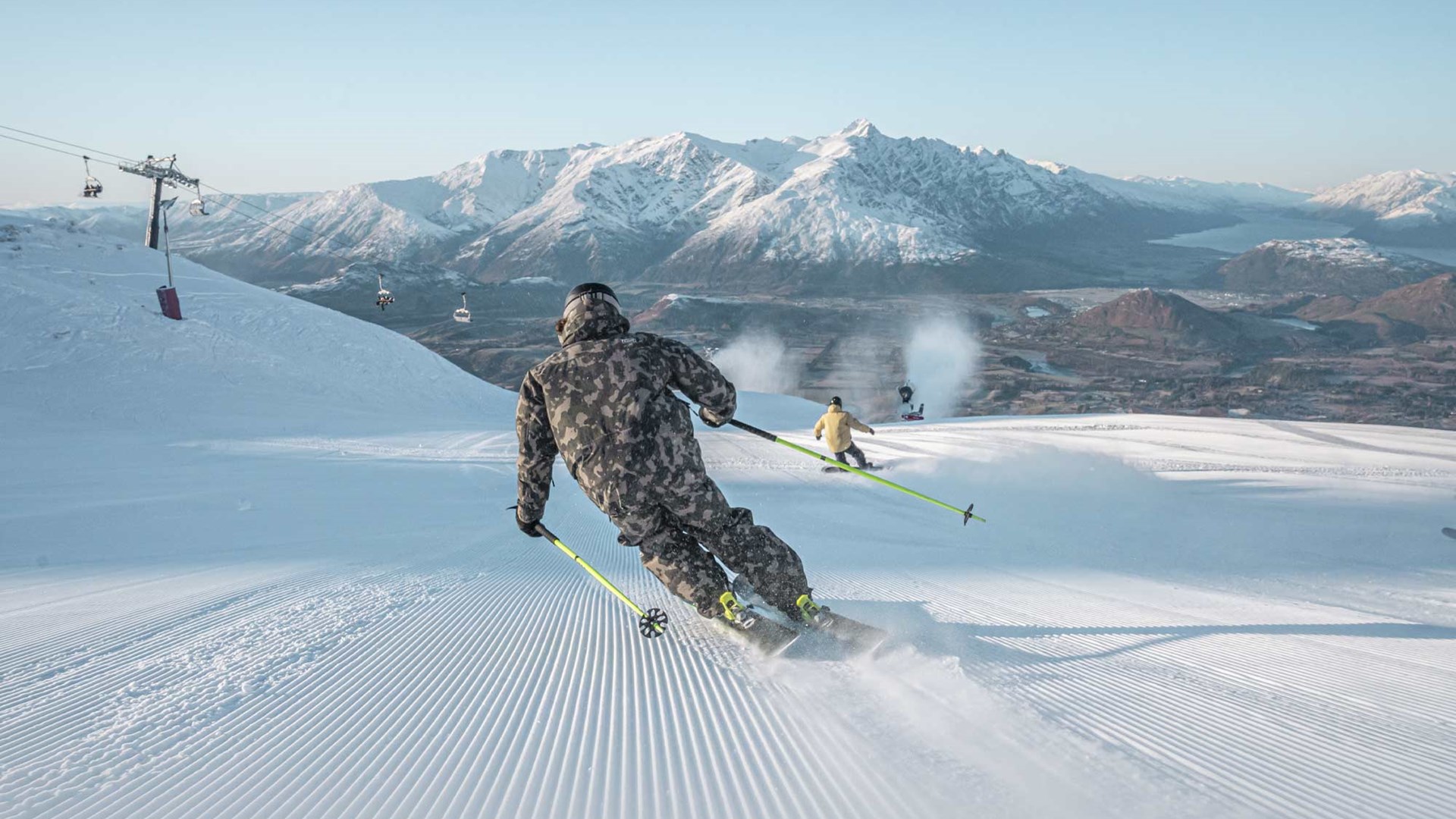 A great selection of groomed runs
An excellent chair lift infrastructure
Breath-taking views over Lake Hayes, Lake Wakatipu and The Remarkables.
The closest resort to Queenstown
✖️ The low altitude keeps the snowmaking machines in high demand
✖️ Limited backcountry riding
Essential Information:
Elevation: 1187m – 1649 m
Trails: 280 hectares of skiable terrain, with over 25 runs
Snow Parks: 1
Lifts: 8
Off-Piste: there's some accessible off-piste terrain, but the resort encourages hiring a backcountry guide.
Fun Fact: Coronet Peak is New Zealand's oldest commercial ski resort, established in 1947. It was also the first ski resort in the Southern Hemisphere to have a chairlift.
How To Get To Coronet Peak:
Take a car, shuttle, or bus. As the resort is only 16km from Queenstown, the drive takes around 25 minutes.
Shuttle services operate between Queenstown and Coronet Peak, and the public bus service can also take you there.
More Details:
I've probably gotten a little side-tracked talking about advanced terrain and untouched powder (hmm… powder).  
For those looking for more of a rounded resort, one that is suitable for most abilities, Coronet Peak is an excellent choice. 
Due to its moderately steep fields and average annual snowfall (6.53 feet or 1.99 meters), Coronet peak is a haven for snowboarders looking to advance their skills. The resort also boasts some pretty high-tech snow cannons, ready to fill in the gaps when things get patchy. 
I also have to mention the insane panoramic views. I know I've said that about most resorts on the list (seriously, New Zealand is beautiful guys) but Coronet on a clear day is breath-taking.
Furthermore, the slopes are known for their modern infrastructure and highly efficient lift system. This helps to keep the queues down to a minimum (except on bust weekends). 
Moreover, Coronet Peak is super conveniently located. It's right next to Queenstown, allowing you to ride by day and party by night.
Whilst I've labeled this destination best for intermediate snowboarders, experts won't get easily bored. Roughly 30% of the runs are considered black, so you can bomb around to your hearts content. 
Great views (when the weather allows)
Longer season than most NZ resorts
Unusually straight forward access road compared to others
Close proximity to Ohakune, which has much cheaper accommodation than Queenstown
✖️Windy (can cause lift closures)
✖️ Busy weekends
Essential Information:
Elevation: 1672m – 2322m
Trails: 43+ runs, totalling over 25km
Snow Parks: 1
Lifts: 5
Off-Piste: fairly extensive, including some challenging runs for the more advanced rider.
Fun Fact: Turoa Ski Resort is located on Mount Ruapehu, which is an active volcano and the highest point on the North Island of New Zealand.
How To Get To Turoa:
By car,  the resort is approximately 20 minutes from Ohakune (which is a fun little town). 
Alternatively, bus services run from major cities such as Auckland, Wellington, and Taupo. Helicopter transfers can also be arranged for those with more expensive taste.
More Details:
If you're getting bored of Queensland, why not hop on over to Turoa?
Turoa is one of the only two snowboarding resorts on New Zealand's North Island. 
The trails are wide and open, providing awesome panoramic views. Snowboarders of all levels will find themselves at home here, as the slopes vary in from mellow to "help!". 
There's also a good amount of backcountry to explore. Once again, consider hiring a guide if you're unfamiliar with the area.
Phenomenal views
Decent size
Speedy lifts
Dedicated beginner area
Superb access roads
Some on-mountain accommodation
✖️ Unreliable weather (pray to the snow gods!)
✖️ Minimal off-piste opportunities
✖️ No nightlife
Essential Information:
Elevation: 1630m – 2300m
Trails: 30 groomed trails and but minimal off-piste terrain
Snow Parks: 2 (1 beginner and 1 advanced)
Lifts: 12
Off-Piste: decent amount of terrain but the weather rarely provides enough snow cover
Fun Fact: Whakapapa was used as a location for the Mount Doom scenes in "The Lord of the Rings: The Return of the King".
How To Get To Whakapapa:
The easiest way to get to Whakapapa ski resort is by car. It's about a 4-hour drive from Auckland. There are also shuttle services from several nearby towns. 
More Details:
With a size rivalling the impressive Treble Cone area, Whakapapa provides one of the country's most varied terrains. 
Snowboarders of all experience levels will find a slope to their liking.
Moreover, the destination is one of the more budget-friendly options on today's list. Worth considering, especially given the insane cost of a snowboard these days.
I should probably mention that Whakapapa is an active volcano. Don't worry though, it's dormant and hasn't erupted in years.
I should also say that whilst Whakapapa is one of the best snowboard resorts in New Zealand, those looking to enjoy some nightlife might be better off choosing an option closer to Queensland.
FAQ's About Snowboarding In New Zealand
Before you go, I thought I'd answer a couple of your most frequently asked questions. That way you'll be properly prepared for your trip!
What Are The Best Ski Resorts On The South Island Of New Zealand?
As we've discussed, there are some awesome resorts in New Zealand. But what are the best ski resorts on the South Island?
The Best Ski Resorts on The South Island of New Zealand are:
The Remarkables 
Cardrona
Treble Cone
Mt. Hutt
Craigieburn
Coronet Peak
To read more about each resort, scroll back up!
Is Snowboarding in New Zealand Worth It?
Hell yeah! 
While snowboarding in New Zealand is different to Northern-Hemisphere destinations, it is certainly worthwhile. The scenery, culture and stoke levels are all worth experiencing.
It's also an awesome way to extend your season, making it possible to snowboard year-round. 
What Are The Downsides To Snowboarding in New Zealand?
Much like snowboarding in Scotland, New Zealand poses a unique set of challenges. 
Here are some drawbacks of New Zealand Ski Resorts:
There is rarely any on-mountain accommodation.
You'll therefore need to travel to the ski area daily – often via the poorly maintained access roads. 
Fickle weather conditions. Some seasons it barely snows, others it falls in heaps.
Minimal tree coverage, making life particularly tricky on low visibility days. 
Lift closures. Some resorts are outdated. The chairlifts can ice over or simply refuse to turn on.
They are generally smaller than European and North American resorts. 
I hope you enjoyed my quick-fire tour of the best snowboard resorts in New Zealand. 
As you can see, there are loads of incredible options. 
If however, you're left uninspired (which is unlikely), then you might want to consider snowboarding in Australia.They have some great options and are only a short flight away. 
Happy riding!