If you're considering snowboarding on New Zealand's North Island, this is the article for you! 
The North Island boasts a pretty unique experience, shrouded in culture and scenery. 
So today I thought we should discuss snowboarding in New Zealand's northernmost resorts. That way you can add them to the old bucket list. 
The North Island of New Zealand offers excellent snowboarding, particularly in the Turoa and Whakapapa ski areas. These are best known for their expansive, panoramic views and diverse ski terrain. 
Intrigued? Let's take a closer look…
Snowboarding On The North Island
Snowboarding in the North Island of New Zealand is a pretty unique experience. I spent a month there last year, and loved every second!
But the North does offer a very different type of terrain and snowboarding culture compared to the South. This isn't necessarily a bad thing…
The South tends to busier, attracting tourists from further afield. While this creates a lively vibe and nightlife, it also brings crowds and higher prices. 
Some of my most "zen" snowboarding experiences were experienced on an idle Wednesday in Whakapapa. Carving the slopes in relative peace. 
Another great aspect of snowboarding in the North Island is the cultural experience. Tongariro National Park is a UNESCO World Heritage Site, and the Maori culture is an important part of the region's history and identity.
The main ski areas are based on Mt. Ruapehu, Tongariro National Park. 
Mt. Ruapehu is the highest point on the North Island (2797m) and is actually an active volcano. Fortunately it hasn't erupted in years and is under very close surveillance!
Obviously snowboarding is a given, but you can also hike, mountain bike, eat and explore. This makes it a cool place to visit at any time of year. 
Best Snowboard Resorts on The North Island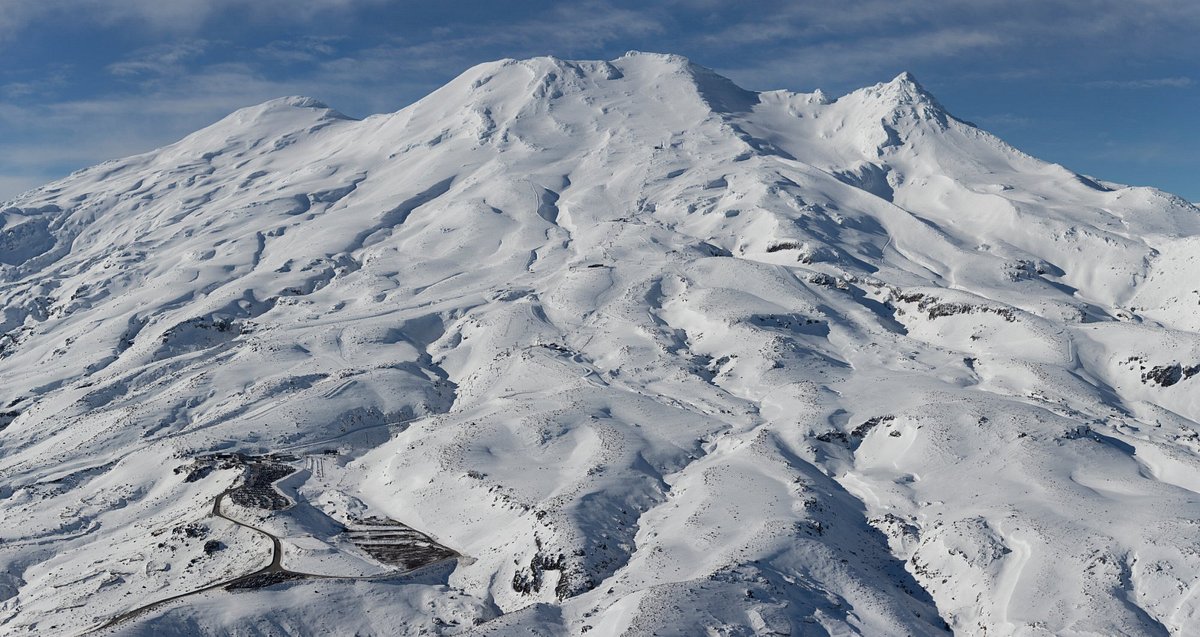 Super fun terrain
Breath-taking views (when the weather clears up)
Reasonably long season for a NZ resort
Close to Ohakune, a fun town with cheaper accommodation than most
✖️ The wind! It can be bad enough to cause lift closures.
✖️ Crowding on holidays and weekends
Based on the southwestern slopes of Mt. Ruapehu, Turoa is my favorite ski resort on the North Island.
It offers the perfect combination of challenging terrain, accessibility and snow conditions (ignoring the wind). 
Turoa has 43 runs spread over 500 hectares of skiable terrain. This includes some great groomed trails and some even better off-piste areas. This includes some super fun powder-filled bowls, chutes, and open glades. 
There's also a vertical drop of 722 meters, resulting in a particularly tasty 4 kilometer groomed run.
Facilities:
The lift system is pretty good, including the High Noon Express, New Zealand's highest chairlift. There's some reasonable cafes/restaurants on the mountain and a well stocked ski and snowboard rental. 
Season Dates:
Turoa's season typically starts in late June and ends in early November (weather permitting). 
Incredible scenery
Large ski area
Great lift infrastructure
Great for beginners
Well maintained access roads
On-mountain accommodation available (rare for New Zealand!)
✖️ Erratic weather conditions
✖️ Very minimal nightlife
Whakapapa is located on the northern slopes of Mt. Ruapehu. 
The area boasts 30 runs covering 550 hectares of skiable terrain. There's a really nice mix of groomed trails, suitable for all abilities.
With a slightly small vertical drop of 675 meters, the longest run here is 2.5 kilometer. It's nice and wide though, with amazing panoramic views. 
Facilities:
The ski area has five chairlifts, including New Zealand's only gondola. There's plenty of cafes and restaurants on the mountain, as well as a pretty good ski and snowboard rental. 
Season Dates:
Whakapapa typically opens in late June and closes in late October. 
The Pros and Cons of The North Island
Pros
Easily accessible by car (from Auckland and Wellington)
Generally cheaper than the South Island
Quieter, particularly mid-week
Some super fun terrain options. Choose Turoa if you're a powderhound.
A great opportunity to experience Maori culture and life outside of snowboarding.
Cons
Weather dependent (though the same could be said of the South)
Some of the South Island resorts are better for off-piste guiding. Several even allow heli-skiing.
Limited après-ski options compared to Queenstown
To sum up, while the South Island of New Zealand is perhaps better known for its snowboarding opportunities, the North Island still has a lot to offer.
With great ski resorts, unique cultural experiences, and a relatively mild climate, snowboarding in the North Island is definitely worth considering.
Not convinced? 
Check out our recent article considering whether snowboarding in New Zealand is worth it. 
Happy riding!