Snowboarding is a great workout; and even though you're in the cold, you will quickly work up a thirst!
The problem?
You want to avoid bringing bulky items out when riding. So let's explore how to carry water while snowboarding.
While snowboarding, you can carry water by simply stashing a bottle in your pocket. However, another great solution is a hydration backpack; these distribute the weight more evenly and avoid the risk of falling on bulky items.
This article will take a longer look at how to carry water while snowboarding (including my secret favorite method). You better keep reading!
Disclaimer: This article contains affiliate links. If you make a purchase I may make a small commission, at no extra cost to you. Thanks for helping to keep the site going!
Best Way To Carry Water While Snowboarding
There are many ways to carry water while snowboarding.
There's the wrong ways… and the right ways.
Some people don't mind holding the bottle in their hand if it's a hot day and they want easy access. This is one of the wrong ways. It's certainly not an option for anyone serious about riding!
Let's examine some ways that you could carry water while snowboarding:
Buy a clip for your belt. Get a water bottle clip and attach it to your belt loop for convenient use.
Put the bottle in your jacket pocket. There are plenty of snowboard jackets that can fit a small water bottle. The Burton Covert snowboard jacket for example.
Wear pants with side pockets for your water. Wear a pair of snowboard pants with side pockets. Again though, painful to fall on!
None of the above!
I personally wouldn't recommend any of these options (having tried them all).
The below options are much better!
One of the best solutions.
Water isn't the only thing you might want out on the slopes. If you bring a backpack you'll be able to carry snacks, dry clothes… and whatever else you want on the hill.
Once you start heading into the backcountry, you definitely need a backpack for your essential safety gear.
Here's some of the best backpacks to carry water while snowboarding:
Dakine Mission Pro 18L Backpack
My all-round favorite

Doesn't get in the way

Hydration compatible - insulated sleeve in the shoulder
✖️ Not enough capacity for everyone
Black Diamond Dawn Patrol 32
Very well made pack

Loads of features

Several size options
✖️ The more expensive option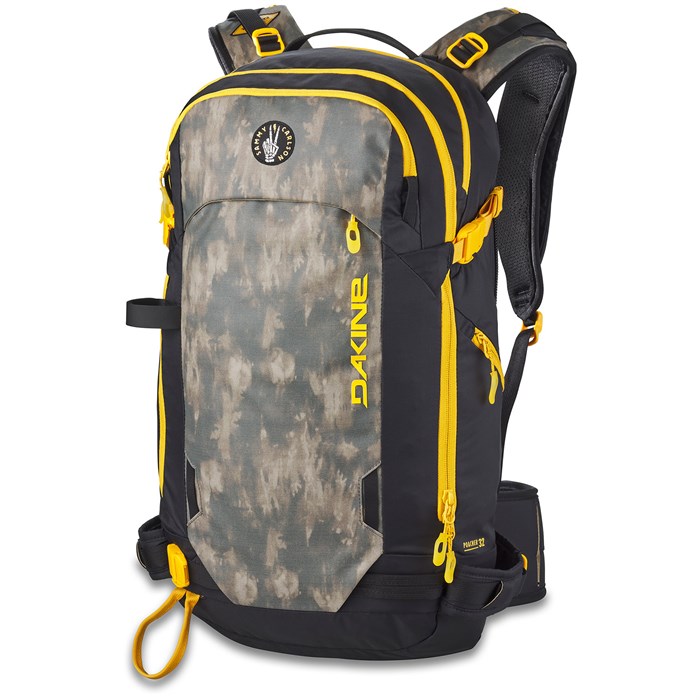 Dakine Team Poacher 32L Backpack
An upgraded mission pro

Bigger capacity

Loads of pockets
✖️ Slightly bulkier so could get in the way more
2. Wear A Hydration Backpack
If you have the budget, using a hydration backpack might be the best way to carry water while snowboarding.
These free up your arms to move around and allow you to hydrate without stopping.
You do not need a super expensive one. Here's my all-time favorite hydration backpack (having tried and tested loads).
There are of course other choices.
The best hydration backpacks for snowboarding should have a few key features.
These include:
Withstanding a fall without leaking/exploding!
Being lightweight
Holding plenty of water
Being easy to wear
Adjustable
3. My Secret Best Method For Carrying Water!
One company has solved the water carrying issue once and for all!
How?
With the 686 Hydrastash Jacket.
The jacket includes a hidden camelback-style water belt and a mouthpiece to the side of the hood.
It sounds a bit weird, but it's actually a little bit genius. 686 have smashed it!
The Gore-Tex Hydrastash Jacket
My new jacket of choice
Built-in water system
Gore-Tex technology
This is a super-premium jacket, solving the water carrying issue once and for all. Unfortunately the premium build comes with a premium price. But it's a worthy investment for those who'll make good use of it. There's also a cheaper non-goretex model available on Evo and The House.
686's technology is better understood by watching the below video.
Hopefully that helps to solve the mystery of how to carry water while snowboarding.
Remember, snowboarding burns a lot of calories, making for some pretty strenuous exercise. Whichever method you choose, stay hydrated out there!
Have I missed anything?
Let me know in the comments below.